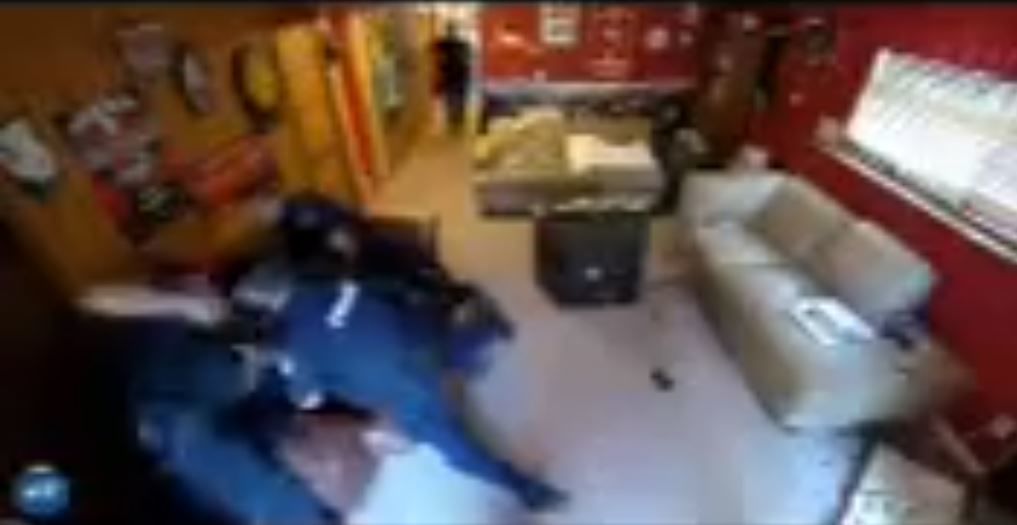 An external review of the forceful June 3 detention of a black teenager in the midst of a mental health crisis has found Madison police actions "legally justifiable," but also says officers missed opportunities that might have led to a better outcome.
UW-Madison Police Lt. John McCaughtry, who conducted the review, said officers didn't do enough to engage in a dialogue with the 17-year-old and that left them with fewer options once the teen went into a confined area in his home and resisted police attempts to handcuff him.
In a separate, internal review, Madison police found that one officer on the scene, Sgt. Joe Engler, committed what Police Chief Mike Koval called "minor violations" of department policy related to documenting use-of-force incidents and operation of his squad car's video system.
Police spokeswoman Gracia Rodriguez said the policy violations "did not result in any disciplinary action."
Video of the June incident — taken from inside the foster home where the teen lived — was shared widely on social media in the days after it happened and shows Engler delivering three blows to the teen's head as three other officers try to restrain the teen.
Earlier in the day, the teen had been sent home from West High School after threatening staff, and once there threatened his foster father, a workman and police, according to police reports. He also spat at and struggled with officers for some 20 minutes before he was subdued by the blows to his head, according to police reports.
At the time, the teen was under an involuntary mental health commitment, and the foster father and Journey Mental Health Center, which handles such cases in Dane County, had authorized police help in taking him into protective custody.
In his report, McCaughtry details the teen's struggle with police, and says police said the teen accused them of being racists and told them to Tase, shoot or pepper-spray him.
But he also pointed to several missteps by police that — while not violations of the legal standards for use of force — might have made the situation worse.
McCaughtry says one of the first officers on the scene, Andrew Slawek, should not have "waved off" Engler when he first arrived to provide back-up, and that Engler shouldn't have left. It also wasn't clear from his review whether officers had called for one of the department's mental health officers, or if one was available.
Koval said neither of the two officers who first responded, Slawek and Chad Joswiak, are dedicated mental health officers, "although all of our officers are trained in dealing with individuals who have mental illness and are experiencing crisis."
McCaughtry also noted documentation was lacking on whether Slawek and Joswiak tried to engage the teen in conversation, writing that "verbalization with subjects helps to establish rapport and creates time and opportunity for officers to assess subject cooperation."
"Upon initial contact, an opportunity existed for officers to proactively engage the subject in dialogue prior to the subject deciding to go downstairs," he wrote in his conclusion. "Once the subject went downstairs, the officers were compelled to follow, which set in motion an accelerated timeframe for decision-making."
According to McCaughtry's report, the teen realized he was going to be taken into custody, but was threatening to "kill" Slawek and Slawek decided to physically detain him after the teen gave him what he called a "thousand yard stare."
"Like he was gonna go right through me," Slawek said in an interview included in the report, "like right into me and as he came towards me, I stepped aside and I noticed in his hands something he had picked up, but what I noticed was his, his muscles were flexing."
McCaughtry also faulted the officers for not communicating enough with each other about how they intended to handle the teen, and for leaving the teen on his back instead of trying to roll him over onto his stomach so as to keep the teen from repeatedly spitting on them.
He also said that while Engler's strikes to the teen's head were legally permissible, there might have been better alternatives, such as strikes to other parts of his body less prone to serious injury.
In a statement accompanying the release of the external and internal reviews of the incident, Koval said the officers involved "will receive follow-up coaching/training to identify areas for improvement and recognize decision-points that could have resulted in a better outcome."
He also said the department will be reviewing its use-of-force training and sending use-of-force trainers to "external trainings focused on team tactics and other strategies to reduce the need for application of higher levels of physical force."
Updated use-of-force training was to be conducted with all officers this fall and again early next year, he said, and "the department is pursuing training to provide officers with updated information and skills to improve interactions with youths
"This training — anticipated in 2020 — will address adolescent brain development/behavior, de-escalation strategies and working cooperatively with other service providers," he said.
Mayor Satya Rhodes-Conway said in a statement that "we in the city of Madison aspire to higher performance standards than simply not violating the constitutional rights of those we serve," and that she appreciated Koval's "stated commitment to doing better" and would include additional money in her 2020 operating budget proposal for police mental health training.
In August, Rhodes-Conway was criticized by the city's police union president, Kelly Powers, for saying before reviews of the incident were complete that "police actions in this incident are not and will never be acceptable as best practice in the city of Madison."
Rhodes-Conway said Friday she intends to back an effort to create a mechanism for further civilian oversight of police. A citizen-led committee reviewing police policies and procedures has put forth a detailed proposal for such oversight.
Local police critic and activist Brandi Grayson, who was responsible for posting the videos of the incident on social media in June, declined to comment on the findings of the reviews.