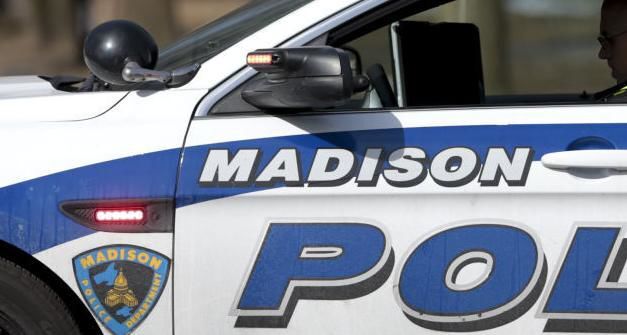 Since the death of George Floyd in Minneapolis police custody in May sparked protests against police nationwide, Madison's elected officials have been overwhelmingly supportive of local protesters and of efforts to provide greater oversight of Madison's historically well-regarded police force.
Results of a community survey underway as part of the search for a new Madison police chief, however, suggest Madisonians generally are far more evenly split between those who would like to see Madison police defunded, "demilitarized" or even abolished and those who would like to see elected officials ease up on police and police taking a more hard-line approach to law enforcement.
As of Tuesday, results of the four-question survey being conducted by the city's Police and Fire Commission showed about 81% of respondents chose "violent crime" as the biggest priority for the next police chief. In second place was addressing hate crimes, with about 54% support. Respondents could choose more than one priority.
Building "community trust," demonstrating that "officers will be held accountable" and reducing crime ranked one, two and three on what respondents want the new chief to focus on over the next two to three years, garnering from 59% to 50% support.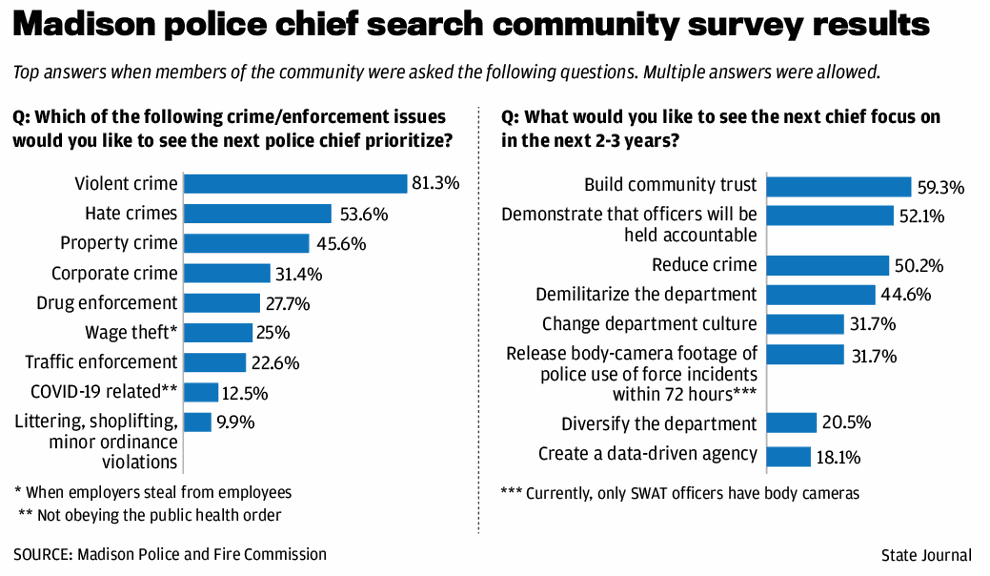 And when asked for the three most important qualities they'd like to see in the next chief, respondents ranked strong leadership abilities, experience leading a police department and promoting racial, gender and "thought diversity" in the department as their top three choices, with support ranging from 32% to 29%.
Responses to the survey's open-ended questions, though, most sharply illustrate respondents' disagreement over what Madison police should and shouldn't be doing.
On the one hand, calls to reduce MPD's budget and shift some of the department's responsibilities — such as responding to people having mental health crises — to other, nonpolice professionals were common, as were calls to fire Officer Matt Kenny, who shot and killed Tony Robinson after the intoxicated and combative 19-year-old Black man confronted Kenny in a stairwell in 2015. Kenny was absolved of any wrongdoing, but the city's insurer later settled with Robinson's family for $3.35 million, without the city admitting any fault.
"The current state of the police and the criminal justice system re-victimizes individuals," said one respondent. "It disproportionately affects communities of color. I would like a police chief who is interested in changing the system to actually serve communities rather than police them."
On the other hand, many respondents said they wanted a police chief who would not kowtow to the mayor, City Council or protesters and bemoaned this summer's sharp uptick in shootings and other crime, as well as property damage Downtown related to Black Lives Matter protests.
"I would like someone who is able to stand up to the crazy culture here of accepting violence," another respondent said. "I no longer feel safe living here, but I suspect the mayor has made this job impossible for any chief."
The PFC launched the survey in August and has posted a link to it on its website. PFC members have also urged people to complete it during public input sessions on the search for a new chief.
Under scrutiny
In the wake of Robinson's death and a handful of other high-profile officer-involved fatal shootings since 2012, the City Council commissioned a $372,000, 258-page report on Madison police that in December 2017 declared the department "far from 'a Department in crisis,'" called its use of force "limited in volume and primarily minor in nature," and made 146 recommendations.
In none of the deaths were officers or the department implicated in any criminal or procedural wrongdoing, but in three cases, the city paid out a total of nearly $10 million in settlements and in one — the death of 26-year-old Ashley DiPiazza, who was white — a jury found the officers who shot her had violated her constitutional rights.
A council subcommittee in May 2017 made 13 policy recommendations for police, including directing police to emphasize the preservation of life in its standard operating procedures and to develop programming to promote officer mental health. In 2015, the council created an ad hoc citizen's committee that reviewed the consultant's report and in 2019 submitted its own report with 177 recommendations.
Last month, the council overwhelmingly voted to create an independent police monitor and civilian review board that will be among the most robust in the nation, and will have the power to use tax dollars to hire attorneys for people filing complaints against officers before the Police and Fire Commission. The monitor and review board will not have the power to discipline or fire officers; under state law, that remains under the purview of the PFC.
Mayor Satya Rhodes-Conway and the council's president and vice president did not respond to requests for comment on the survey Wednesday, but two local police critics downplayed its results.
Survey drawbacks
Greg Gelembiuk, who served on the ad hoc committee, said the survey's results are to be expected given its drawbacks, including that it didn't seek to determine whether respondents lived in Madison. He also noted that the people who respond to surveys conducted directly by the Madison Police Department tend to report being whiter, older and richer than the community generally.
Brenda Konkel, whom Rhodes-Conway appointed to the city's Public Safety Review Committee last year, attributed results to "a very well organized group of police supporters" making their voices heard.
"On the other side are 1) complacent liberals who think that our elected officials will do all the 'liberal' things without support or pressure," she said in an email, "and 2) people who aren't going to waste their time trying to change a system that is broken and where it feels like their voices are not heard."
Madison police union president Kelly Powers said police supporters are likely less coordinated than groups critical of police, such as the Community Response Team, which often puts calls to action out on social media and provides followers with text they can use to lobby city officials.
"Your safety is not going to be won by hashtags saying we support MPD," he said of residents who are more supportive of police. "What we do need is people to tell their alders what they need, too."
He wasn't sure if the survey results were an accurate reflection of the community's feelings because most people don't closely follow local politics or participate in local government.



Photos: Hundreds of protesters gather Tuesday in Madison in wake of Kenosha police shooting
"I would like someone who is able to stand up to the crazy culture here of accepting violence." Respondent to survey
"I would like someone who is able to stand up to the crazy culture here of accepting violence."

Respondent to survey