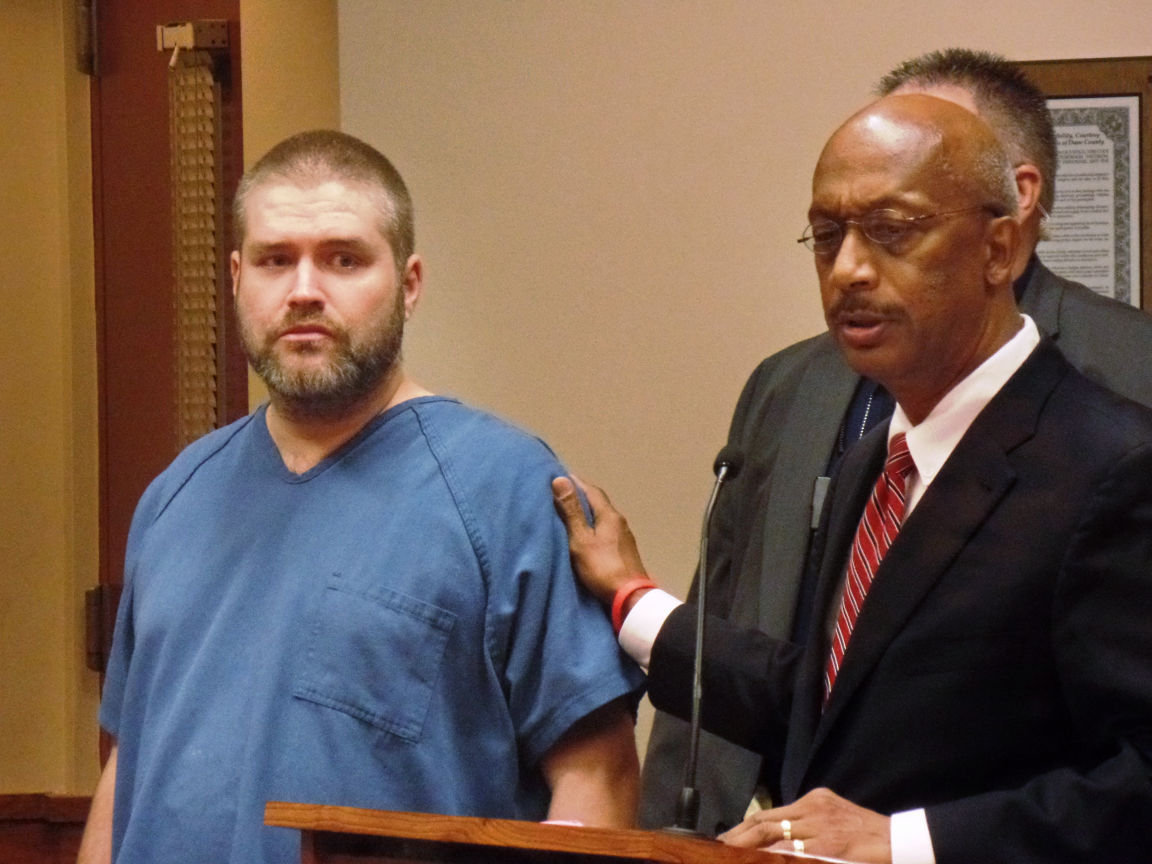 Matthew Skalitzky, who police said beheaded his mother with a 4-foot sword earlier this month, is severely mentally ill and saw people, including his mother, as inhuman clones, a prosecutor said in court Monday.
Skalitzky, 40, of Sun Prairie, was formally charged Monday with first-degree intentional homicide for the Sept. 11 death of his mother, Jane Skalitzky, 68, at a townhouse at 1052 Providence Common in Sun Prairie where he lived part time. He also spent time at his parents' home.
As Skalitzky made his first appearance in court, Assistant District Attorney Corey Stephan said that Matthew Skalitzky's mental illness "causes him to believe the people around him are clones" and are "less than human."
After killing his mother, Stephan said, Skalitzky told his roommate that he had "hacked the clone."
Stephan said Skalitzky became upset with his mother after she found a box containing knives and a sword.
Dane County Court Commissioner Dan Floeter said that while bail was largely academic, he set it at $1 million, saying he wanted to make sure Skalitzky remains in custody.
Skalitzky's lawyer, Stan Woodard, had argued that bail was not necessary because Skalitzky is being kept at Winnebago Mental Health Institute near Oshkosh on a court-ordered commitment, and that the commitment was to last at least six months.
Skalitzky kept his head down for much of his appearance in court, occasionally looking over at the attorneys as they spoke. He will be back in court for a preliminary hearing on Oct. 6.
The criminal complaint filed on Monday almost entirely mirrors the narrative that was detailed in search warrants filed nearly two weeks ago in Dane County Circuit Court.
According to the complaint:
The day began with Matthew Skalitzky having breakfast with his parents at their home, where he had spent the night. His father, Joseph Skalitzky, described his son as being "anxious and agitated." He said that shortly before 11:30 a.m., his son wanted to return to the condo that his parents rented for him.
Skalitzky's roommate told police that Skalitzky had not been staying there for the past year but would visit and get mail there.
When Matthew and Jane Skalitzky arrived, the roommate told police, Jane Skalitzky was friendly and greeted him, while Matthew Skalitzky seemed "distant and unemotional," comparing it to one of his "seasonal funks."
About 10 to 15 minutes later, the roommate said he heard stomping noises from upstairs and went to investigate. When he got about halfway up the stairs he heard Jane Skalitzky yelling, "no, no, no." He got upstairs to find Matthew Skalitzky holding a sword and his mother's body on the floor, decapitated.
The roommate took the sword from Skalitzky without resistance and led him down the stairs and told him to sit on the couch. The roommate went outside and called 911.
When police arrived, they saw Skalitzky coming down the stairs from the second floor and took him into custody.
The sword was found just outside the front door. When asked if his mother was dead, Skalitzky responded, "yes, but she's not my real mother."
The search warrants state that Joseph Skalitzky told police that his son had recently stopped taking prescribed medications after reading negative comments about them on the Internet, but had resumed taking them two days before Sept. 11.