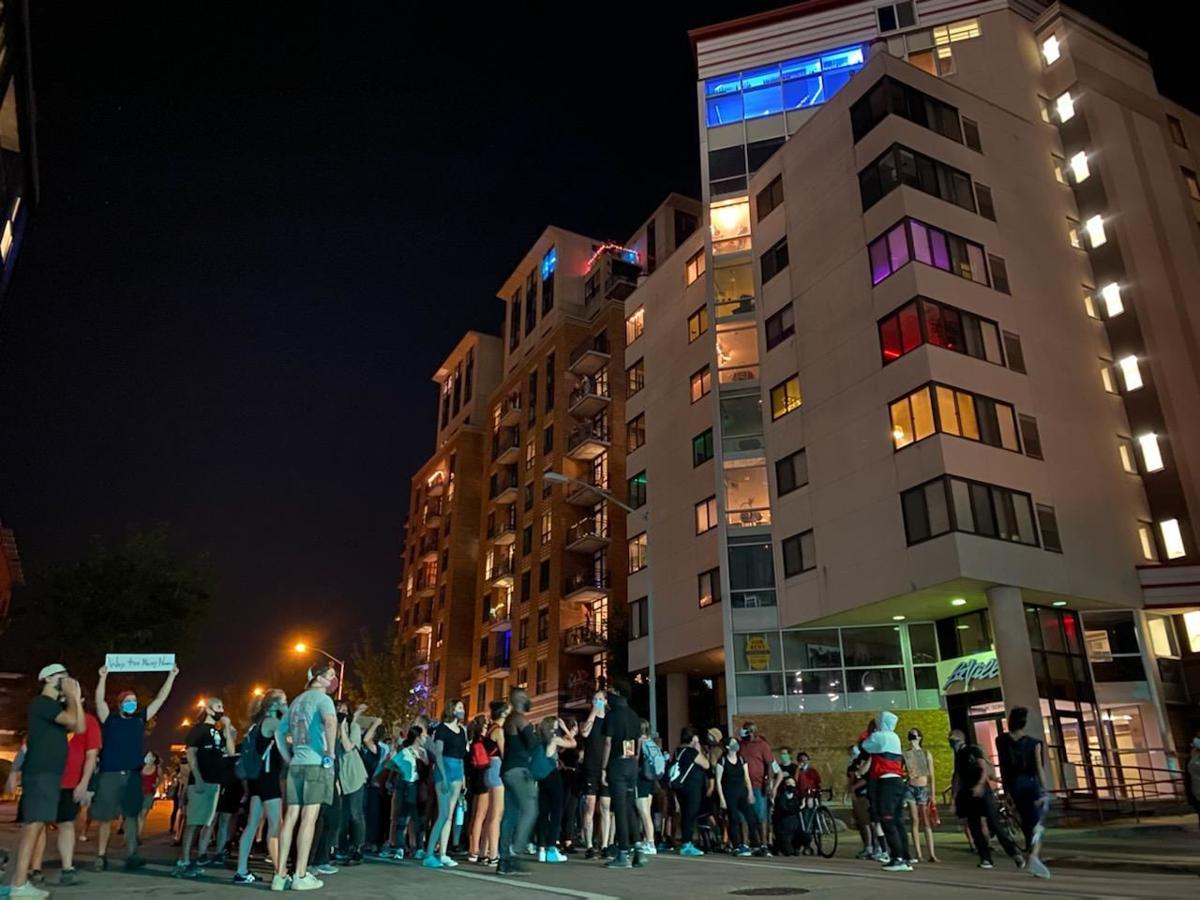 For the fourth night following the shooting of Jacob Blake by a Kenosha police officer, protesters took to Downtown Madison streets Wednesday, chanting a long list of names of Black women and men killed by police.
The most recent, high-profile shooting of a Black person by a police officer — who Blake's family says has left the 29-year-old paralyzed from the waist down — has added fuel to ongoing local and national demands for racial justice and an end to systemic racism in a summer of unrest.
"I'm still trembling from every video I've seen," Ayomi Obuseh, an organizer with the youth-led group Impact Demand, told a crowd of a few hundred demonstrators stopped at the intersection of University Avenue and North Frances Street. "I refuse to let myself get numb."
Impact Demand — a group behind many of the protests since the killing of George Floyd by Minneapolis police in May — organized Wednesday's protest, which remained peaceful late Wednesday as protesters traversed Downtown streets chanting, giving speeches and telling onlookers in high-rise student apartment buildings to come down and join them.
Madison police Sgt. Richard Wipperfurth said Thursday morning that no arrests were made related to the protests overnight.
Wipperfurth estimated the crowd peaked at 250 to 300 and periodically blocked traffic, but the only incident happened while the group was marching on Langdon Street and a person in the group was seen throwing rocks at homes and broke a window. A community leader was able to intervene and end the behavior, Wipperfurth said in a statement.
He said a squad of officers working the event did have a vehicle intentionally swerve at their squad. This vehicle was stopped and the driver was cited for reckless driving.
The hundreds of people were led on a march throughout the city by Obuseh, Shania Shaw and Krystyn Jones, both 19, and other young organizers with Impact Demand.
The night had started similarly peaceful to the previous three nights of demonstrations since Blake was shot in the back several times Sunday evening. But the overnight hours on those previous days turned destructive with some people shattering windows, lighting dumpsters on fire and looting stores.
Darin Hicks, 36, of Madison, said he's been demonstrating every day since late May against police violence and racial injustice.
Hicks, who is Black, said violence against African Americans by police has existed for a long time. But with more instances being captured on cellphones, he said "now it's up in your face."
Hicks wants to see police officers be required to take four years of training before they start the job, similar to professions that require a bachelor's degree, and he said officers need to be paired with social workers who can better handle mental health situations.
"My bottom line is Black Lives Matter," Hicks said.
Standing where State Street meets Capitol Square, Bradley Geyer came out in the evening with a handful of people from the group Veterans For Peace to set up a large wooden sign of a hand giving the "peace" gesture and wave flags with messages of peace.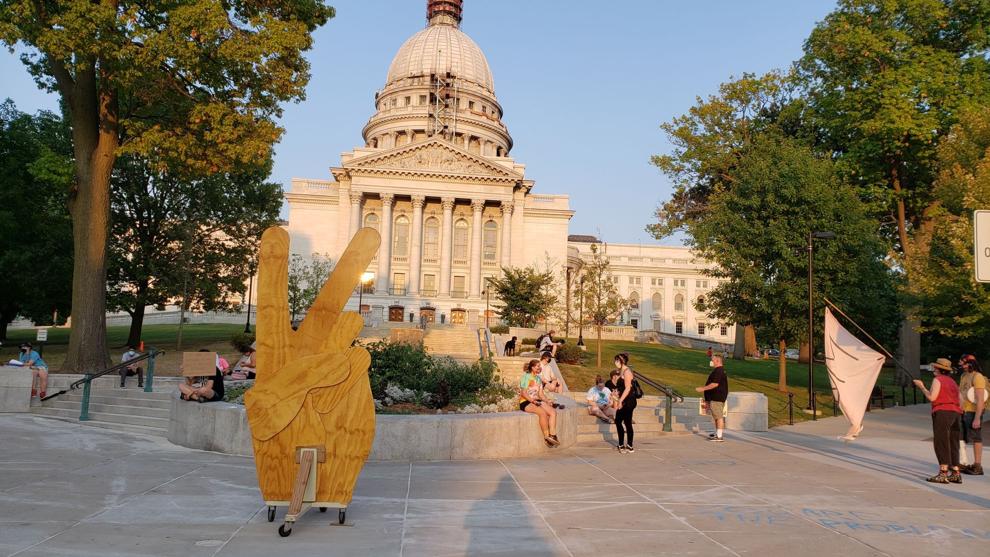 Geyer, a retired member of the U.S. Air Force and Air National Guard, said he sees too many people getting angry at riots in Madison and Kenosha, but fail to be angered by police who aren't held accountable.
He said he wants to the laws of the United States to hold everybody accountable equally, regardless of whether they're a police office, legislator or civilian.
"We have a problem of racism in Wisconsin," Geyer said.
Obuseh told the protesters marching through Madison it's important to be out demonstrating, but it's also important to hold elected officials accountable for standing in the way of change by voting.
As the demonstration, which started on UW-Madison's Library Mall, moved throughout Downtown, police diverted traffic from behind, keeping a far distance from the group, and protesters on bicycles moved along with the crowd to halt vehicles on side streets.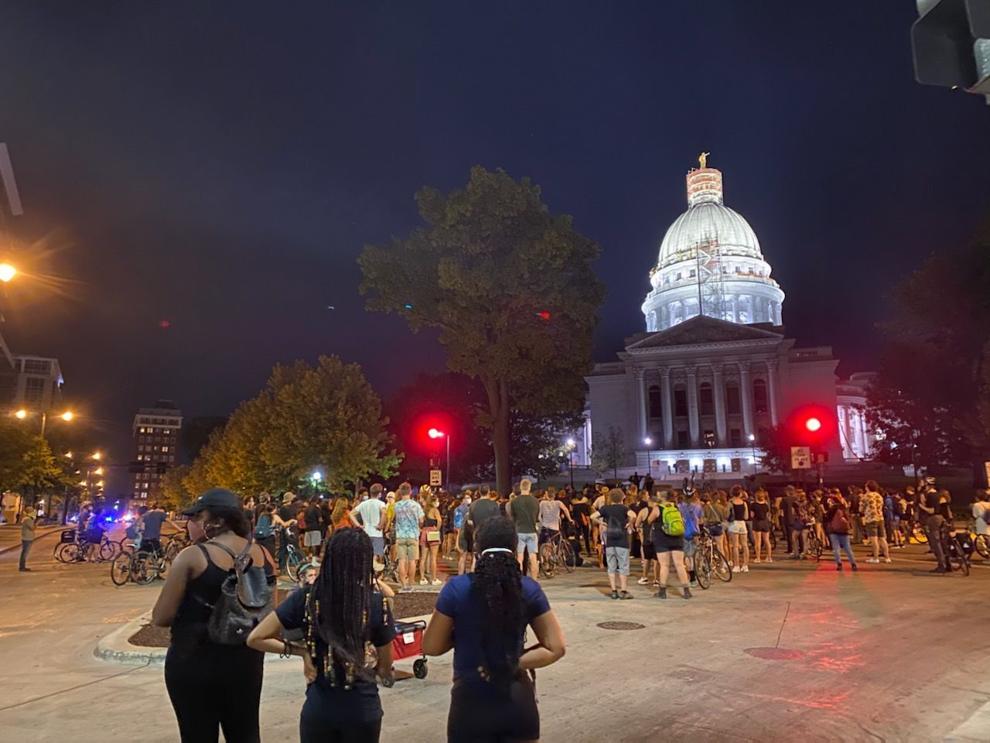 Althea Bernstein, an 18-year-old Black woman who reported to police in June a group of white men squirted lighter fluid on her and lit her on fire as she was waited in her car at a stoplight, spoke to a crowd about the trauma she said she's experienced and how important the Black Lives Matter movement is to her.
Since the alleged attack, Bermstein said she only recently started returning Downtown to protest.
"It's been mentally exhausting. There's good days and bad days," Bernstein told the crowd. "I realized I need to be down here. I'm an EMT, I'm here for medical service. Does my skin color offend you? Does my success scare you? Does the fact that I'm a Black woman make you worried that change in going to happen?"
While Bernstein said she has been advised not to speak about details of the reported attack — police have released little information nor said whether it was captured on any of the surveillance cameras in the area — she said in an interview with the State Journal addressing the crowd "felt empowering."
"It's important to see community," Bernstein said. "I'm hoping people see us and people join us and know that they're welcome."
State Journal reporters Shanzeh Ahmad and Shelley K. Mesch contributed to this report.