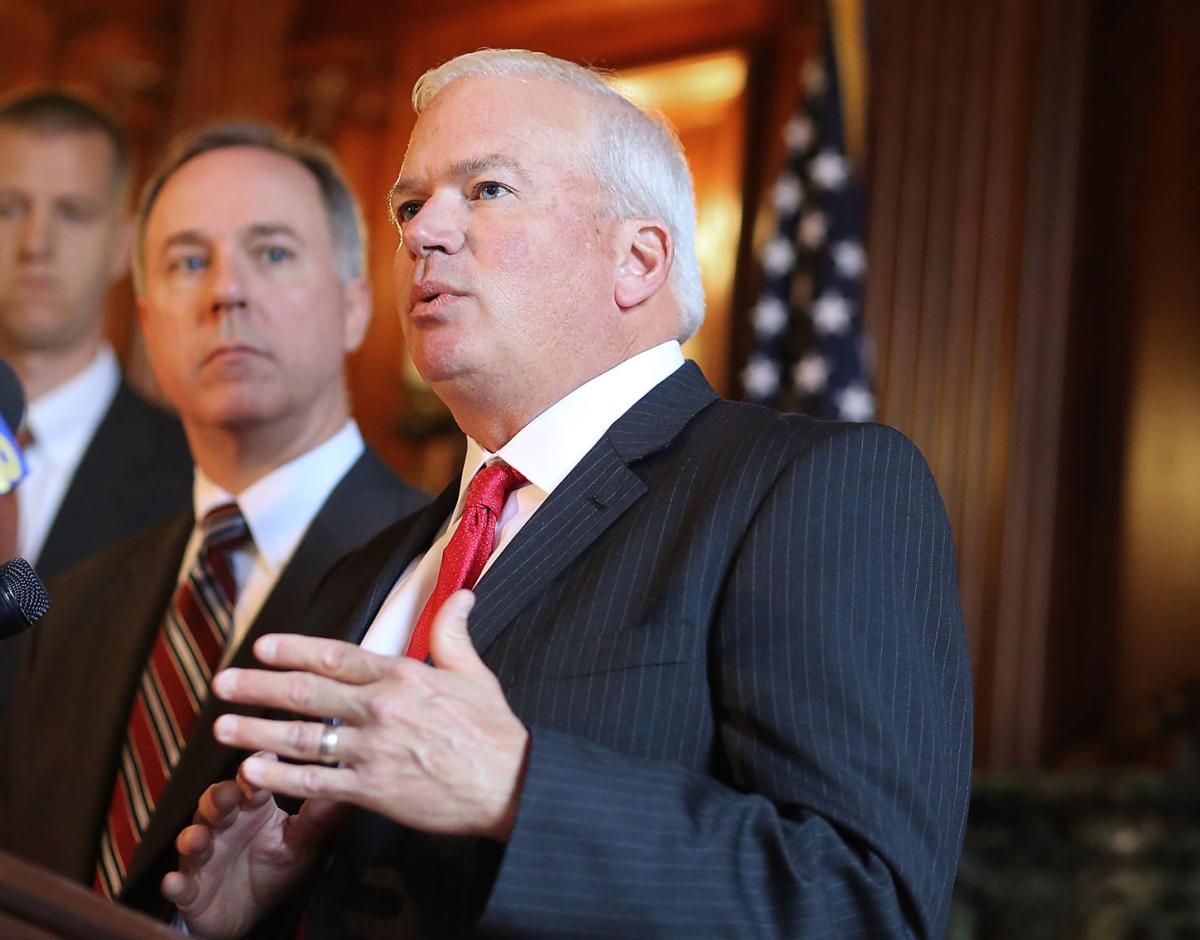 Flanked by the parents of fatal shooting victim Caroline Nosal, Democratic lawmakers from Dane County on Tuesday renewed their push for reinstatement of a required 48-hour waiting period prior to buying handguns in Wisconsin.
In a conference room at the Capitol, behind a podium flanked by signs reading "Enough is Enough" and "Reinstate the 48," the group of five lawmakers stood with Jim and Jane Nosal of Sun Prairie and called on the Republican leadership of the state Legislature to act.
"This is devastating to our community," said Rep. Gary Hebl of Sun Prairie, where Caroline Nosal, 24, grew up. "This really should not be a partisan issue in any way."
The inconvenience of a two-day wait to a gun buyer, the lawmakers said, is outweighed by the chance of a victim's life being saved as a result of a cooling-off period.
"If we save one life, it's worthy of our consideration," Hebl said.
In response to questions about cases in which a waiting period would delay potential victims from getting a gun to defend themselves, the lawmakers described such scenarios as outliers, noting victims who arm themselves can be overpowered and have their guns turned on them.
Caroline Nosal's accused killer, Christopher O'Kroley, 26, legally bought a gun within 48 hours of when he used it, police say, to allegedly shoot her twice as she walked to her car after finishing her shift at Metro Market, 6010 Cottage Grove Road, at around 8 p.m. on Feb. 2.
O'Kroley allegedly blamed Nosal, an acquaintance and former co-worker, for getting him fired from the store the day before. Nosal had told supervisors he had harassed her and was now bothering another young cashier there.
"If we do nothing, then this will happen again," Jim Nosal, a retired family physician, said on Tuesday. "Another young woman, or young man, or child, will be killed."
Jane Nosal said it wasn't fair to expect her daughter to have armed herself for a gun battle with her much larger alleged assailant, who police said was hiding behind her car as she approached.
She also challenged those who doubt the waiting period would have stopped O'Kroley, who reportedly struggled with mental illness issues, to "look in my eyes and tell me they're sure it wouldn't have made a difference." Nor was she intimidated by the strong pro-gun lobby sure to turn out over any attempt to change the state's gun laws.
"Odds don't scare me," she said. "My persistence will cancel that out."
You have free articles remaining.
The other Democratic lawmakers who gathered in support of restoring the longstanding waiting period, eliminated by Republicans in June, were Madison Reps. Melissa Sargent, Terese Berceau, Lisa Subeck and Chris Taylor.
"We knew it was simply a matter of time" before someone was killed in a heat-of-the-moment-type situation after the waiting period was eliminated, Berceau said.
Noting nothing can be done to bring Caroline Nosal back now, Berceau added, "We can choose better for tomorrow. We can choose better for your kids and my kids."
Taylor is lead sponsor of Assembly Bill 354, which would restore the waiting period. She introduced the measure in September, but it has yet to get a hearing or vote in the Assembly's Criminal Justice and Public Safety Committee, chaired by Rep. Joel Kleefisch, R-Oconomowoc. A companion bill in the Senate also is stalled.
Kleefisch's chief of staff, Ashlee Moore, said there wasn't time left in the current session to deal with Taylor's bill to restore the waiting period.
The current floor period ends Thursday, and there isn't time for a hearing and vote on it to be publicly noticed and completed by then, she said.
Additional weeks for committee business are scheduled in March and April, but Assembly members — who all face re-election this year, with a primary in August and a general election in November — plan to stay in their districts during those weeks, Moore said.
"It's just too late in the game," Moore said, adding, "Maybe next session."
Miranda Tanck, communications director for Senate Majority Leader Scott Fitzgerald, R-Juneau, also said the timing doesn't work well for the current session, noting the Assembly's plans not to reconvene after this week.
Assembly Speaker Robin Vos, R-Rochester, didn't directly answer whether the Assembly would take up the measure.
"I'll have to take a look," he said. "I haven't seen the information that they must have sent to my office.
"Of course, every single situation, we sympathize with the families that have to go through a tragedy," Vos added. "By and large, we know that the vast majority of people who own firearms do no harm to others and usually protect themselves."
— State Journal reporter Mark Sommerhauser contributed to this report.