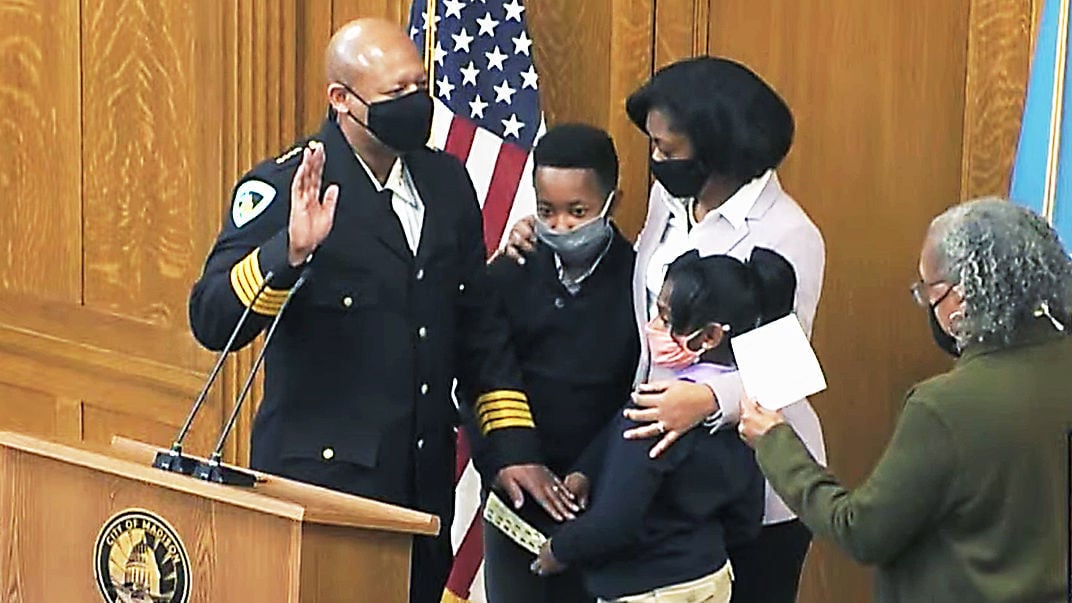 Shon Barnes was sworn in Monday as Madison's newest police chief, promising to listen to local police reformers while working to reduce violent crime in a way that prioritizes partnerships and community engagement over locking people up.
He takes over more than a year after his predecessor resigned in frustration amid a sharp increase in shootings and car thefts, and as criticism of the progressive, generally well-regarded department has grown over the death of George Floyd and others at the hands of police.
In remarks during a ceremony streamed live because of the COVID-19 pandemic, Barnes, 46, said "this is arguably one of the most challenging times for law enforcement in our history.
"Some are abandoning the profession or approaching our profession with cynicism," he said. But "you will find that my administration is one that will be based on respect, communication and collaboration."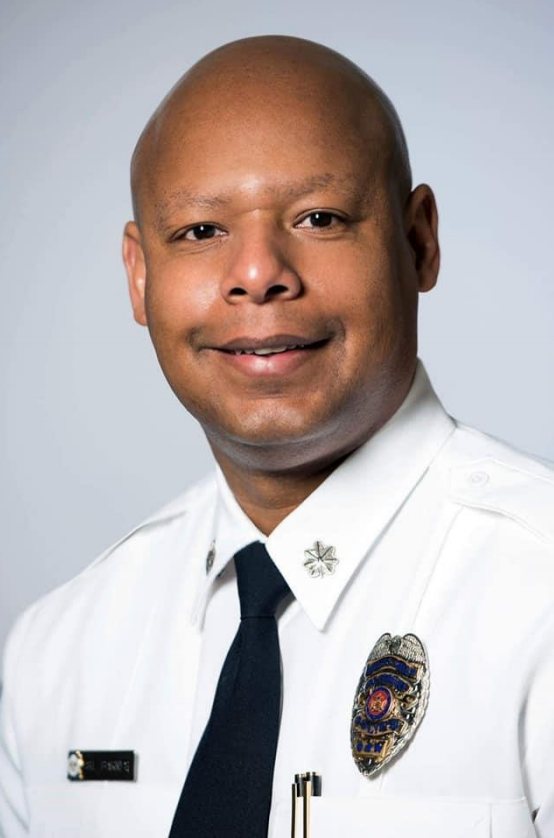 Barnes is the former director of training and professional development for Chicago's police oversight group and before that was a deputy chief in the small North Carolina City of Salisbury. He began his career in 2000 with the Greensboro, North Carolina, Police Department, where he rose to captain, but prior to that worked as a public high school teacher. He also has a doctorate in leadership studies.
Barnes said he will be "laser-focused" on preventing violent crime, something he said "will also require us to examine alternative solutions to discretionary arrests of lower-level offenses.
"Clearly we have to understand we cannot always arrest our way out of problems," he said.
Madison's Police and Fire Commission voted 3-2 in December to offer Barnes the job. He is the third Black police chief in a city that, while still overwhelmingly white, has seen its population become more diverse and has long struggled with racial disparities in arrests, school achievement and other areas. Even with increases in shootings and car thefts by young people, Madison remains comparatively safe.
During remarks before a small, socially distanced group of family, supporters and others at the Madison Municipal Building, Barnes said he grew up in a North Carolina housing project the son of a single, teenage mother and saw his first act of fatal gun violence at age 12. He also pointed out that Monday was the 61st anniversary of the Greensboro sit-in movement that started with four Black students demanding service at a whites-only Woolworth's lunch counter.
"I stand today on their shoulders," he said.
In an interview later Monday with the Wisconsin State Journal, Barnes said racial and other disparities in the criminal justice system don't necessarily mean "disparate treatment."
He said he hasn't looked closely at disparities in Madison but that it is important to make apples-to-apples comparisons among groups.
"I'm not suggesting that the information (on disparities) is incorrect," he said. "I'm just suggesting that I like to take a little bit deeper dive before I make that assertion."
'Challenging landscape'
Prior to Barnes' swearing in, Mayor Satya Rhodes-Conway welcomed Barnes to a "challenging landscape" that over the last year has included "a pandemic and difficult social issues, a struggling economy."
But the mayor — who has at times vacillated between support for police and support for local police critics who consider most police racists and have called for major cuts to law enforcement — said the times are also "rife with opportunity for fundamental, positive change."
She lauded Barnes' respect for data in policing and his creation of a joint police-community coalition in Greensboro that she said helped lower crime and arrests. She said he is well positioned to be the first chief under a new city oversight structure made up of a civilian police oversight board and a yet-to-be-hired independent police monitor.
The board and monitor have no power to discipline officers, but can issue subpoenas and conduct investigations of police and hire attorneys for people lodging formal complaints against police before the PFC.
"With a strong foundation based in data, I trust that Chief Barnes and I can work together for data-driven solutions," Rhodes-Conway said, "like our pledge to re-imagine public safety," including creating a city mental health crisis response unit.
Community input
Barnes said he had spent the last four weeks listening to people inside city government and out, including "a young community advocate, who told me that trust and reconciliation is a process and is possible.
"We are never going to move the needle and earn community trust until we recognize how the community wants to be policed," he said. "Whether it's community activists or anyone else who wants to meet us halfway, and discuss how we can come together and do better for this community, I am all in. The community provides the Madison Police Department with its authority to police and should have a say in how they want to be served."
Barnes declined to say what community groups he's met with.
While Barnes spent most of his life in the South, his mother was briefly a resident of Madison in 1976, when she followed her brother to the city to see if it might be a place for her and her family to settle. Barnes said he continues to have relatives in Wisconsin and is living with his family in Madison.
Search process
Barnes was not the first choice of the vast majority of local police-reform activists and others who spoke during PFC meetings and who also complained that the public hadn't been given sufficient say in the hire. They preferred Ramon Batista, the former police chief in Mesa, Arizona, who got the PFC's two other votes.
But Barnes appeared to be the public's second choice of four announced finalists, and he was the only Black candidate of the four in a year that has seen historic protests against the treatment of Black people by police, both in Madison and nationwide.
Madison saw a spate of sometimes-destructive anti-police protests in the Downtown over the spring and summer that left dozens of shops damaged or looted. There was also a string of seven fatal police shootings in Madison between 2012 and 2016.
Still, the department has long been recognized as among the nation's most progressive and counts among its ranks comparatively high percentages of women and people of color. An independent consultant's report released in December 2017 deemed the department "far from 'a Department in crisis'" whose use of force was "limited in volume and primarily minor in nature."
Barnes said anti-police sentiment in Madison is part of the negative feelings people have about government in general.
"They see government not working for them in the ways that it works for other people, and police officers, we're the most visible form of government," he said. "People are frustrated with government and the government not respecting or historically understanding their interests."
Former chief Mike Koval resigned with one day's notice on Sept. 29, 2019, after voicing frustration in recent years over the City Council's oversight of the department and its unwillingness to provide what he deemed adequate funding. Assistant Chief Vic Wahl served as interim chief from then until Monday, and did not apply to be permanent chief.