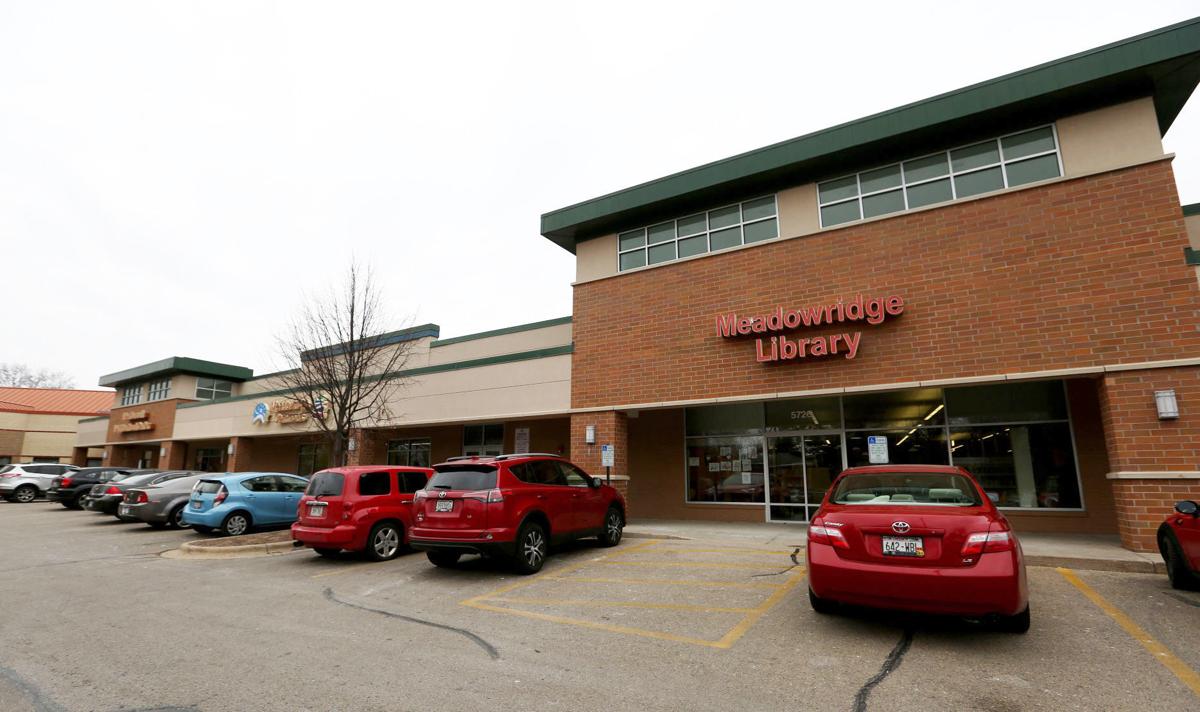 Police calls to Madison's neighborhood libraries have jumped by more than 50 percent since 2014, with officers responding as many as nine or 10 times per month to libraries on the South and Southwest sides.
Library system director Greg Mickells and supervisors at the three sites with the most calls point to the increase in library use by teens and 'tweens and the opioid epidemic as among the factors contributing to the rise.
The Wisconsin State Journal requested data on calls for service to the libraries from 2014 through 2018 after a scuffle broke out among police and middle-school-age children March 11 at the Lakeview branch library, sparking allegations from some in the community that police behaved too aggressively and from others that the children's behavior was unacceptable and reflects deteriorating behavior in the public schools.
The data show that over five years, the Goodman South Madison branch, 2222 S. Park St., on the city's South Side saw the most calls of any neighborhood library, or 524. Second was the Meadowridge branch, 5726 Raymond Road, on the Southwest Side, with 348 calls, and third was the East Side's Hawthorne branch at 2707 E. Washington Ave., with 236.
The Monroe Street branch on the Near West Side had the fewest calls over that period, or 26. There are eight neighborhood branches in the system.
Police calls-for-service reports do not provide many details on the reasons for the calls — those are explained in any related case files — but among the reasons listed are trespassing, theft, requests to check people or property, disturbances, drug incidents and parking concerns.
Mickells said the library system has sought to make its libraries "more welcoming and accessible for teens," as retailers, restaurants and other businesses sometimes bar large groups of teens or teens not accompanied by an adult.
"We've become a place where they can meet their social needs," he said. "With more people, there's more opportunity (for problems), with occasionally bumping heads."
Goodman South supervisor Ching Wong said police calls to the library are for both youth and adults.
Teens want to watch videos on their phones, talk with friends or otherwise hang out, Wong said. This year, the library is completing a $65,776 grant-funded project to expand and renovate its teen area.
Problems with young patrons are typically confined to their tendency to be loud and use inappropriate language, which staff can usually handle, Wong said. "If a fight breaks out, we're not supposed to engage."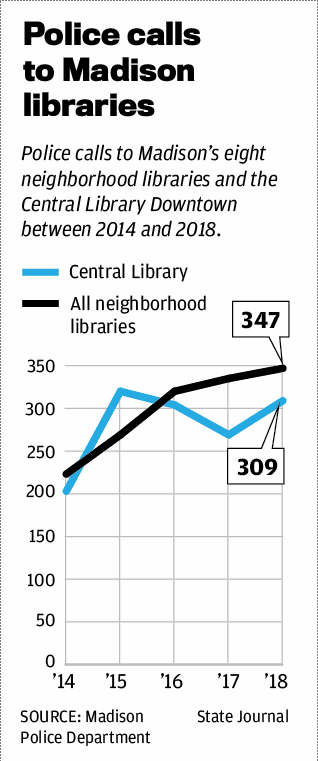 The other primary reason to call police at Goodman is for adults who might be homeless, intoxicated or prone to fighting and "if intoxicated ... can't leave the library on their own."
Four of the last nine times police were called to the library were for adults who were intoxicated, including one who appeared to have overdosed, according to internal library incident reports.
Only one of the reports involved youth. In that Feb. 28 case, a group of 'tweens and a group of teens engaged in a profanity-laced shouting match that escalated into swearing at staff. Two of the girls in that group had been warned multiple times before about swearing at the library, the report said.
Madison police officer Tom Coyne, who worked two years in the South Police District before becoming a neighborhood resource officer in the area this year, said the library's proximity to the Metro Transit South Transfer Point and a McDonald's seems to be associated with calls for disturbances, trespassing, unwanted persons and other, usually minor, problems.
"You kind of get the flow of people back and forth between those three locations," he said, emphasizing his "relationship with library staff has been very good."
Wong has worked at the Central Library which, due to its larger size and location Downtown, sees the most police calls of any Madison city library by far. Since she arrived at Goodman in January 2018, police calls to the library have dropped by more than 30 percent, to 71 last year.
Meadowridge, Goodman and Lakeview tend to see a steady flow of middle-schoolers and teens from the time school lets out until later in the evening, said Wong and Goodman supervisor Terrance Newell.
Meadowridge's calls have seen a steep increase from only 16 in 2014 to 119 last year. Newell, who arrived at the library in June, said most staff calls to police over the last few months have been for problems with juveniles — including children running around, throwing books, ignoring warnings and otherwise behaving in ways that are not conducive to other library uses by young children or adults.
You have free articles remaining.
"They bring a lot of energy that must be managed at all times," with 15 to 30 cycling in every day, Newell said.
On a recent Monday afternoon in April, the scene was busy and briefly tense over the course of about 90 minutes at the library, where signs listing 13 rules were positioned on tables and bookshelves. Among them: only three people per table, don't block aisles or walkways, don't disrespect library staff, no profanity.
Youth made up the majority of patrons. Some watched videos on phones or computers. Others worked with adults on an art project at a table outside in the early spring sun. At one point a boy in a blue hoodie ignored a staffer's warning and went behind the main library desk, prompting another staffer to say she didn't know why he came in there "every day when you know you're banned."
'Polite and respectful'
Newell said he doesn't see the increased need for police at the library as a problem, saying that the children usually respond to staff direction. When police are needed, officers — whom he referred to as "valued community members" — use a soft touch, he said.
"The way that they come in is so polite and respectful," he said. "It is a gentle escort (out of the library) every time."
Typically "they need someone to just tell them to be respectful," said one of the area's neighborhood officers, Rayvell Gillard, known as "Officer Ray" to youth.
He said Meadowridge staff will call or email him directly if there's a problem. The fighting that gets reported is typically play fighting, he said, but when it's real he tries to visit with the youths' parents. He said he's not had to cite or arrest any child since he started working the area in September.
Mickells said incidents like the one at Lakeview have been rare in his more than six years with the system, but he acknowledged scuffles in the Meadowridge parking lot and cases in which teens have been chased by other teens into the library. He said disputes that start at the Meadowridge neighborhood center, next door to the library, can spill into the library itself.
At the Hawthorne library, supervisor Jane Jorgenson said some of the increase in police calls there "has to do with a lot of the substance abuse issues we're seeing in the community." Anecdotally, she said, she's seen people come in who are clearly intoxicated or hard to rouse.
Mickells said that in the wake of the Lakeview incident, library officials have been meeting with the Northside Planning Council, Warner Park officials, Madison public school officials and others to determine where there are gaps in how library staff respond to disruptive patrons and to make sure patrons know the rules.
There's also an interest in authority figures responding more consistently across the places teens gather — whether it be the library, school or neighborhood centers, he said.
Graduated penalties
The library system has a behavior policy that includes the kinds of penalties that apply to specific behaviors, and uses an internal "consequences chart" that outlines unacceptable behaviors and provides a series of graduated punishments for some of them for first, second, third and fourth offenses.
Causing serious damage to library property and possessing drugs or open containers of alcohol, for example, come with bans of six months to a year, according to the chart. Less serious behaviors common among youth — including play fighting, "sticking gum to tabletops" and swearing — are addressed first with "gentle" warnings, then with ejection from the library for the day and, for subsequent cases, bans of up to a month.
Mickells said staff made the right decision to call police before the confrontation last month at Lakeview but declined to say whether police reacted appropriately in physically detaining some of the youth.
"They responded in the usual way they do when dealing with our request for assistance," he said of police. "They met with the young people, tried to talk it through with them, and then asked them to follow the direction of the staff and leave the library."
But as for "police protocol, I would defer to their expertise," Mickells said.
North District police Capt. Brian Ackeret said "the actions of the officers, particularly the use of force, was reviewed and the actions were deemed to be within policy."
Jorgenson, of the Hawthorne branch, has worked in the Madison library system for 27 years and said that in addition to the opioid epidemic, Madison's growth into a larger, more urban city might be behind the increase in police calls to libraries.
Public libraries see the whole community, she said. "That's the beauty of it and can be the challenge of it."