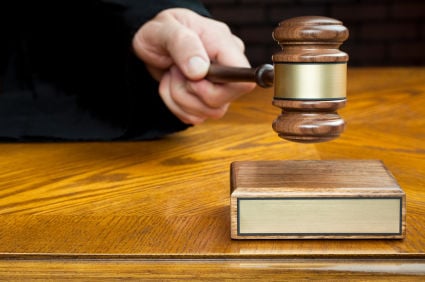 A husband and wife who own a Middleton bowling alley will each spend six months in federal prison for failing to report income from cash skimmed from the proceeds of video gambling machines that were on their premises.
U.S. District Judge James Peterson said he believes Dudley and Cherie Hellenbrand, owners of the Middleton Sport Bowl, "are decent people, but they were very good and very committed in compartmentalizing an aspect of their lives in which they worked by a different set of rules than govern their conduct in everyday activities."
While presenting one image to friends and the public, Peterson said, they worked with a vending machine company owner to evade paying taxes on money made from video gambling machines.
Most disturbing, he said, was that they both worked with young people as mentor and model, Dudley Hellenbrand through sports and Cherie Hellenbrand as a business education teacher at Middleton High School. She no longer has that job.
"It greatly concerns me that the people in Mrs. Hellenbrand's business classes who would have seen her teach the idea that you should run a business with integrity, when in fact what she did was cheat the government once she found out that they had underreported their income," Peterson said.
Both, he said, have "undermined what I think is a lifetime of service."
In a statement she read, Cherie Hellenbrand, 46, apologized to "the people I've let down," including her family, friends and students.
"I didn't live up to the standards that I taught to the children and to my students," she said. "I'm truly sorry for not paying my fair share and my conduct in 2017 and 2018."
She said she hopes other bar owners will learn from her mistake, "how not respecting and following the law can ruin your life and hurt the ones you love."
Dudley Hellenbrand, 68, also apologized to fellow taxpayers, and to his family.
"I am deeply, really sorry for my wife, who was one of the best teachers to ever hit Middleton High School," he said. "She cares about everything. As long as I live, I will never live that down."
Assistant U.S. Attorney Dan Graber said that working with vending machine company owner Thomas Laugen, Dudley Hellenbrand initially set up a cash skim on a video gambling machine Laugen had set up at Middleton Sport Bowl starting in 2010. Cherie Hellenbrand's attorney, Jenny Johnson Ware, contended Cherie Hellenbrand didn't find out about the scheme until 2017.
Peterson wondered, though, how she wouldn't have noticed the extra money in the household that enabled her to not have to dip into her teaching paychecks. He also said that at the point she discovered the scheme, instead of convincing her husband to come clean and pay back taxes, they stopped doing business with Laugen and signed on with another game machine vendor and tried to set terms for a similar scheme.
When the couple tried to sell Middleton Sport Bowl, and met with an undercover Internal Revenue Service agent posing as a prospective buyer, they used the video gambling machine skim as a selling point, Peterson said.
He agreed Cherie didn't know about the scheme for long but said once she knew she was more "calculating."
Laugen, 69, was sentenced earlier this week to a year in prison for tax evasion. While lawyers for the Hellenbrands asked for probation, Peterson said their crimes were "serious enough, calculating enough and intentional enough" to warrant prison, but a sentence proportional to their responsibility compared to Laugen's.
Graber said the investigation is continuing, and other taverns and restaurants that don't pay sufficient taxes on the proceeds of video gambling machines at their businesses will be subject to civil prosecution by the IRS.
The Hellenbrands were ordered to pay more than $350,000 in restitution for unpaid taxes but have already fully paid the amount. Each will serve their sentences at different times, Dudley Hellenbrand starting in late July, and Cherie Hellenbrand starting next June.
Sign up for our Crime & Courts newsletter
Get the latest in local public safety news with this weekly email.