The white driver of a truck that hit a Black woman in Downtown Madison last month has been charged with felony hit-and-run in what some Black activists have called a hate crime.
The charge against Brendan J. O'Neil, 26, of Sun Prairie, filed Wednesday, does not include a hate-crime enhancer. A four-page criminal complaint says O'Neil struck 24-year-old Alize Carter after driving through a crowd on Frances Street near University Avenue at about 2:30 a.m. June 21, and then fled the scene.
Carter suffered multiple abrasions and told police her hand was fractured. She later told WMTV-TV in Madison that she suffered a concussion as well.
O'Neil did not contact police about the incident until about eight hours after it happened, when he told them that prior to the accident, people in the crowd "were reaching into his vehicle" and "trying to grab him and pull him out of the vehicle," according to the complaint, and that he drove off when he saw a person in the crowd with a gun in his waistband.
If convicted, O'Neil could be sentenced to up to nine months in prison, ordered to pay up to a $10,000 fine, or both.
According to the complaint, video of the incident shows O'Neil's black 2007 GMC Sierra pickup truck "lurch forward" and hit Carter, knocking her over "and pushing her partially into the intersection."
"Oh my god. I think you hit someone," O'Neil's passenger is reported as telling him immediately after the accident, according to the complaint.
Police had O'Neil's license plate number and phone number shortly after the incident, according to the complaint, and attempted to contact him at his home and by phone, but O'Neil didn't contact police until about 10:30 that morning.
Carter later told police that she was hit while crossing the street and that O'Neil had time to stop before he hit her.
No mention is made in the complaint of any video that might have captured the moments before O'Neil drove into the crowd.
Tense situation
The incident just after bar time was already controversial after some of the people at the scene complained that the police department's response was slow or overly aggressive.
Video released the day after the incident from city surveillance cameras shows police briefly deployed pepper spray as a crowd of people milled about and at least one person moved aggressively toward an officer trying to clear the area so emergency responders could attend to Carter.
Acting Police Chief Vic Wahl said on the day after the crash that throughout the police response — which came amid local and national protests following the death of George Floyd in police custody in Minneapolis — many in the crowd refused to give police room and lobbed verbal abuse at officers.
Police spokesman Joel DeSpain has said police had no information that the crowd at Frances and University was "an organized protest, and this is an area where we can see larger bar-time crowds during this time frame."
The day after the hit-and-run, a group active in organizing protests in Madison in the wake of Floyd's death called the incident a "hate crime" on its Facebook page. Another activist group, Urban Triage, alleged "a white supremacist intentionally hit" the woman. Mayor Satya Rhodes-Conway also issued a statement the day after the incident suggesting it might have been a hate crime.
Other incidents
No charges have been filed in three other cases from May and June in which vehicles were driven through crowds of Black Lives Matter protesters, according to records released to the Wisconsin State Journal under the state's public records law.
On May 30, a female motorist drove through a crowd of protesters at Williamson Street and Few Street after striking a bicyclist, who sustained minor injuries.
The bicyclist said the silver Cadillac SUV nudged his front tire twice, and then he dove out of the way because he heard the vehicle start to accelerate through the protesters. His bike was crunched underneath the car and sustained about $400 in damage.
The man told police the right side of his body was sore the next morning, but he declined to go to the hospital because of the COVID-19 pandemic. Police interviewed several protesters who saw the crash, but did not report any other injuries.
The driver told police she was trying to turn right onto Williamson Street and was looking left for traffic when the crowd surrounded her vehicle and started banging on it. She said she didn't know if she may have struck someone while creeping forward to turn, police reported.
She admitted to speeding across Williamson Street while protesters were around her car. She told police she had a "panicked, flight response" because she was scared for herself and her two young children, ages 4 and 6, who were also in the vehicle. She called 911 immediately after going through the crowd and was interviewed by officers close to the scene.
The police department determined that there were no chargeable criminal offenses in the incident, given the driver's fear for her safety. The District Attorney's Office and City Attorney's Office agreed there was no criminal wrongdoing, and no charges against the woman were filed.
On June 23, a man in a white Dodge Ram pickup truck drove toward a crowd of protesters blocking the road at West Main and South Fairchild streets.
Police reported that in a video of the incident provided by a protester, the truck appears to move forward slowly into the crowd with a "slower nudging motion." Police interviewed several protesters, but did not hear of anyone who was injured by the truck, according to the report.
The 70-year-old driver of the truck was taken to the hospital because he was hyperventilating and experiencing chest pains from the stress of the incident, police said. The man told officers that the crowd was banging on his truck, and that one or more protesters spit in his face through his window. He did not realize they were protesters until they surrounded his car, the man told police. Police said the truck's side mirrors were cracked and the driver's door handle broken off.
on John Nolen Drive at Williamson Street, striking a 41-year-old protester, who told a reporter at the scene that he had the wind knocked out of him and sustained abrasions and was "very sore, but not seriously injured."
Police have not been able to contact the car's driver.
Photos: How Madison responded to the police killing of George Floyd
Protester confronts officer, May 30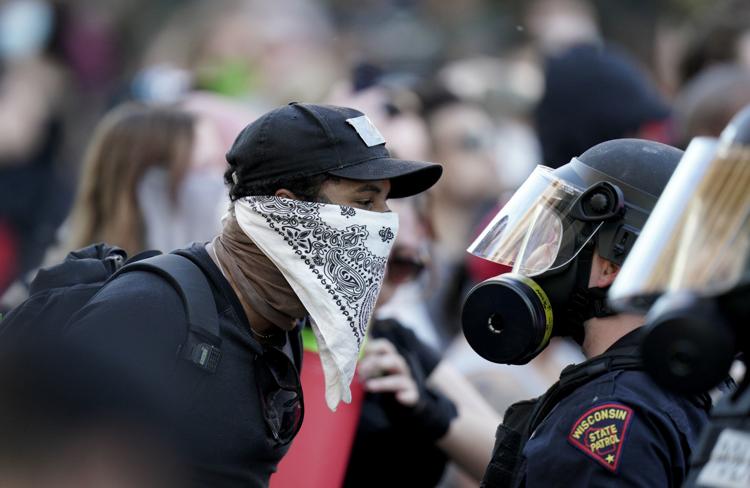 Madison protest turns destructive, May 30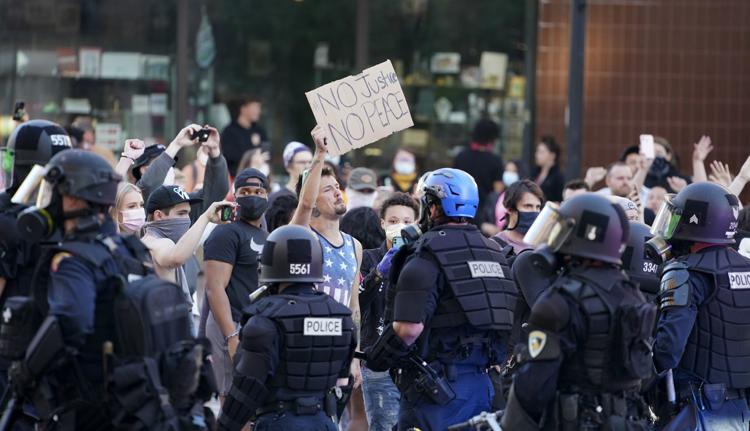 Police spray protesters, May 30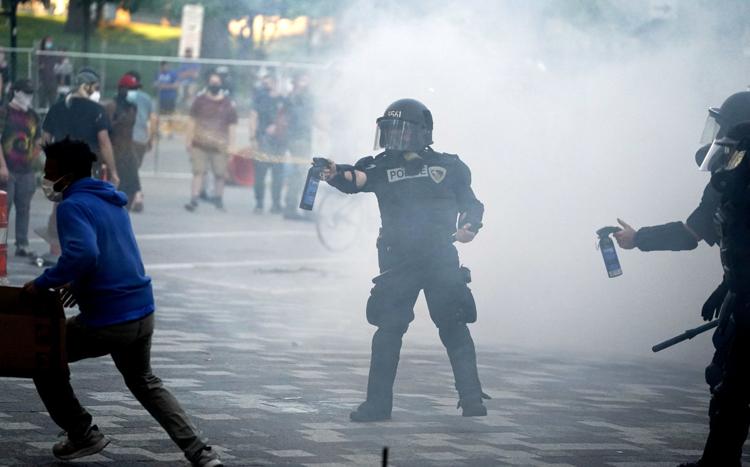 Effects of tear gas, May 30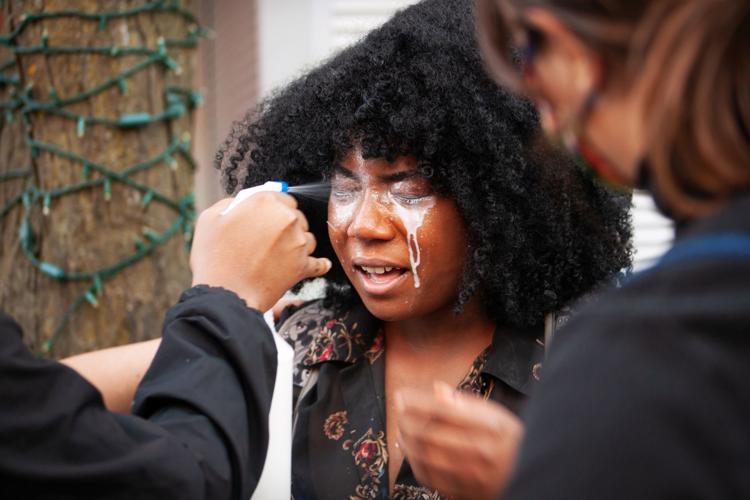 Medical station, May 30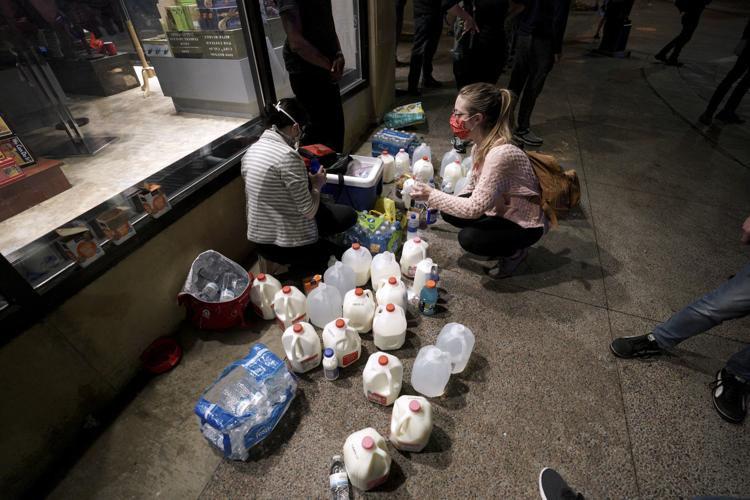 Standoff with police, May 30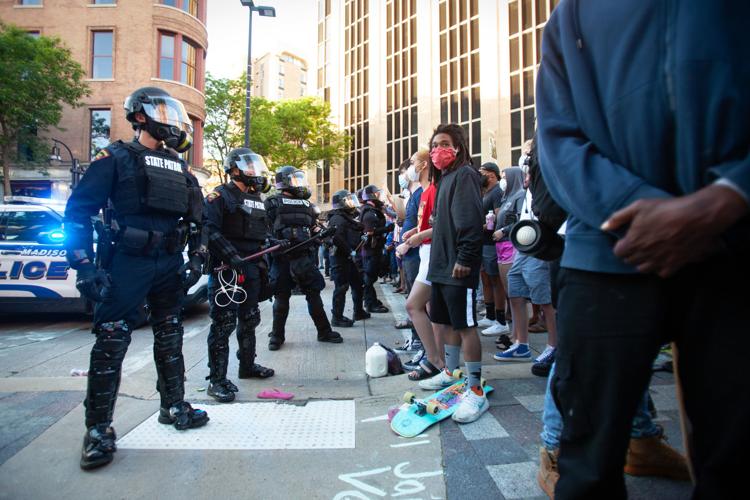 Protesters meet police, May 30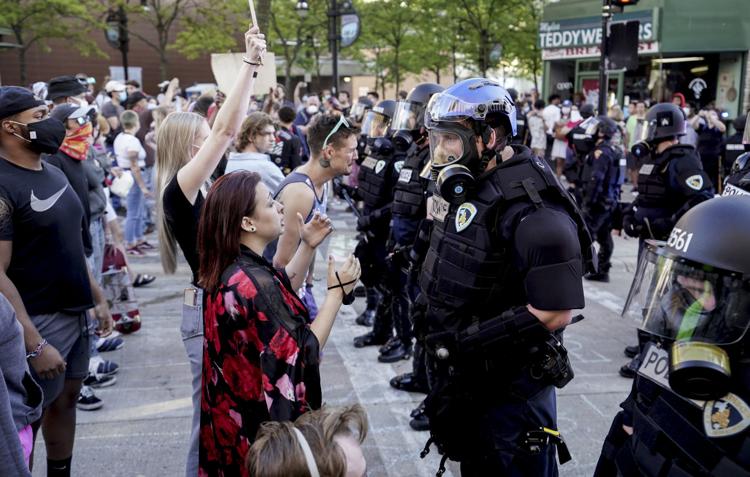 Madison protest turns destructive, May 30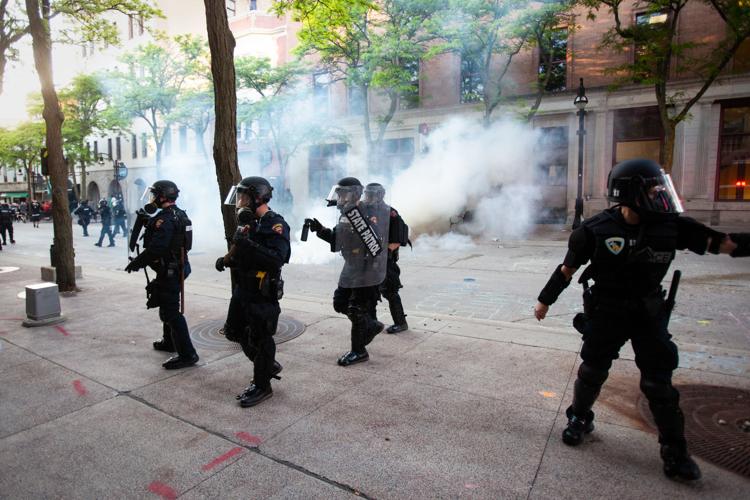 Mayor condemns violence, May 30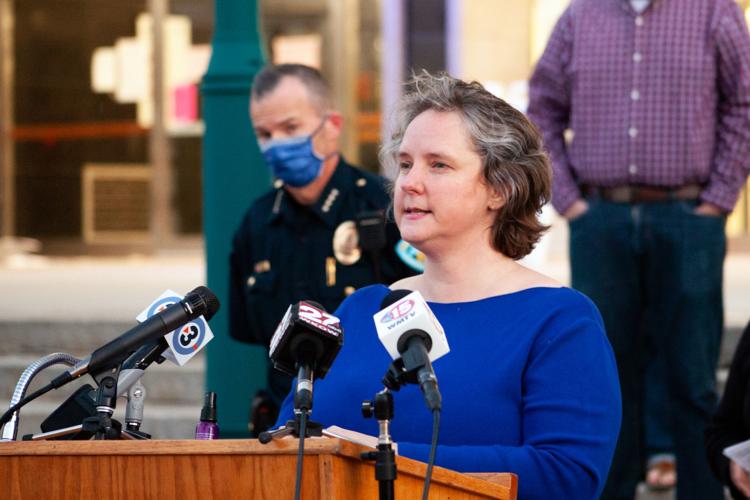 Protests May 30, 2020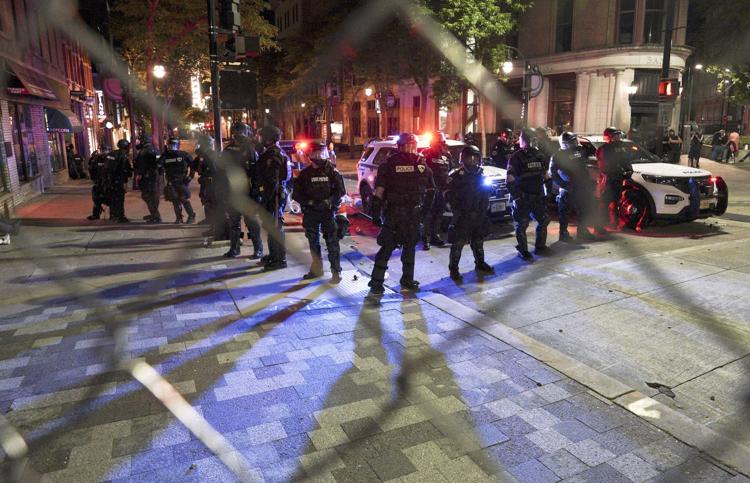 State Street press conference, May 31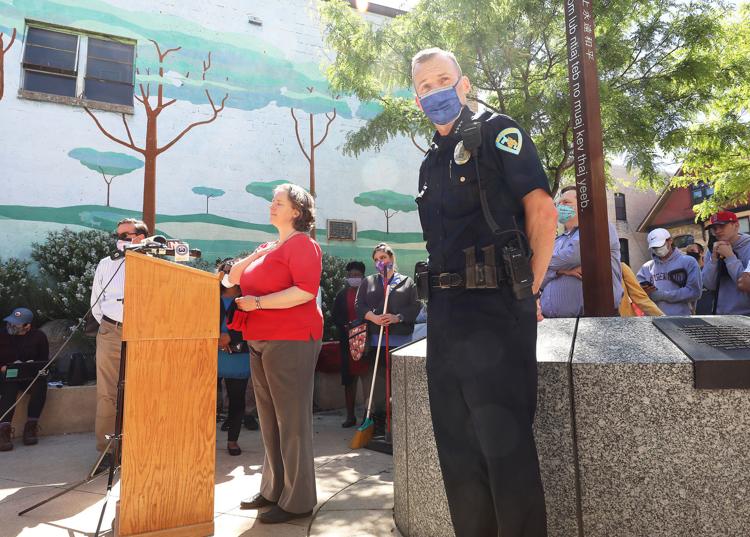 Protests against police, May 31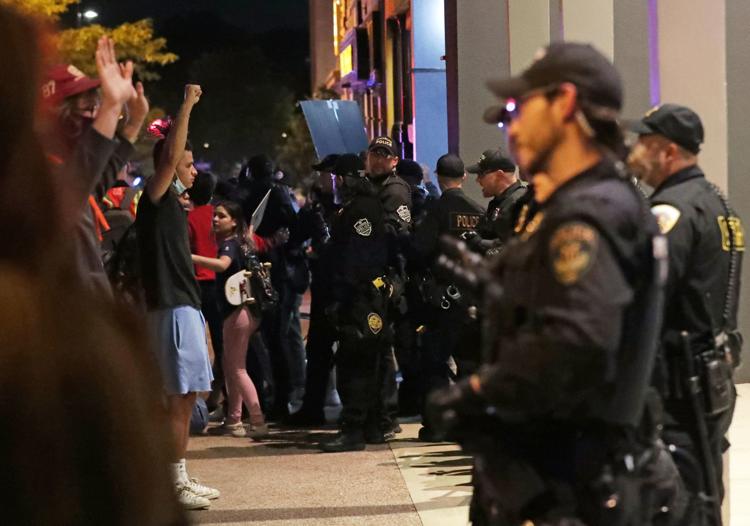 Second night of protests in Madison, May 31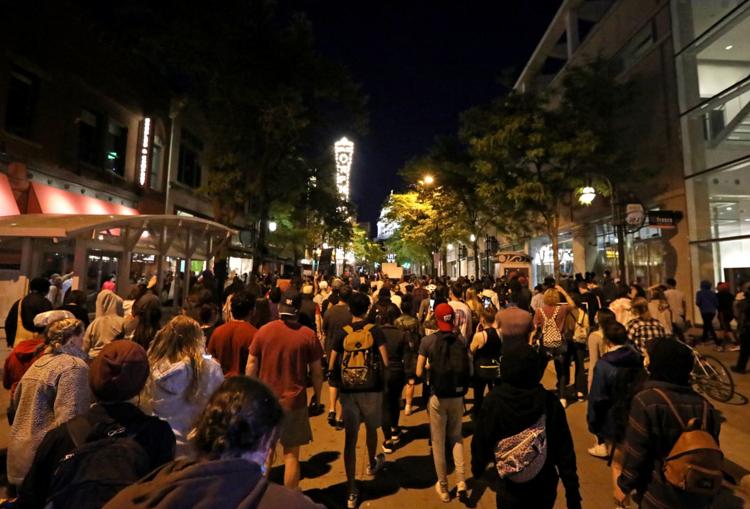 Cleanup after damage Downtown June 1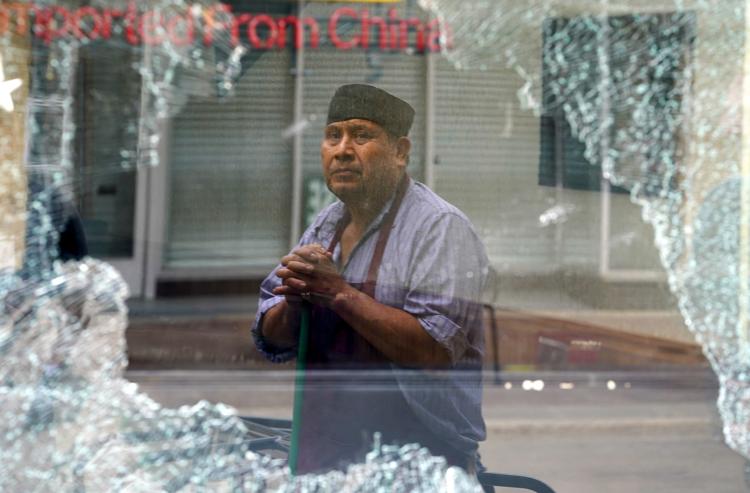 Cleanup after latest damage Downtown, June 1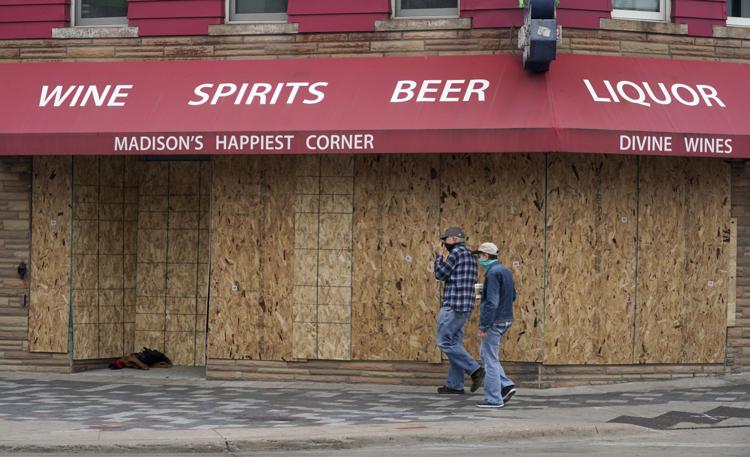 Disrupting traffic, June 1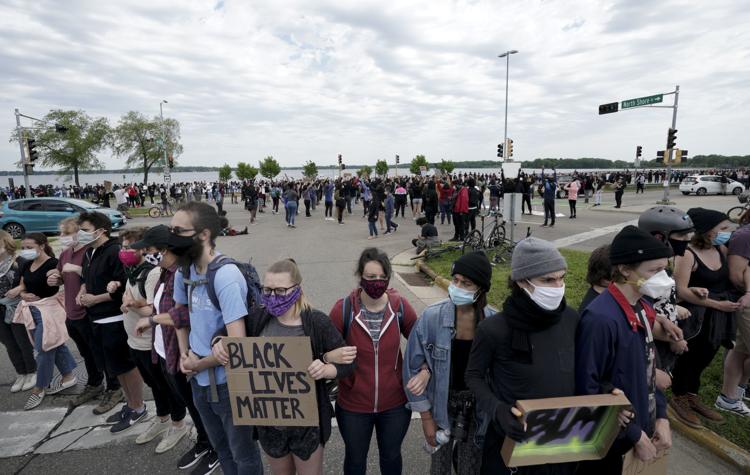 John Nolen Drive shut down, June 1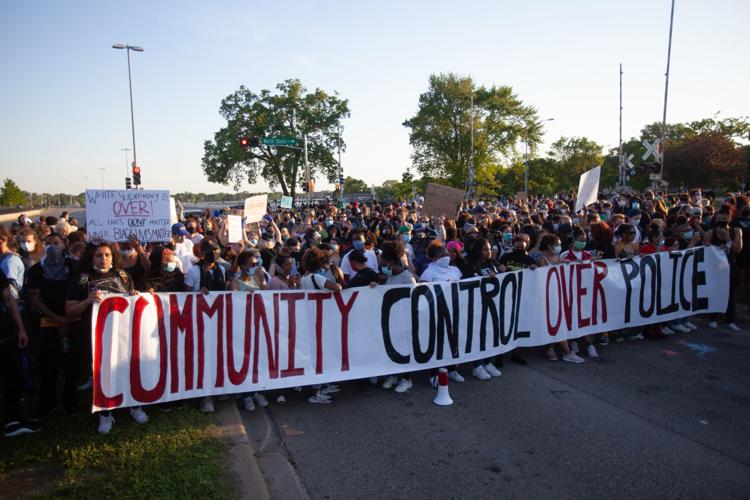 John Nolen Drive shut down, June 1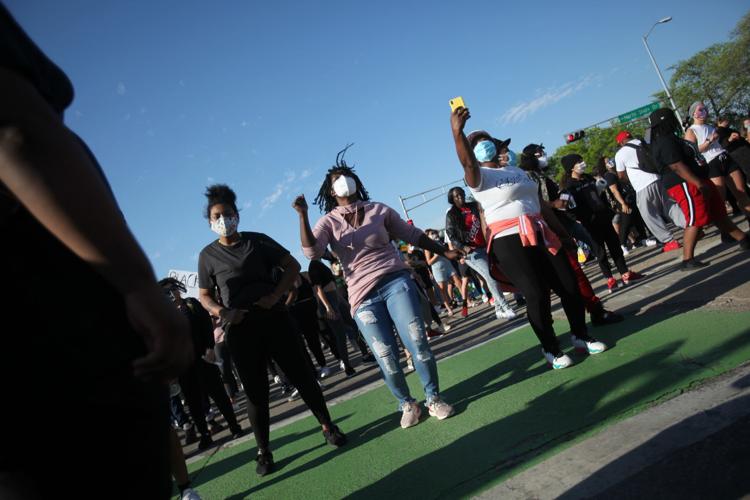 Outside police building, June 1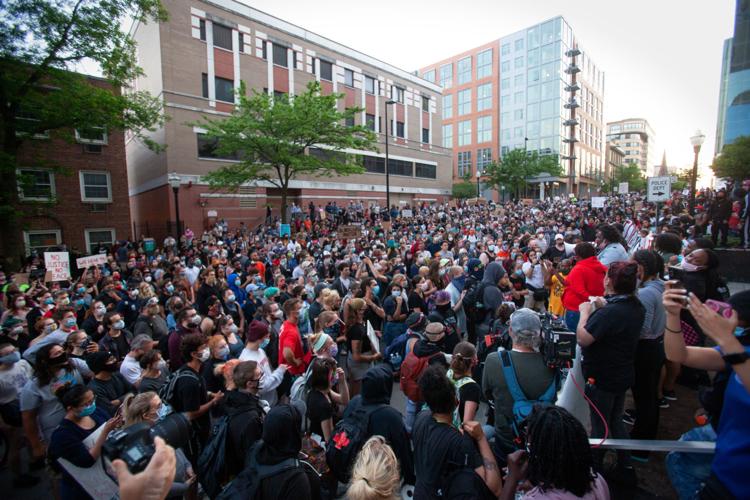 Agitators spark violence, June 2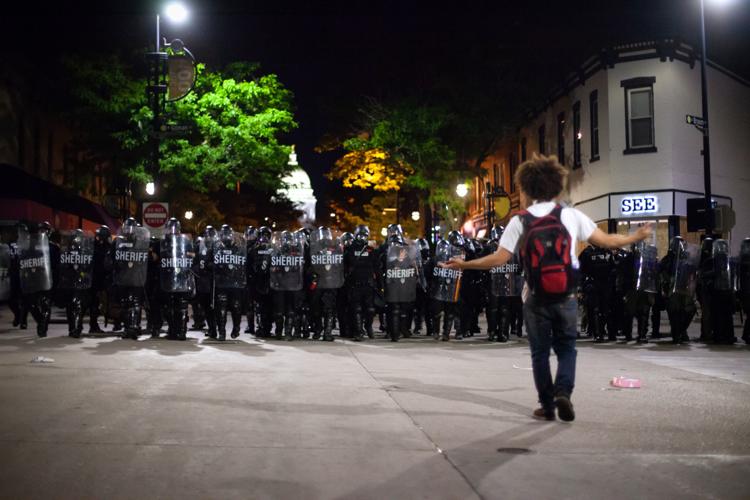 Agitators spark violence, June 2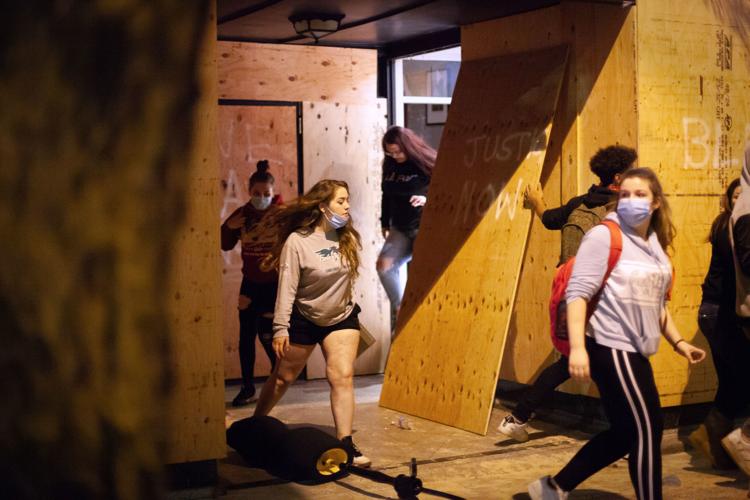 Businesses boarded up, June 2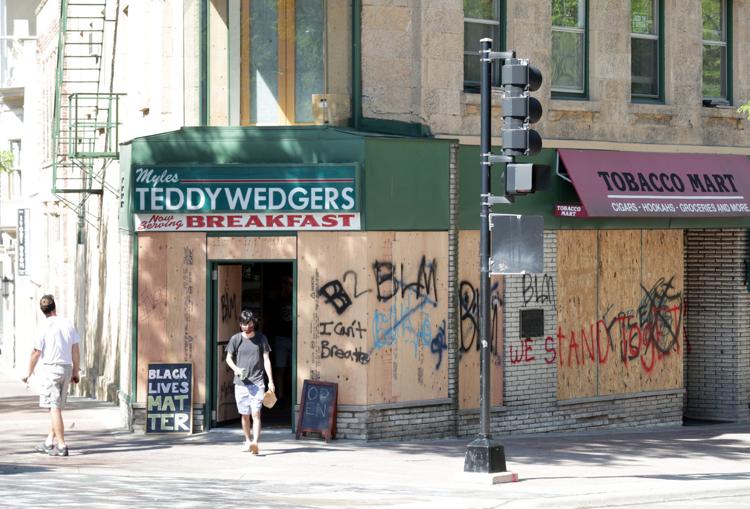 Clean-up of property damage, June 2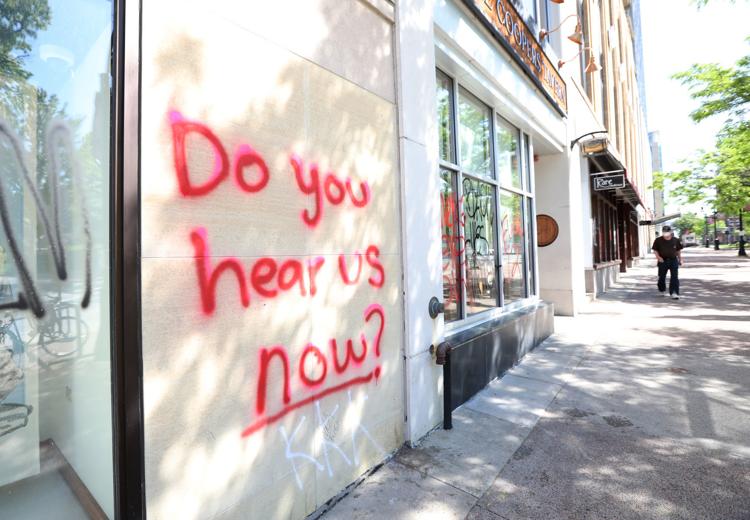 Painting murals, June 2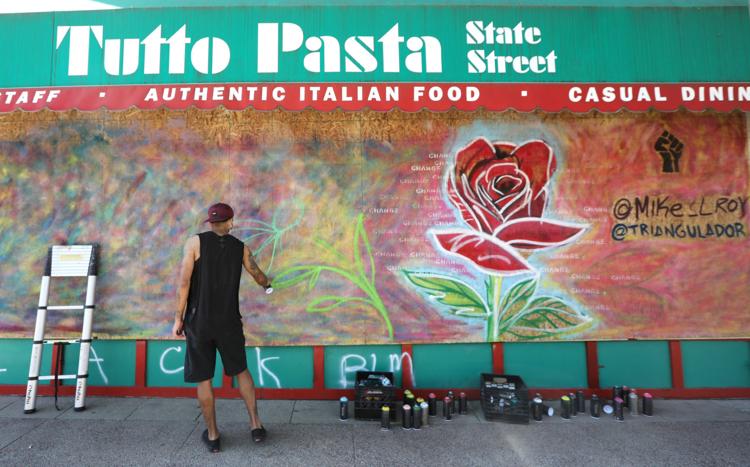 Braving the rain, June 2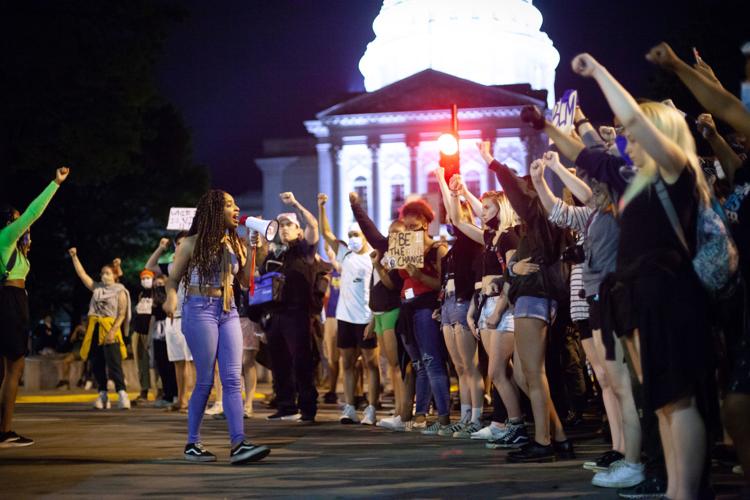 Lighting candles, June 3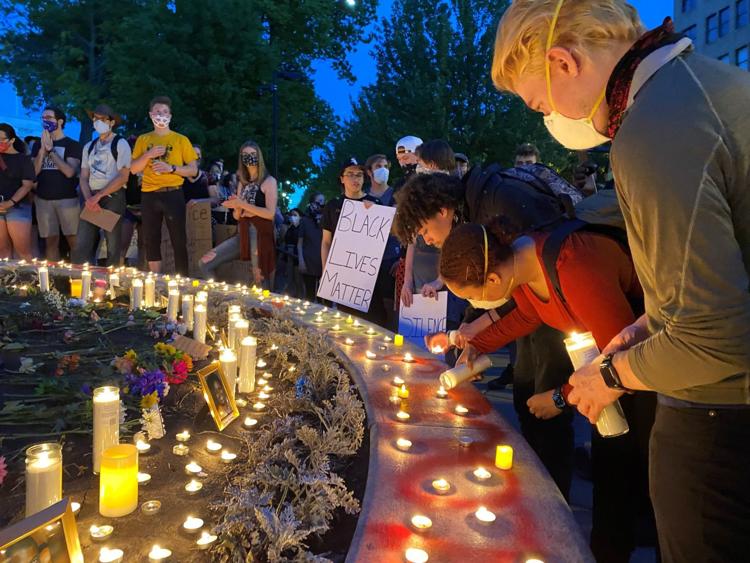 Speaking to crowd, June 3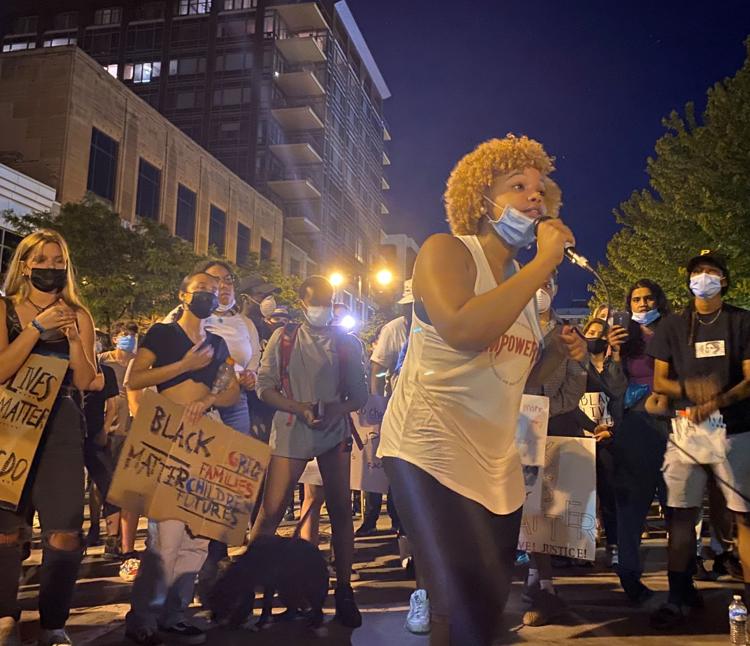 Registering to vote, June 4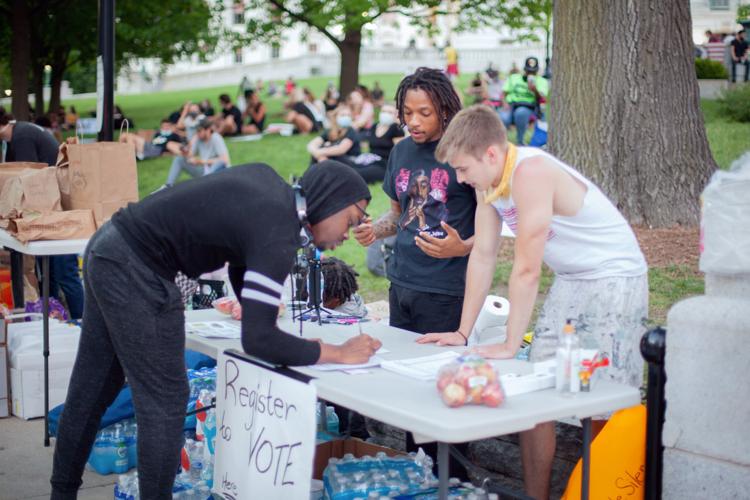 Alter to those lost, June 5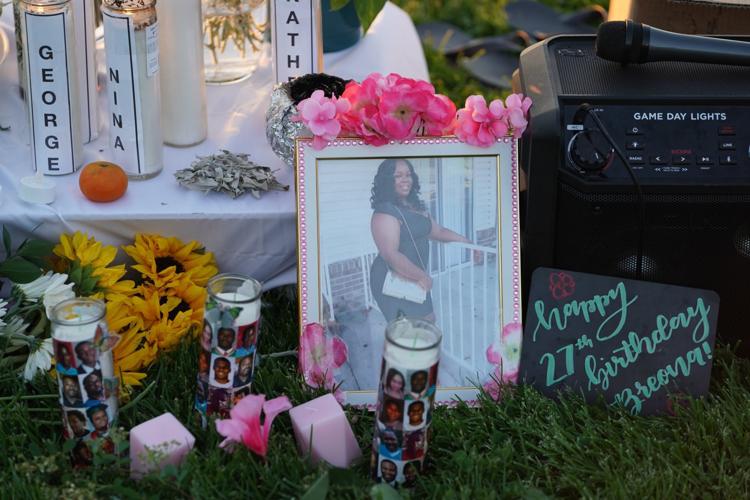 Happy birthday to Breonna, June 5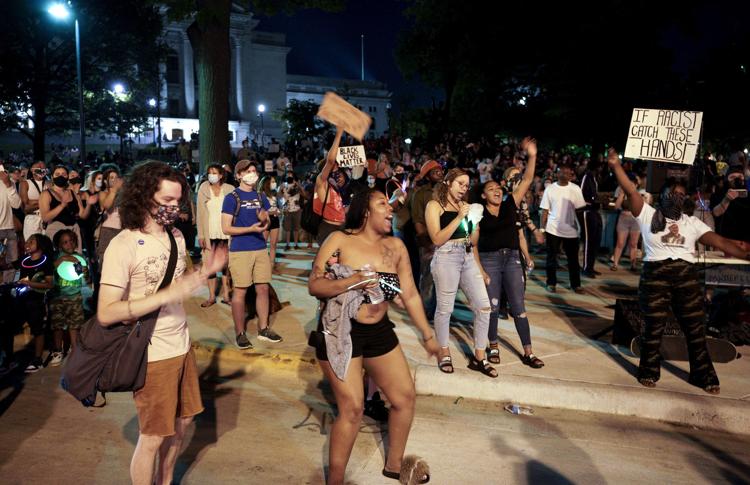 AACC Black Lives Matter Solidarity March, June 7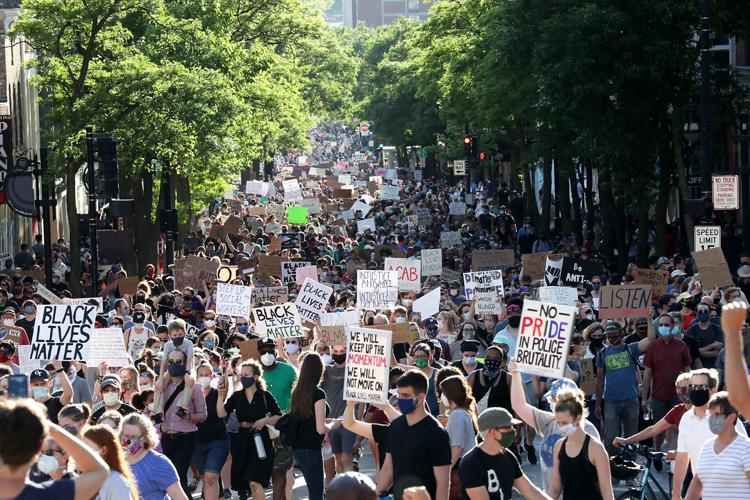 AACC Black Lives Matter Solidarity March, June 7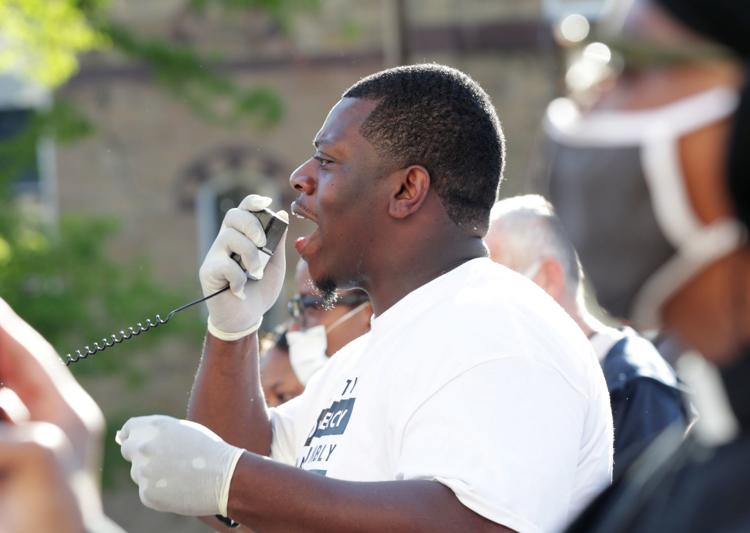 Taking a knee, June 8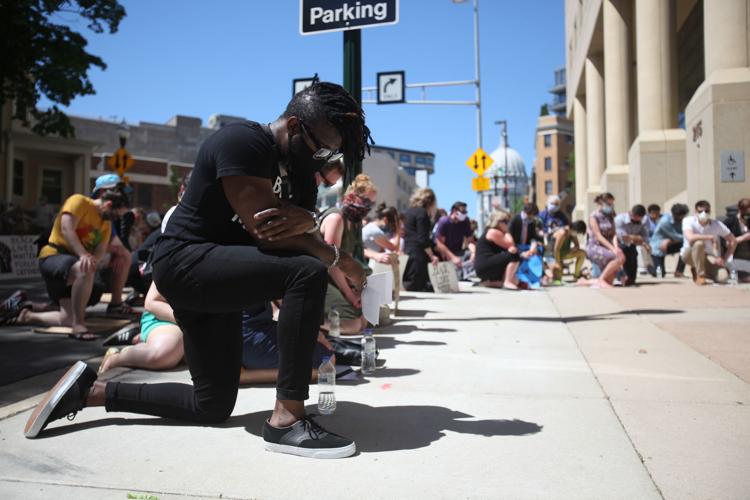 Defund police, June 8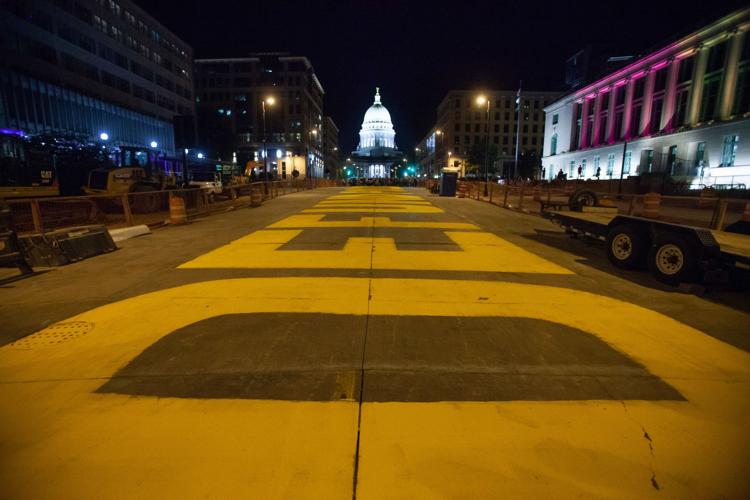 Youths fueling nighttime protests, June 8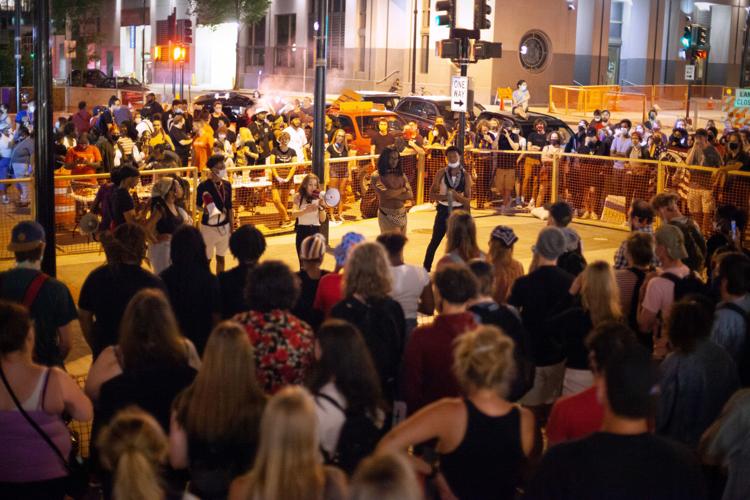 Closure note, June 16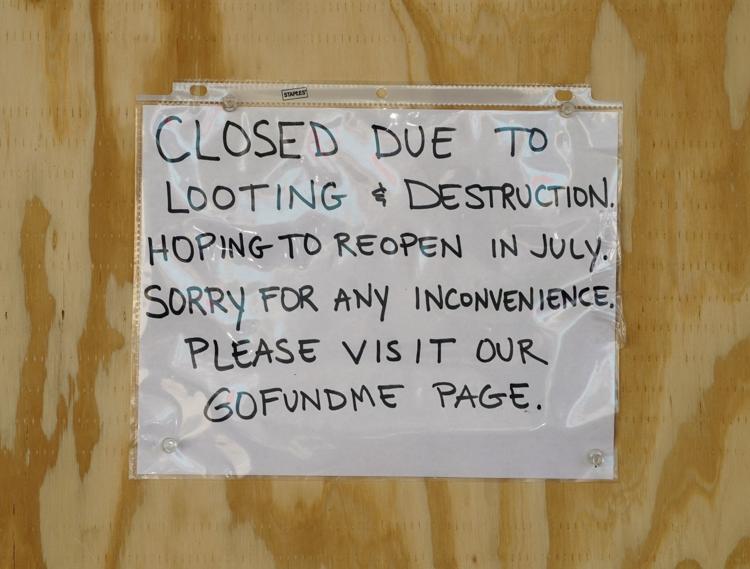 Blocking traffic, June 17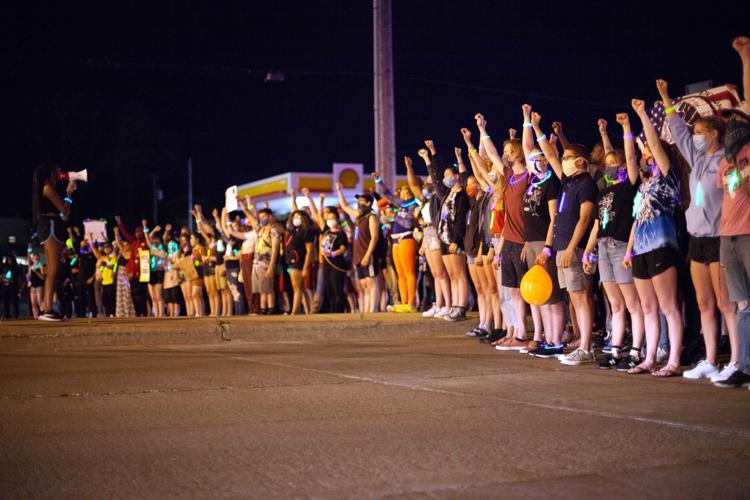 Glow in the dark march, June 17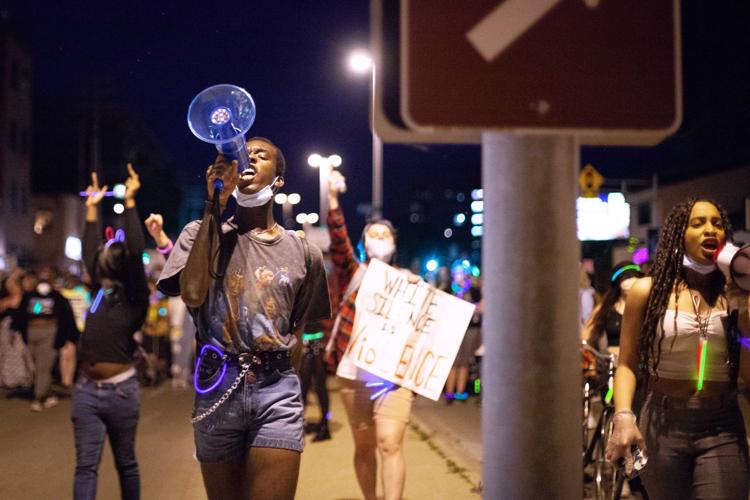 Juneteenth rally at Olin Park, June 19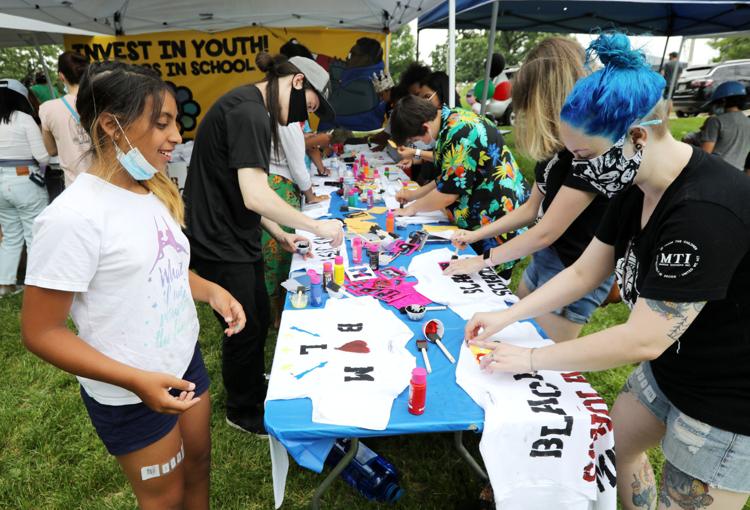 Boarded-up State Street, June 22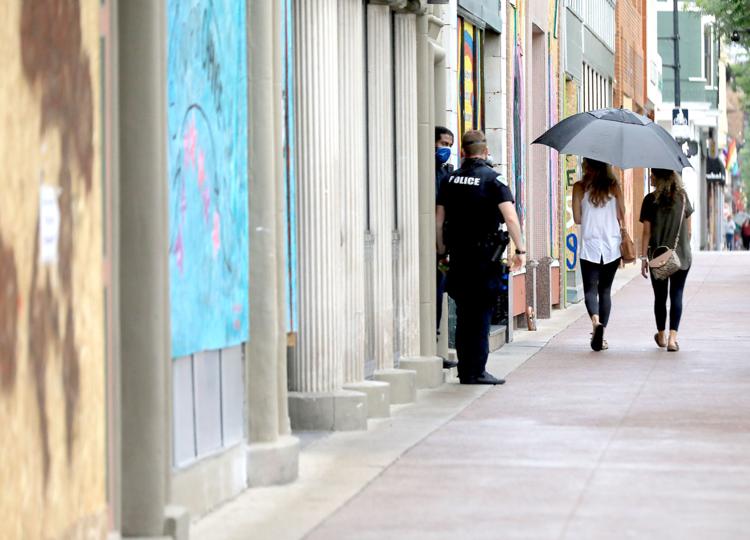 Confronting driver, June 23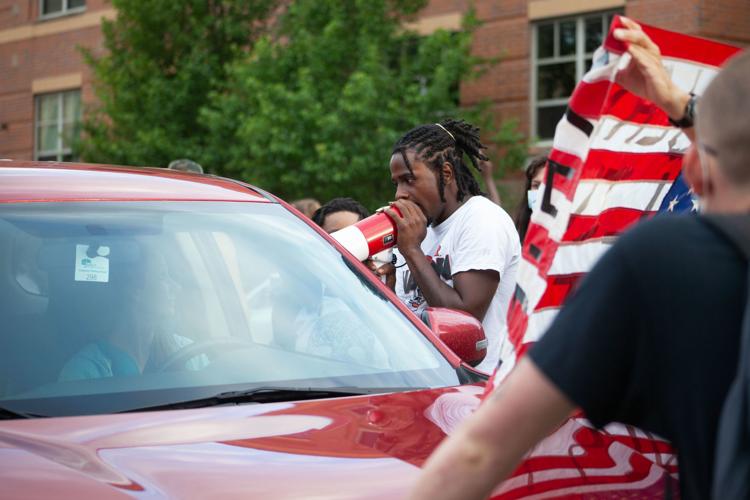 Madison protesters, June 23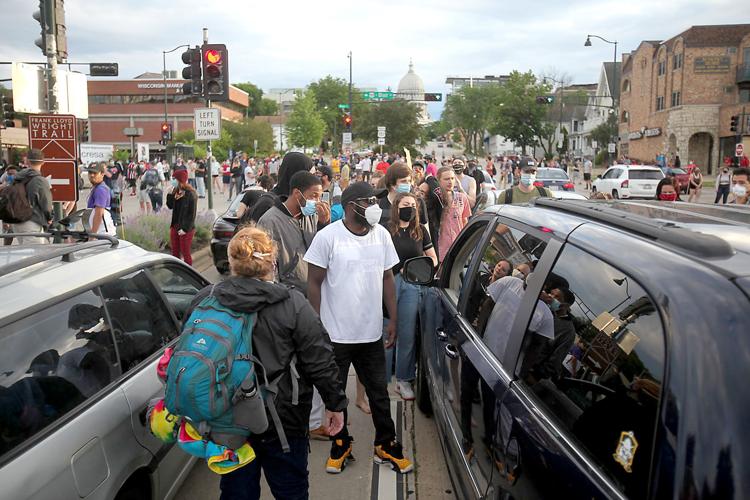 Protesters block intersection, June 23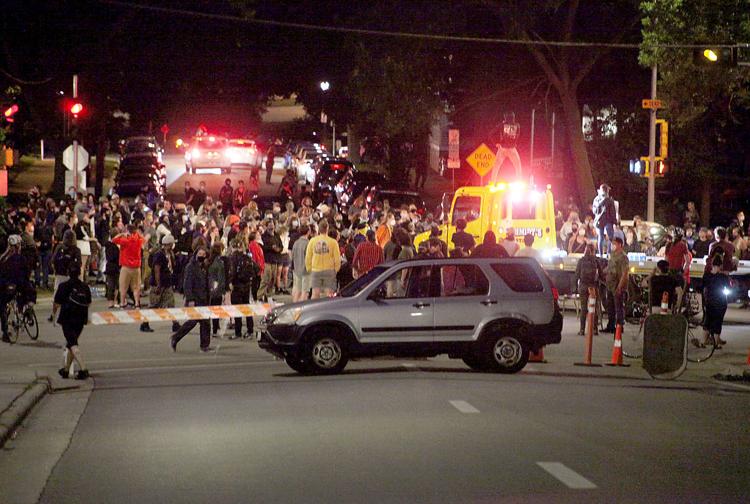 Heg statue toppled, June 23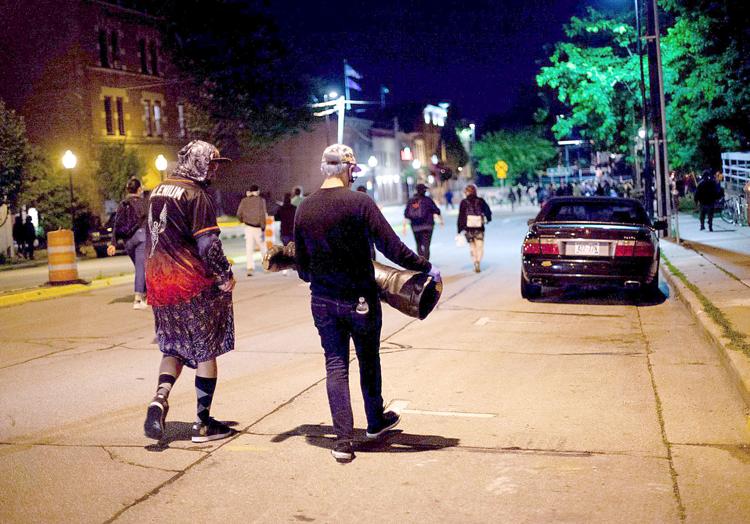 Forward statue topped, June 23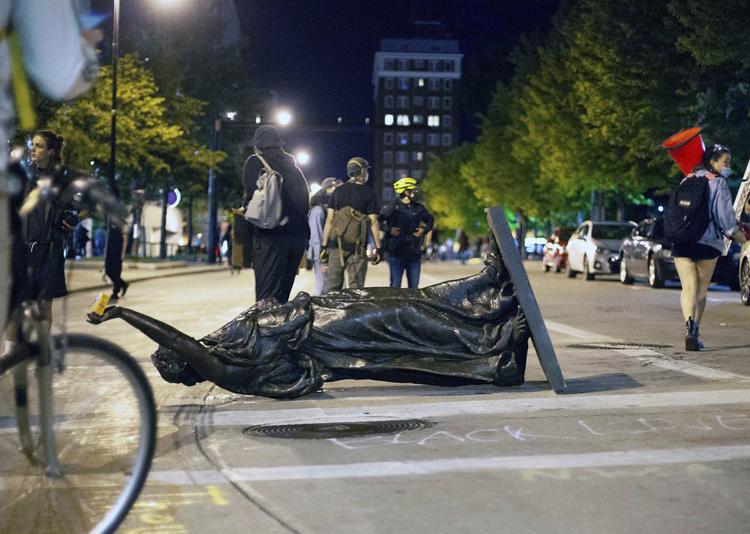 Empty statue pedestal, June 24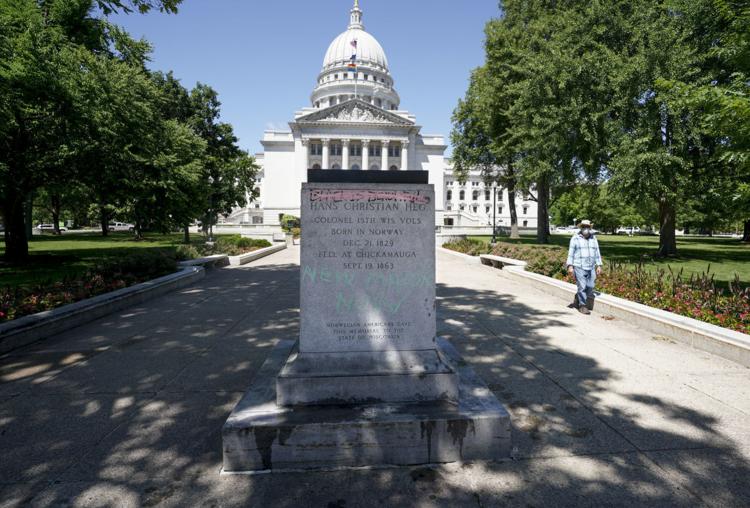 Protecting the Capitol, June 24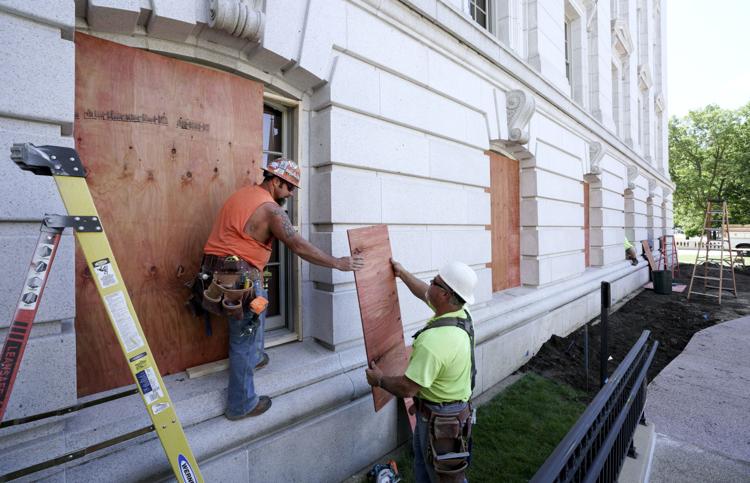 Police supporters get opposition, July 2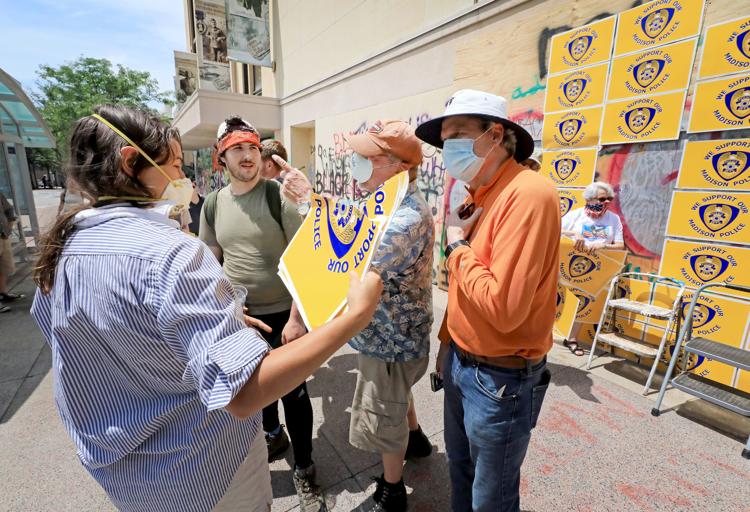 BLM demonstration, July 4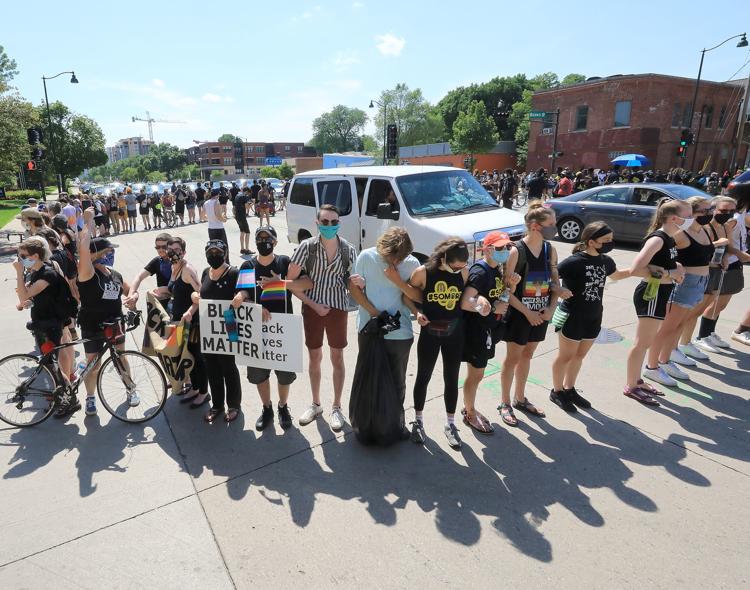 Sign up for our Crime & Courts newsletter
Get the latest in local public safety news with this weekly email.