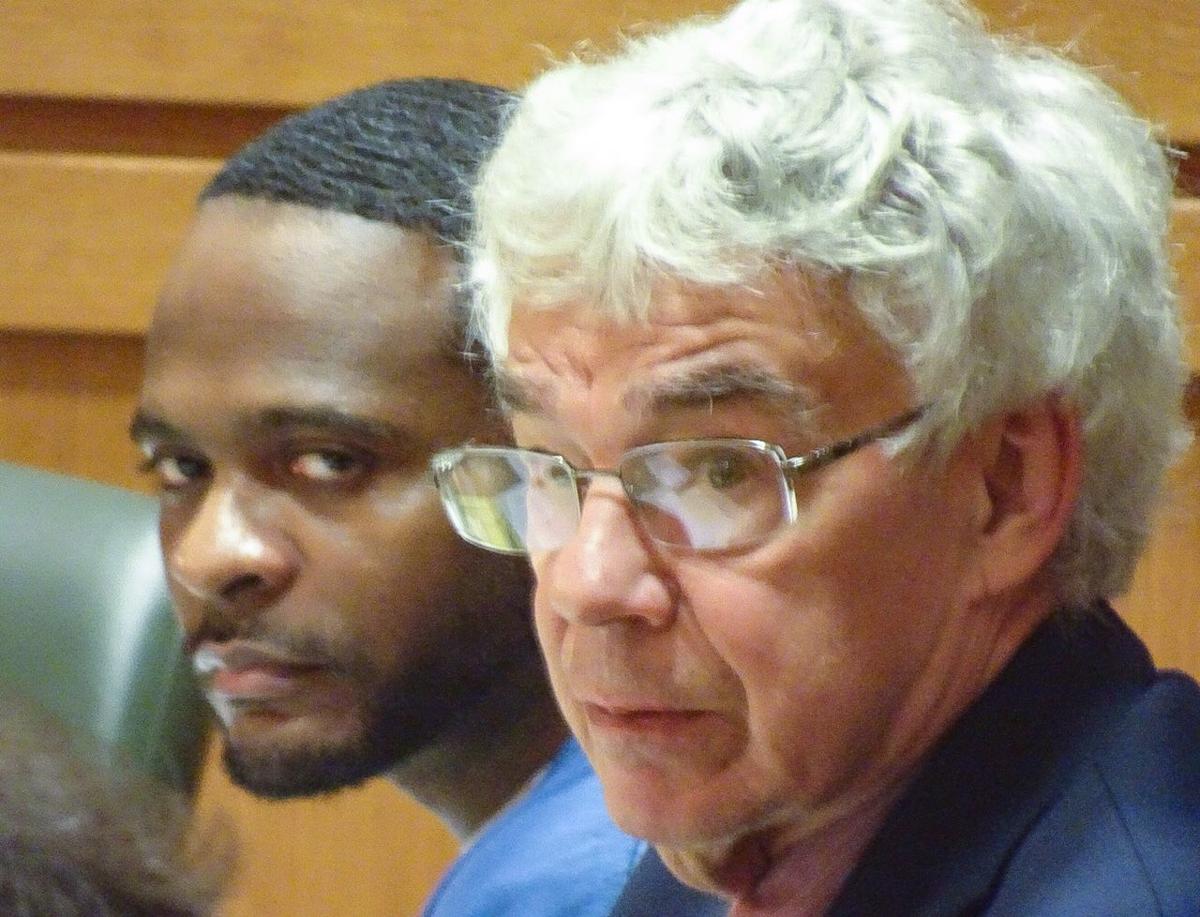 A Madison man, convicted of taking part in the murder and attempted murder of two men at a South Side convenience store in 2017, will spend the rest of his life in prison without the possibility of parole, in part as an example to others of what can happen to those who use a gun to "assassinate" someone, a Dane County judge said Friday.
Circuit Judge Ellen Berz handed down the sentence to Dametrius A. Reeves, 37, who was found guilty in May of taking part in the Aug. 2, 2017, shooting death of Kendrith Young, 33, and the attempted homicide of Rodney Lemon Jr. at the 7-Eleven store at 2703 W. Beltline. As Berz neared the end of her sentencing remarks, she said she rarely considers general deterrence — the idea that a sentence will keep others from committing similar crimes — but said this was the case, "if ever there was a time for general deterrence."
"This was premeditated, this was thought out," Berz said of the shootings. Reeves and co-defendant Curtis Langlois, she said, had followed Young and Lemon from Licari's tavern, and once at the 7-Eleven they donned masks in their car, took out their guns and "ambushed" Young and Lemon, who were unarmed, in the store. Berz said she still does not know a reason it happened, since the two groups of men apparently were neither friends nor enemies before the shootings.
"It is clear that this was an assassination," Berz said. "(Assassination and ambush) are the only two words I can use to describe what happened. The victims had no chance to even run away."
Berz sentenced Reeves to life without the possibility of parole for first-degree intentional homicide and ordered that sentences for two other convictions — 60 years for attempted first-degree intentional homicide and 10 years for possession of a firearm by a felon — be served consecutively.
First-degree intentional homicide carries a mandatory life sentence, but judges can set a time when a defendant will be eligible for release on extended supervision. The minimum time is 20 years, and the maximum is never.
You have free articles remaining.
On the side of the courtroom where Reeves' supporters sat, a woman fainted and was carried, limp, from the courtroom. On the side where family and friends of Young and Lemon sat, there were cheers, which Berz immediately quelled.
"This is not a time for celebration," Berz said. "This is sad. This is sad any way you look at it. A life has been lost. There is nothing happy or worth celebrating."
The sentence Berz ordered was beyond the one sought by Deputy District Attorney Matthew Moeser, who asked that Reeves be made eligible for release from prison after 40 years on the murder conviction and that sentences for the attempted murder and weapon convictions be served concurrently.
Reeves' lawyer, Paul Schwartz, asked that Reeves be eligible for release after 20 years. He argued that by the time he is 57, Reeves will be statistically unlikely to re-offend. He also urged Berz to consider Reeves' unstable childhood, during which he was exposed to violence, and which was spent moving from state to state before landing at group homes in Madison.
Reeves didn't speak Friday when given the opportunity.
Karen Young, the mother of Kendrith Young, told Reeves he killed a hard-working and irreplaceable man when he and Langlois shot Young.
"I will never forgive you, and I hope that the court gives you life in prison without a chance for parole," she said. "You shouldn't even have the right to even breathe. If we had capital punishment I would wish that upon you. You are a despicable person, and you don't even care about your own kids, like you took my son away from his own family and me."