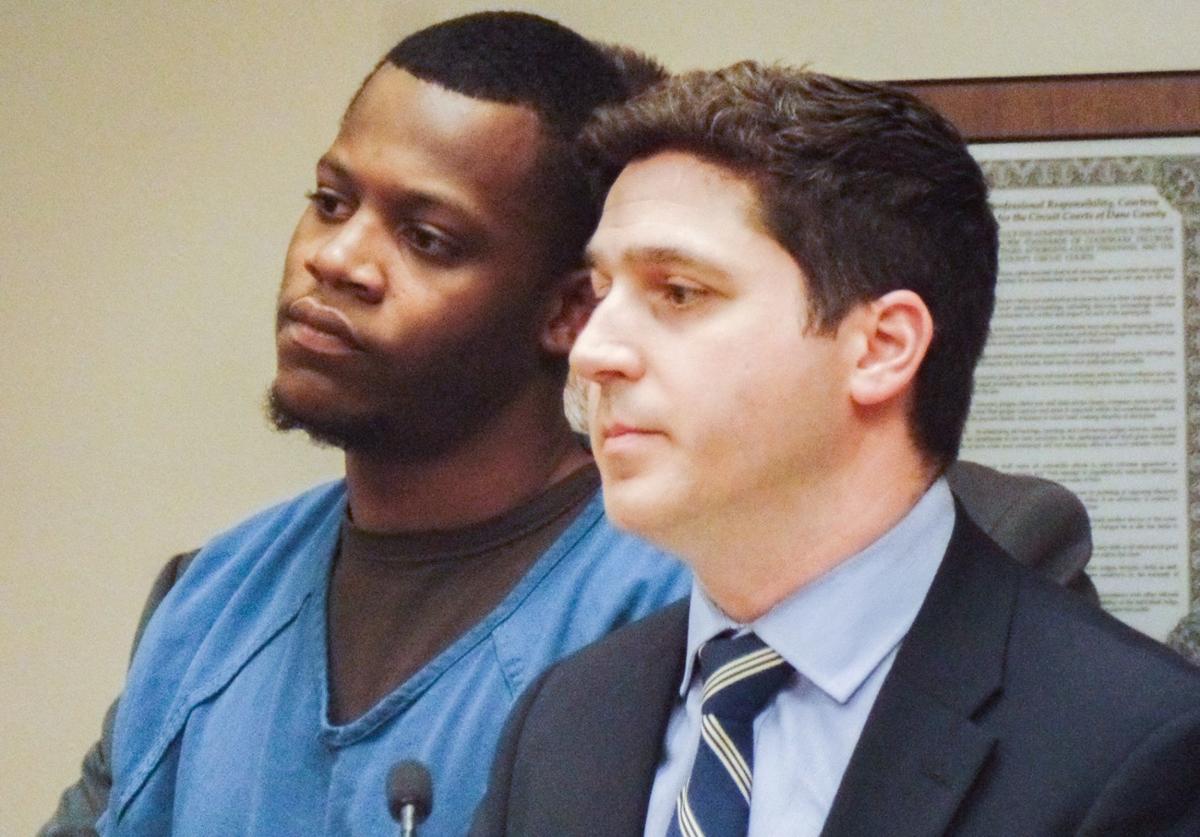 A man who was arrested earlier this month for an apparently random attack on a woman as she walked alone on Langdon Street told police that he punched the woman, but claimed it was because she had said something "derogatory" to him, according to a criminal complaint filed Wednesday.
The complaint charged Jerome R. Winslow, 22, of Madison, with two counts of first-degree reckless endangerment, substantial battery, false imprisonment and attempted second-degree sexual assault for an attack that happened early Feb. 3 near the UW-Madison campus Downtown.
Imagery captured by surveillance cameras in the area showed a man later identified as Winslow run up behind the woman just before 3:10 a.m. on Langdon Street at North Carroll Street. She was then seen on the ground and being dragged on North Carroll Street toward a cul-de-sac where North Carroll Street ends at Lake Mendota, according to the complaint.
A witness saw the woman being dragged and called friends who were nearby, and also called 911. The woman was badly beaten and barely conscious, and was later determined to have a broken eye socket and a jaw that was broken in multiple places. Titanium plates were used to rebuild her jaw, the woman later told police.
Winslow, who is on probation for armed robbery in Jefferson County, was jailed on $50,000 bail after appearing Wednesday in Dane County Circuit Court.
According to the complaint:
A woman who had just split up with two friends was walking on Langdon Street when she saw a man in a gray hooded sweatshirt dragging a woman on her back down the street by her hands. She called her friends, and they came over and found the woman, whose face was bloodied. A single set of footprints in the snow led toward The Edgewater hotel.
When she was found, the victim could not talk coherently because of her injuries. Her eyes were nearly swollen shut. Officers noticed that the belt buckle on her pants was undone.
The woman told police that she had separated from her friends on Lake Street and last remembers hearing the sound of footsteps coming up behind her. The next thing she remembered, she told police, was being in a wooded area and seeing people who had come to help her.
A man who matched city street camera images of the assailant was found on video from about three hours earlier taken at Danny's Pub, 328 W. Gorham St., first in a line waiting outside the bar and then leaving the bar about 1:43 a.m.
City cameras spotted the same man following another woman on Langdon Street about 2:40 a.m., until she entered a building. He then loitered in a driveway before heading west on Langdon Street, then re-appeared following the woman who was attacked.
City cameras captured images of the man as he ran up to the woman, then dragged her on her back on North Carroll Street, which was sand-covered and wet. Near the end of the cul-de-sac, he dragged her over a snowbank, then pulled her down a steep embankment of rough terrain.
Officer Lester Moore, who was asked to review photos and video on Feb. 6, recognized the man in the video as someone he remembered from his time as a Darbo-Worthington Neighborhood officer. Moore believed the man was a former participant in the Darbo-Worthington basketball team, and through Facebook pages, he was able to identify him as Winslow.
Police also viewed security video taken on Feb. 3, shortly after the attack, as a man tried several doors on the Phi Delta Theta house, 237 Langdon St., before getting in through the front door. Footage showed him going upstairs, then being walked back downstairs and outside by fraternity members.
Officer Damion Figueroa, who viewed the footage, recognized the man as Winslow.
During an interview with police, Winslow first denied being Downtown on Feb. 3, but eventually admitted being at Danny's. He also said, "I did punch that girl," but said he did because she had said something derogatory to him "and it was a build-up of a bunch of things" that were going on in his life.
Winslow said he was walking around drunk. The woman fell after he punched her, Winslow said. He said he punched her at least three times.
Asked why he dragged her, he told police that he had tried to pick her up because he didn't want someone to walk past and "be like, damn, there's just somebody laying on the ground."
Sign up for our Crime & Courts newsletter
Get the latest in local public safety news with this weekly email.