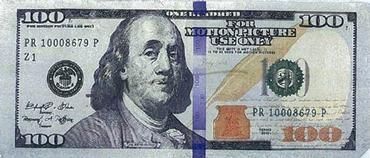 A $100 bill marked for use only in the movies was successfully passed at an East Side grocery store on Monday, the suspect getting 10 real $10 bills for the funny money.
The fraud happened at about 1:40 p.m. at Woodman's, 3817 Milwaukee St., Madison police said.
"A busy day at the customer service desk opened the door for the suspect to pass the bogus $100 bill," said police spokesman Joel DeSpain.
The bill looks quite real, even down to the security strip, but the words "For Motion Picture Use Only" are clearly visible on both sides of the bill.
Unfortunately for police departments everywhere, the bills, used as props in movies and TV, are available online, selling for $24 for a stack of 100 fake Franklins on Amazon.com.
The suspect is a black male in his late teens, 6 feet tall, 130 pounds, thin build, medium complexion, medium length dreadlocks, wearing a red hooded sweatshirt.
Sign up for our Crime & Courts newsletter
Get the latest in local public safety news with this weekly email.