Two white Madison Police officers were found to have acted correctly in the forceful arrest of black teen Genele Laird outside East Towne Mall in June, according to the results of two law enforcement reviews released Thursday.
The reviews — by the department's own Professional Standards and Internal Affairs unit and the Dane County Sheriff's Office — determined the officers' actions during and after the arrest were appropriate and justified.
Laird's arrest on June 21 prompted widespread community concern heightened by a viral video shot by a passerby of the officers struggling to arrest Laird as she kicked and spit at them.
One of the officers was seen striking her with his knee, hitting her with a closed fist and using a Taser in the attempt to subdue the 18-year-old.
Police were called after Laird reportedly brandished a knife at employees of a Taco Bell inside the mall and then threatened mall security officers in a raucous dispute over whether someone had stolen her cellphone.
Laird faced several potential felonies in connection with resisting the arrest. But days after the incident, Dane County District Attorney Ismael Ozanne placed her in an alternative restorative justice program with the agreement of the officers involved in her arrest and the people she threatened in the mall. If she completes the program, she can avoid a criminal record.
In response to the reviews clearing the officers, Boys and Girls Club of Dane County CEO Michael Johnson said he hoped police would continue to refine use-of-force protocols to protect both officers and community members, with de-escalation seen as the "first option." He also called for the creation of an independent organization to investigate allegations of excessive force that would include members outside law enforcement "to ensure transparency, fairness and objectivity."
"I saw teachable moments (in the Laird arrest video), and if the police department ignores and turns a blind eye to every concern highlighted in these kinds of videos, there will be continued division and mistrust between the law enforcement community and communities impacted by these incidents," Johnson said.
Ali Muldrow, the racial justice youth organizer for the Gay Safe Alliance for Safe Schools (GSAFE), said the results were predictable.
"There was a young person who had his camera ready to go before the incident happened, that's how predictable it was," Muldrow said. "Just as predictable were the results that they felt nobody did anything wrong. They never do."
The records released Thursday also identified for the first time both officers who made the arrest — Richard Friday and Andrew Muir. Muir had previously been identified as the officer who could be seen in the video striking Laird when she refuses to put her hands behind her back.
Koval: Force sometimes 'only option'
In a blog post Thursday, Police Chief Mike Koval said he welcomed the results but noted the findings "do not mean that we are not committed to working with the community to explore ways to do better."
One change to begin later this month, he said, is the creation of a "use-of-force coordinator" position for the police department, funded by a federal grant and designed to add another level of scrutiny to the process of reviewing police incidents involving force, Koval said.
The person will help with training, compile statistics, research trends and sit on the state's advisory board for Defense and Arrest Tactics, Koval said.
Since the beginning of this year, Koval said the police department also has updated its software system to improve tracking and analysis of use-of-force incidents, with summaries now being posted to the MPD's website every quarter. Standard procedures for use of force are also now on the website for public review and access.
The Wisconsin Professional Police Association on Thursday also released a lengthy statement heralding the reviews clearing the officers of any wrongdoing.
"While nothing should foreclose a continuing public dialogue about law enforcement training and standards," WPPA executive director Jim Palmer said, "it is clear that Officers Friday and Muir did exactly as they were trained and they were precisely within their lawful authority."
The Sheriff's Office review, which Koval requested, found the officers' actions were appropriate "based on the totality of the circumstances confronting each officer at the time force was used." It also found the officers' actions were "objectively reasonable" and consistent with MPD policy and state training protocols, as did the internal review ordered by Koval.
You have free articles remaining.
Register for more free articles
Stay logged in to skip the surveys
Ozanne, who was also asked by Koval to review the Sheriff's Office report, determined neither officer violated any laws.
"In an ideal world, use of force would never be necessary," Koval wrote in a letter also released Thursday. "But we live in an environment where, despite our best efforts, force is sometimes the only option left. Not a day goes by when our officers aren't thrust into the unenviable position of trying to contain and control persons highly motivated to defeat attempts to be placed under arrest, are 'high' ... or simply decide to fight or flee."
At the same time, Koval maintained use of force by Madison police on citizens remains rare, citing department records that show 58 such instances from April 1 through June 30. During that time, the department responded to 55,599 total calls for service.
"So it would be a disservice to the officers of the MPD to suggest that this is a department inclined to use 'brawn' over 'brains,'" Koval wrote.
In a separate video statement, Koval said it wasn't fair to judge either Laird or the officers who arrested her by this one incident.
"We want her to succeed, we want her to have a clear record with no criminal arrests or prosecutions," Koval said. "Similarly, two officers whose body of work has been extremely good while they've been at the Madison Police Department never sought to or wanted to have this call capture their identities."
Threats, and a knife
The officers were dispatched to a disturbance at the mall around 5:15 p.m. to respond to what police records described as a "female out of control and making threats." Dispatchers also said the woman was "screaming at security over a possible theft of a cell phone from Taco Bell and refusing to leave."
According to the records released Thursday, Muir and Friday weren't alerted to the possibility that Laird might have been armed before they arrived. But after they got handcuffs on her, Friday spotted a knife protruding from Laird's backpack, reports show. The knife was described as a 4-inch "butterfly/stiletto knife."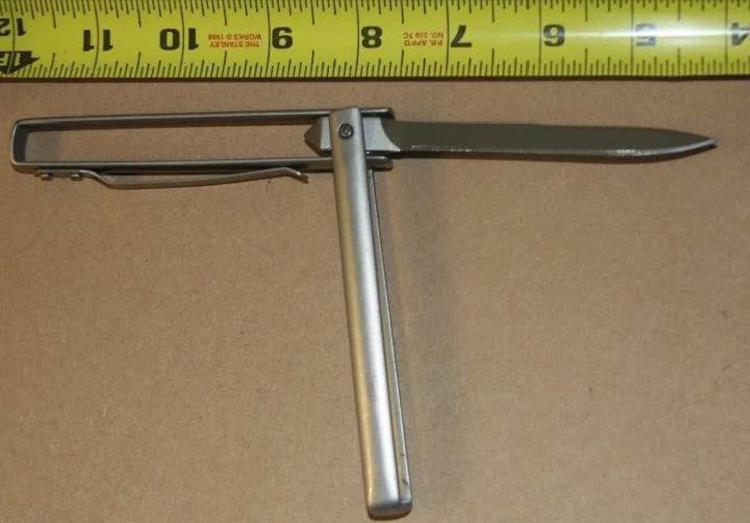 In the subsequent investigation, Taco Bell employees told police Laird had angrily confronted a worker, accusing him of stealing her cellphone. When a manager intervened, Laird allegedly told the woman, "I'll jump over this counter and stab you," according to the reports.
The employee then offered to let Laird go through his backpack in a hallway behind the restaurant. As she searched the bag with one hand, she held the knife in the other, according to police reports.
"Laird was making statements about how sharp the knife was and how it would 'suck to get stuck' or something similar," Madison police Officer Tanner Gerstner said in a report of his interview with the employee. "Laird was also making motions with the knife toward the wall and was running the knife blade along the wall in a cutting motion."
By then, mall security had been called, and Laird "started getting verbally aggressive," the reports said, calling the officers "just mall cops." Laird then completed searching the bag and either left or was escorted away by mall security, Gerstner said.
Once outside the mall, Laird found a cup of water and threw it toward two mall security officers, according to police reports and a bystander's video, also released Thursday.
When Friday arrived, Laird told him she wanted to give him her name but intended to leave. Friday then told her she couldn't leave and tried to handcuff her before Muir arrived. In the ensuing struggle, Muir used a Taser twice on Laird's leg before he got her hands behind her back and another officer put a breathable "spit hood" over her head.
After officers carried her to a squad car, she was driven behind the mall where other officers and paramedics evaluated her for any injuries before taking her to a hospital and then to jail, according to a dashcam video also released Thursday.
Muir was treated for minor cuts and scrapes, while Friday missed several days of work recovering from an earlier back injury he said he re-aggravated restraining Laird.
State Journal reporter Rob Schultz contributed to this report.
"In an ideal world, force would never be necessary. But we live in an environment where, despite our best efforts, force is sometimes the only option left." MIKE KOVAL
Madison Police Chief