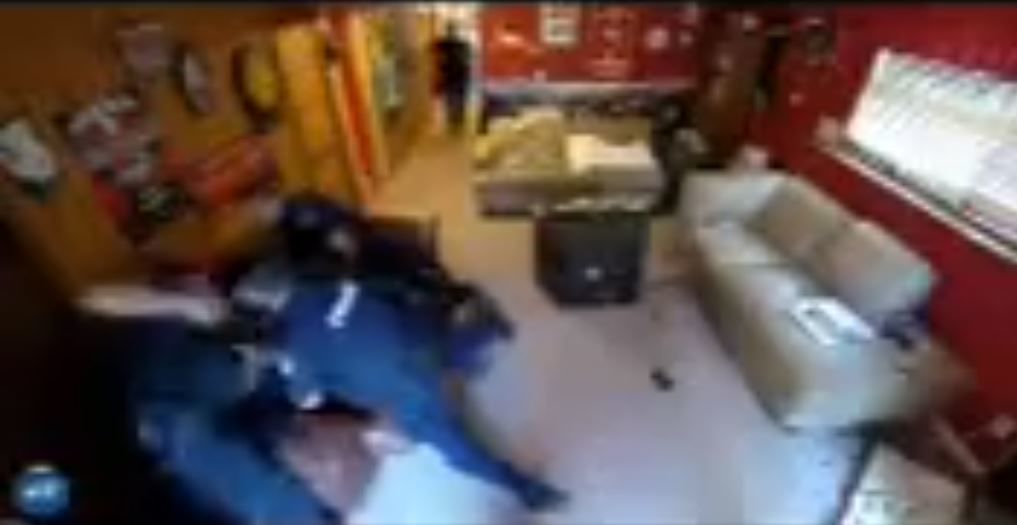 Madison Police Chief Mike Koval said Thursday that the officer seen on video striking a black teenager detained in the midst of a mental health crisis will be placed on "restricted duty" and an outside investigation of the incident will be conducted.
Police also released 23 pages of reports on the Monday incident that show the 17-year-old was threatening staff at West High School, his foster father, a workman and police and then spit at and struggled with officers for some 20 minutes before they could take him into protective custody — something that reportedly happened only after a sergeant on the scene, Joseph Engler, delivered three blows to the teen's head.
The teen is under a Chapter 51 mental health commitment, and the foster father and Journey Mental Health Center, which handles Chapter 51 cases in Dane County, had authorized police help in taking him into protective custody, police said.
In three blurry, soundless videos — provided Wednesday by Brandi Grayson, an outspoken police critic and Black Lives Matter activist who said she spoke to the family and the teen's guardian about the incident — the teen is seen walking down a hallway of his foster home away from police officers, who follow him into a room. He appears to grab something from a couch before turning around and then walks past one officer.
The officer then pushes him against a wall and a struggle ensues before the officer and teenager fall onto another couch.
Three officers then restrain the teen on the couch when a fourth officer walks in with a spit hood — a mesh-like material used by police when people are trying to spit or bite — and puts it over the teen's head. It's at that point that the fourth officer can be seen striking the teen.
Grayson had posted the videos, taken by a system set up in the teen's foster home, to Facebook on Wednesday with the "trigger warning" due to "violence, black child."
In reports filed by multiple officers of the incident, however, the teen repeatedly refers to himself as Native American, but police say he is black. Engler is white.
The foster father also provided the video to police when filing an excessive-force complaint against officers Monday night, Koval said.
According to Officer Andrew Slawek's report, the teen was calling him and another responding officer racists and was threatening to kill them. As the teen walked toward the other officer, Slawek said he saw the teen's hands tense up and, given his earlier threats, decided to physically take him into custody.
The teen resisted, police said, and what followed was a protracted struggle in which the teen repeatedly spit in Slawek's face, threatened to kill police and tried to break free. Slawek also reported that the teen reached for where his gun and Taser were on his belt and repeatedly told him to Tase, shoot and pepper spray him.
Slawek later reported having suffered an injured right wrist and thumb, including a possible chipped bone, during the struggle.
In his report, Engler said that after putting the spit hood on the teen, he hit him once with a closed fist in the forehead and twice with his forearm after the first strike did not subdue him.
The latter two strikes "appeared to have a positive effect," he wrote, as the teen "immediately stopped writhing around and stated 'are you hitting me?'"
The teen later told police that he was not injured in the incident.
Engler is a 12-year veteran of the Police Department who has no sustained use-of-force or other policy complaints against him, Koval said. "Restricted duty" is when an officer is taken off street patrol and works only in police offices.
Koval declined to discuss the officers' behavior on the video, saying he would wait for an internal review and a second, external review of the incident.
"Specifically, I will request that a subject matter expert in Defense and Arrest Tactics (DAAT) to review whether the force used was reasonable and appropriate based on guidelines articulated by the State of Wisconsin's Training and Standards curriculum," Koval wrote in a blog post Thursday.
Madison police procedures allow officers to use spit hoods and to hit, or deliver "diffused strikes" to, suspects in a number of circumstances, including "when an officer reasonably believes it is necessary to control a person" being taken "into custody for emergency detention or protective custody."
Earlier in the day, the West High School resource officer, Justin Creech, tried to work with the teen, according to his report. He said the teen arrived at school early in the morning and threatened a district contract worker.
The teen went to sleep in the school nurse's office and initially seemed to be in a better mood before the threatening behavior continued and he was sent home, where his foster father reported the same behavior there, Creech reported.
Because of patient privacy laws, Journey Mental Health said it could not say anything about the teen's case Wednesday.
But Hannah Flanagan, Journey's clinical director of emergency services, said that, in general, police are called to assist in Chapter 51 cases for one of three reasons:
The client is behaving in a way that is a threat to the client's or other's safety.
There has been a clinical judgment that the client's current behavior has in the past led to the client being a danger and is likely to again.
The client cannot be located and police are asked to find the client to bring in for evaluation.
"Use of force by police is never the first option for resolving conflicts," Koval said in his blog post.
"In the overwhelming majority of our face-to-face encounters with constituents, recordable use of force has historically occurred during far less than 1% of our calls. That said, use of force is something that is taken seriously and reviewed within the MPD for those rare instances where force has been employed."
Koval said the teen remained at the state Winnebago Mental Health Institute Thursday. While police have said there is probable cause to charge him with crimes related to his behavior when officers took him into custody, that decision will wait for reviews of the incident to be completed and for the teen's health to stabilize.
He said Madison police are "taking this case very seriously, and I am committed to a thorough and transparent process."