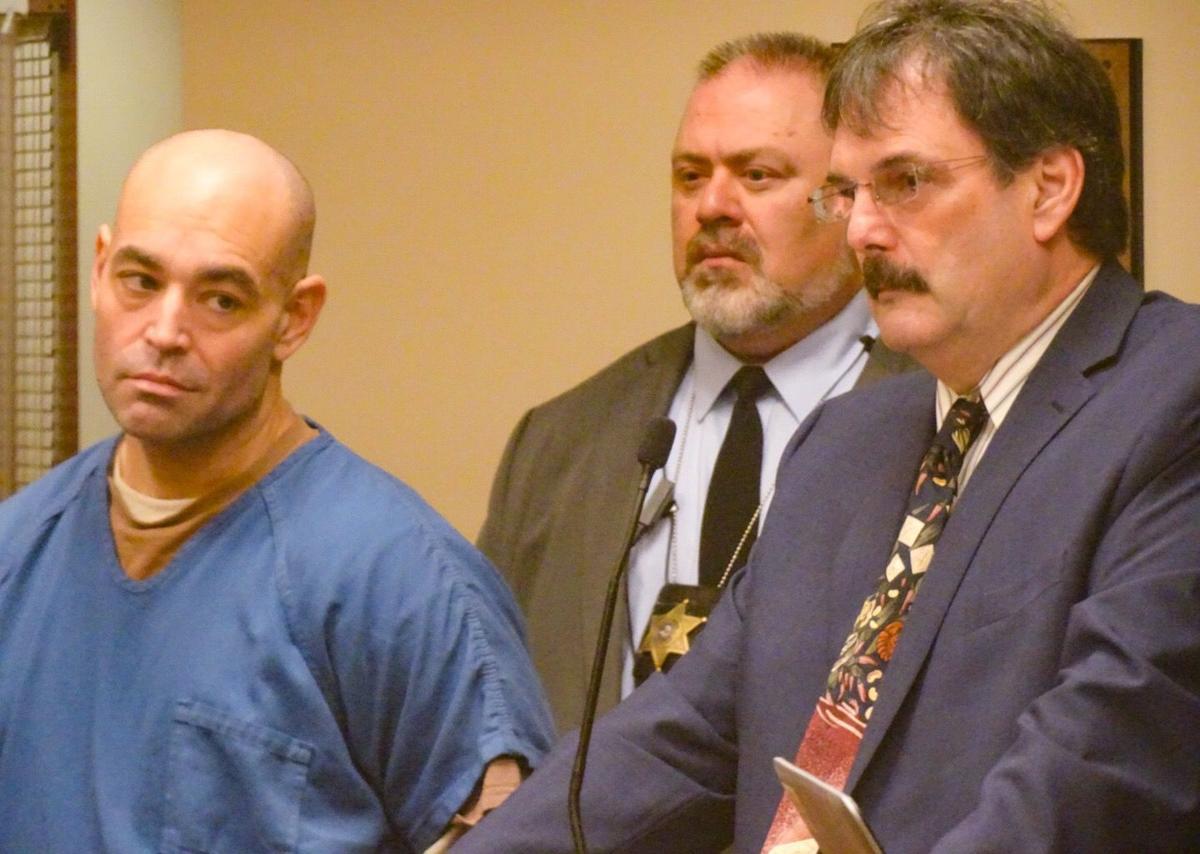 A Madison man with seven prior drunken driving convictions was charged Thursday with 11 felonies — two of them homicide charges — for a high-speed, hit-and-run crash in August on East Washington Avenue that killed a Chicago man.
But the lawyer for Jason A. Natcone, 44, said his client wasn't driving the BMW convertible when the Aug. 8 crash happened in the 1400 block of East Washington Avenue near the Yahara River Bridge, and that another man, who was first tentatively charged by Madison police, instead may have been driving.
Natcone was charged in the complaint with first-degree reckless homicide, homicide by drunken driving, hit-and-run resulting in death, three counts of first-degree reckless endangerment, eighth-offense drunken driving, three counts of drunken driving causing injury and knowingly driving while revoked causing death.
Court Commissioner Brian Asmus set bail for Natcone at $250,000. Natcone is currently on extended supervision by the state Department of Corrections after serving a prison sentence for his seventh drunken driving offense.
The crash happened, police said, when the BMW allegedly driven by Natcone was traveling at more than 80 mph and crashed into the back of a Chevrolet HHR while both vehicles were eastbound on East Washington Avenue. The driver of the HHR, Frederick Majer, 71, was killed and his 69-year-old wife was injured.
The three occupants of the BMW all fled, but according to the criminal complaint, two of them returned to the crash scene for medical help. Both later told police that Natcone was driving despite having had several drinks at the bars they drove to that night.
Police initially said Antoine K. Tempel was the driver, but in early September police said Natcone instead had been driving.
Natcone's lawyer, Anthony Delyea, said that inconsistency points to a weak case.
"First, I will argue that the state does not have a particularly strong case, for no other reason than before their expert had identified someone else as the driver," he said. "We don't know who the driver was. It wasn't Mr. Natcone."
According to the complaint, police said a witness who was driving on East Washington Avenue shortly before the crash told an officer she was passed by the BMW at an estimated 100 mph. There were three people in the car, she said, and its driver was "definitely bald."
Of the three, Natcone was the only bald person in the car. Tempel has short dark hair, according to a photo taken at the Dane County Jail after the crash.
According to the complaint:
A witness who arrived at the scene just after the crash told police he had seen the BMW earlier that night on King Street, driven by a "bald guy." After the crash, the man said the bald man was lying in the road but woke up first, then woke up the others before they all ran off.
Police later learned from another person that the driver was Natcone and that he was at his apartment on East Gorham Street. When police went there, he admitted he was with Tempel and a woman earlier.
Using GPS coordinates from a DOC monitoring device worn by Natcone, police traced his movements from one bar to another that night, starting around 10:20 p.m., until he entered his home at 1:37 a.m. after leaving the scene of the crash.
Police also looked at security video from the various bars. At the Ohio Tavern, Natcone was seen driving erratically into the parking lot about 11:23 p.m., then leaving and coming back to the Ohio Tavern in his car a short time later. He is seen driving away from the Ohio at 12:03 a.m.
Natcone and the BMW were also spotted on video in the parking lot of the Brink Lounge, both on the building's video and on surveillance video from nearby Madison Gas and Electric. The car is last seen leaving there at 12:55 a.m. The crash was reported at 1:09 a.m.
Tempel, identified in the complaint only by his initials, told police Natcone picked him up from work about 10:15 p.m. before they went to various bars together. Along the way, they picked up the woman from work, and at one point, Tempel said, Natcone drove eastbound on Williamson Street so fast that it frightened his two passengers.
The woman, who said she was picked up from work about 1 a.m., said Natcone took off "like a bat out of hell." She told police she asked Natcone if she could drive, afraid because he was "clearly drunk," but he refused to let her.
The woman said Natcone pulled over on Patterson or Brearly streets and she started to collect her things to get out, but he took off again, then turned onto East Washington Avenue and kept going faster until he smashed into the back of the HHR.
Tempel told police he thought Natcone was trying to kill himself in the crash, but the woman said it was simply a careless act, and he was going way too fast.