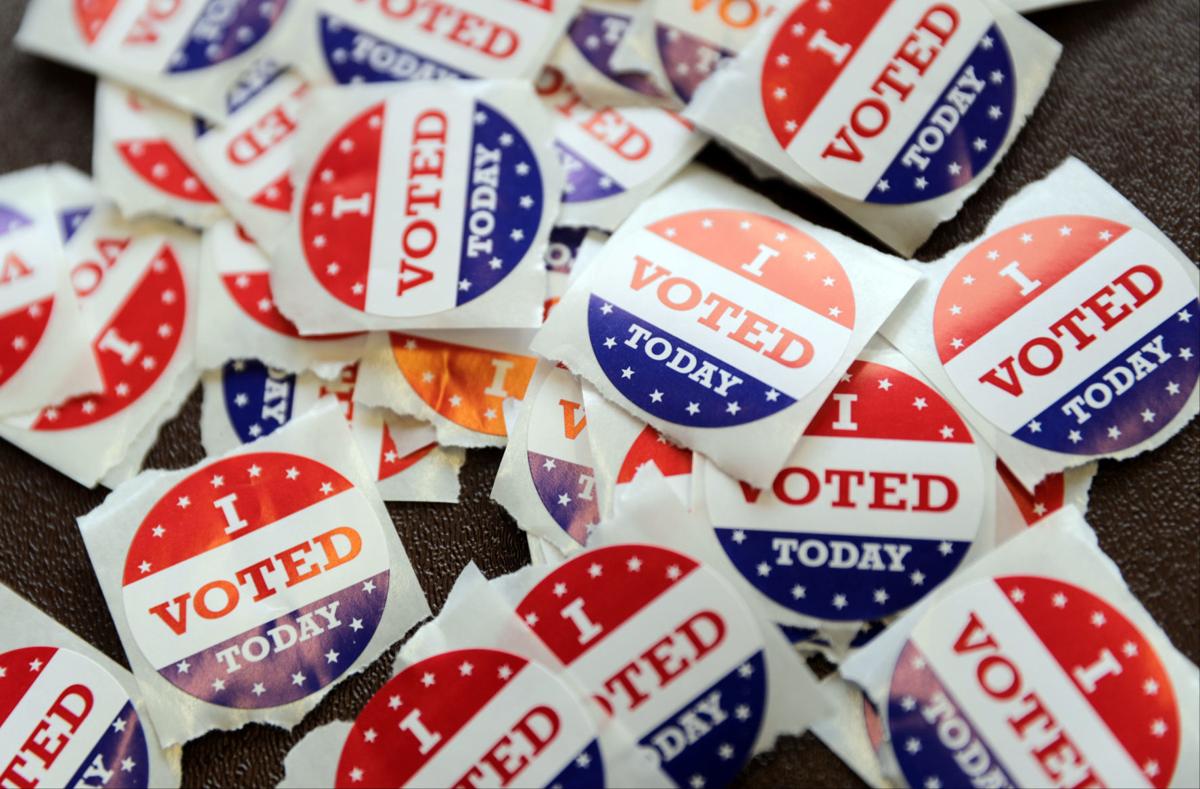 A state law that requires absentee voters to have a witness sign mail-in ballots violates the rights of older, medically vulnerable voters who are self-quarantining during the COVID-19 pandemic, a lawsuit filed Thursday claims.
The law requires absentee mail-in ballots be signed by the voter and by a witness who is an adult U.S. citizen. The lawsuit, brought by the League of Women Voters of Wisconsin, seeks orders barring the state from rejecting absentee ballots that do not contain a witness signature during the COVID-19 pandemic.
"This requirement poses a significant barrier to absentee, mail-in voting for any self-quarantining eligible voter who lives alone or who does not have an adult U.S. citizen in their household," the lawsuit states. It says the requirement forces voters who live alone and cannot leave their home to be "caught in an unconstitutionally burdensome and unnecessary choice between their life and their liberty."
The lawsuit is the third related to Wisconsin's April 7 election spurred by a global health crisis. A federal judge recently ruled the state must allow online voter registration through March 30 in response to a lawsuit filed by the state and national Democratic Party.
Earlier this week the city of Green Bay filed a federal lawsuit seeking to cancel in-person voting and provide more time for counting mail-in absentee ballots. The Republican Party of Wisconsin argued Thursday in a conference call with U.S. District Judge William Griesbach that the lawsuit should be dismissed, saying cities don't have jurisdiction to bring such a suit and most cities are moving ahead with the election anyway.
Vanessa Chavez, Green Bay's city attorney, insisted that the new coronavirus has made in-person voting too dangerous. Mailing ballots would ensure everyone gets one before the crisis deepens even further.
She said nobody, including Gov. Tony Evers, state election officials and the Legislature, has done anything to help local clerks conduct the election under such unprecedented circumstances.
"Nobody has come up with a solution," she said. "We're asking you to help us figure this out."
Griesbach said he would issue a decision by Monday.
"I recognize the importance of the issues, the urgency of it, the difficulty of it," he said.
Witnesses at issue
There are more than 675,000 single-member households in Wisconsin and many more in which only one adult lives. More than 250,000 single-member households are people over age 65, the lawsuit states.
The lawsuit was filed in U.S. District Court in Madison. Reid Magney, spokesman for the Wisconsin Elections Commission, the defendant in the lawsuit, said the commission had no comment. A spokeswoman for the state Department of Justice did not comment.
"While we appreciate the efforts by the state to expand voting in light of the pandemic, the Wisconsin law requiring a witness signature for every absentee ballot presents an unreasonable barrier to voters that does nothing to increase the safety of casting a ballot," League executive director Debra Cronmiller said in a statement. "Not addressing this particular measure complicates the process for the voters of Wisconsin and would have the impact of depressing turnout or unnecessarily exposing vulnerable voters."
The lawsuit states that in-person voting poses severe health risks to older voters and that enforcement of the signature law "constitutes an undue burden on the right to vote not justified by any legitimate or important government interest of the First and Fourteenth Amendments to the U.S. Constitution."
In addition to the League, plaintiffs include four older voters who live alone and have received or requested absentee ballots but are self-quarantining during the COVID-19 pandemic. Because of their ages and medical histories, the lawsuit states, along with recommendations by the U.S. Centers for Disease Control and Prevention and Gov. Tony Evers' emergency "safer at home" order, they have no way to safely get witnesses to sign their ballots and would effectively be denied the right to vote.
Also joining the League as a plaintiff is the Wisconsin Alliance for Retired Americans. The plaintiffs are being represented by the Fair Elections Center, based in Washington, D.C., along with lawyers from a Madison firm, Rathje Woodward.
Witness help
Also Thursday, two local organizations offered to help voters who live alone and are filing an absentee ballot find witnesses to sign their ballot envelope, the Madison City Clerk's Office said Thursday.
According to the clerk's office, NewBridge, which provides support to older adults in Madison, is available to help older voters. The organization's phone number is 608-512-0000.
The Dane County Voter ID Coalition has also started a service for people who need help finding a witness. The coalition's phone number is 608-285-2141. Volunteers from the League of Women Voters of Dane County, which is part of the coalition, will try to help voters while maintaining social distance.
The Associated Press contributed to this report.
Concerned about COVID-19?
Sign up now to get the most recent coronavirus headlines and other important local and national news sent to your email inbox daily.