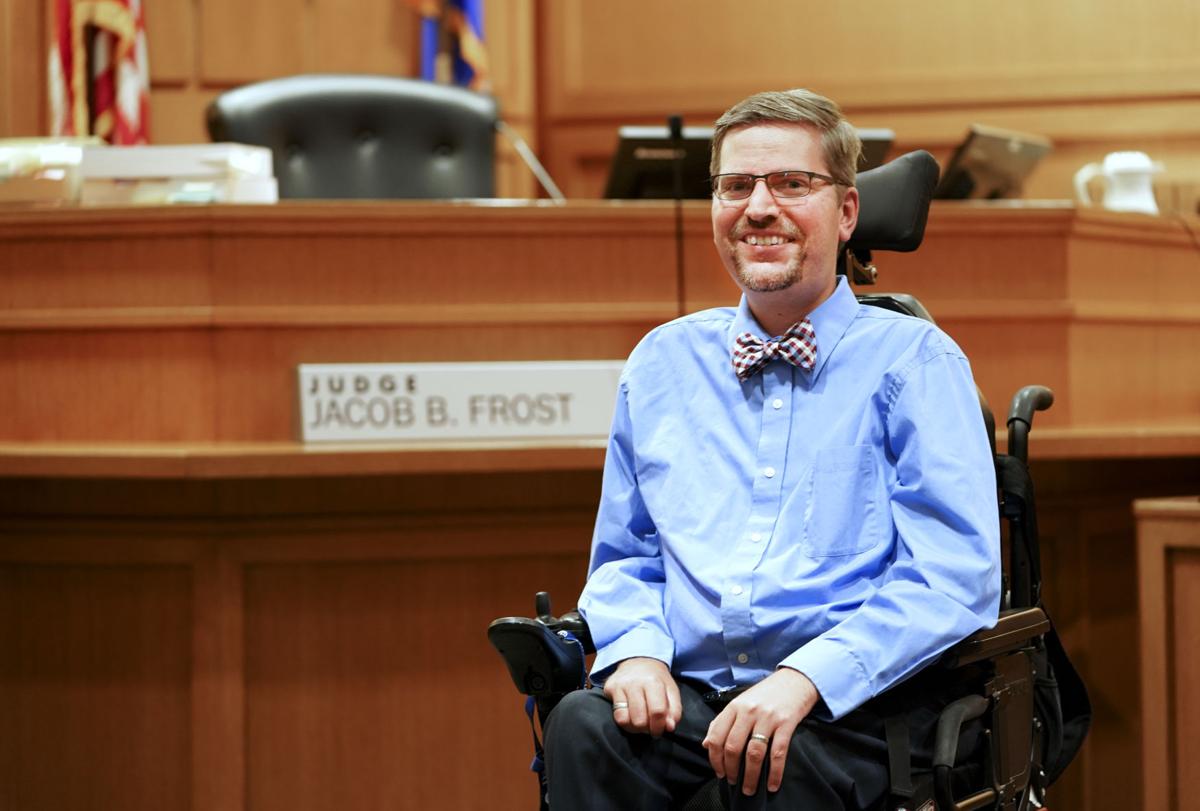 For Frost, the appointment marks another milestone in a career that was first sparked by, of all things, a role as a lawyer in a middle school mock trial of Christopher Columbus.
"That was the first instance that led me to think of law as a career and I realized I really thought I would enjoy it," said Frost, 34. "And it had never occurred to me before that. So that was what started me on the track to want to become a lawyer. And I stuck with it."
Frost grew up in Rudolph, a small central Wisconsin town, and attended school in nearby Wisconsin Rapids. He was the second child in his family, after his older brother, to be born with spinal muscular atrophy, a type of muscular dystrophy. He also has a younger brother and a younger sister.
After taking Wisconsin Rapids High School's only law-related class, Frost attended UW-Madison and double-majored in political science and German, with his sights on law school.
"I loved Madison," he said. "So I wanted to stay here instead of trying another state for law school. And then the law school was fantastic."
That led to an internship at the Boardman and Clark law firm as part of a program that matched him with the firm. After a second year as an intern with the firm, he was offered an associate job. Frost did that for several years before he became a partner with the firm.
When Circuit Judge Richard Niess retired, he said, he threw his hat in for the appointment. He started the job, in the court's civil rotation, on July 6.
Frost and his wife, Nichole, have three children — two teenagers from her previous marriage and a 4-year-old son.
What are some of the areas where you hope to make progress as a judge?
The big one I see that really has affected my practice then and now affects me in the civil rotation is just trying to work on ideas and ways to make our court more accessible. And by that, I don't mean the physical accessibility. I mean, it's so expensive and so difficult for people to participate that you either get a lot of people who need attorneys and just can't commit how much it costs to have them or can't commit the time it takes, taking time off work to actually go pursue a case that might be very valid and very worthwhile that they might win. I see that as just a huge problem for our system.
I think judges just have to play an active role in trying to help make sure our system is fair and just. A judge can very actively affect whether people feel like they get their day in court or not. Often that will not mean that a person gets to win just because they're in front of you, but they have to feel like they had their opportunity to present whatever they wanted the court to hear.
How has it been coming on board during a very usual time, when most things aren't being held in a courtroom because of the pandemic?
It is strange. I had my first and only so far in-person appearance this week, where having unrepresented parties participate by phone just left too many questions in my mind. It was a divorce case and there were some unusual agreements over the phone. I wasn't clear if it was a voluntary agreement. So I had to bring them in. I had to see and assess if I thought these people understood what they were agreeing to and were truly intending it.
Just watching people on a computer screen is just not the same.
It isn't exactly. And you get into law because you like people, and that's true of me. So you really just can't get the same feel from emails, from the phone. A lot of Zoom, too, is people calling in just by phone. So you don't even see their face through the screen. And I do think at some point the limitations of that are going to be pretty huge. It's hard to assess credibility if all you hear is the voice.
Outside of law, what sort of interests do you have?
I'm a huge Badgers fan, so I love keeping up on sports — football or basketball or volleyball. My kids are a huge interest, so whatever that would be, whether it's watching Madison, my middle daughter, she's really active in sports.
You were a German major. I'm assuming that means you're fluent?
Once upon a time I would say I was fluent. It's been 13, 14 years since I actively spoke it on a regular basis. It's amazing how fast you lose that ability once you're not doing it, but it's something I studied just because I liked it. I knew I would never use it in any meaningful way and I never have, but I loved it.
Was there a reason you chose German?
I wanted to learn French, but the way Rapids did it, ninth grade was middle school at the time. I was in ninth grade, (my brother) was in high school. And for whatever reason, there weren't enough people for a French class in middle school. So I got switched to German. And there weren't enough people for introductory German at the high school, so (my brother) got switched to French. So it was goofy. I didn't want to learn it, I got into it accidentally and then just loved it.
"I think judges just have to play an active role in trying to help make sure our system is fair and just."
"I think judges just have to play an active role in trying to help make sure our system is fair and just."