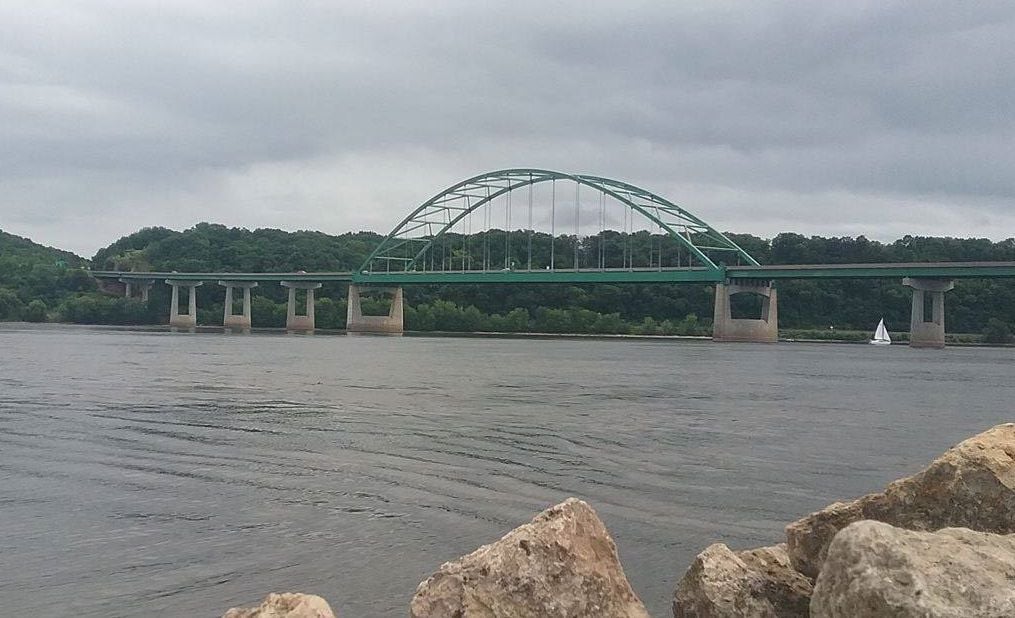 A driver slowing for a kitten on the Dubuque-Wisconsin bridge over the Mississippi River caused two crashes involving five vehicles Thursday. No one was hurt, but traffic was backed up for over an hour.
The crash on the Highway 61-151 bridge linking Dubuque, Iowa to Wisconsin happened at about 4:40 p.m. in the northbound lanes close to the Wisconsin side, the Grant County Sheriff's Office said.
Michelle Jones, 39, of Hazel Green, was driving in the left lane and saw a kitten on the bridge.
"She slowed down, concerned that the kitten would cause a crash," said Sheriff Nate Dreckman. "When she did this, she tried to shift gears (manual transmission) but the gear shift stuck between gears, so the car slowed when she tried to get it back in gear."
Bradley Collins, 36, and Amy Letcher, 35, both of Erie, Illinois, were in a Kia behind Jones, and Collins braked to avoid hitting Jones' car. Clare Blum, 23, of Cassville, was in a Chevy Malibu behind the Kia, as she also slowed to avoid rear-ending the car ahead of her.
Cole Brandt, 21, of Hazel Green, was driving a pickup truck behind Blum's Chevy Malibu, and his attempt to screech to a halt didn't work, as the pickup hit the Chevy Malibu, and the Chevy Malibu hit the Kia, but the Kia didn't hit Jones' car.
In a separate crash, Monica Brester, 21, of Pewaukee, saw what was happening ahead of her and started to brake her Ford Escape to avoid hitting the other vehicles. Paige Powers, 23, of Platteville, was in a Chevy Cruze behind Brester, and couldn't stop in time, hitting the Ford Escape.
Of the six vehicles involved, Jones' car, the one car causing the two crashes, wasn't hit.
"The crash caused a very large traffic backup along the northbound lanes of Highway 61-151, from the Wisconsin side of the bridge back to the Dodge Street area of Dubuque," Dreckman said.
The crash remains under investigation; citations are possible. The kitten lived and was taken to the Dubuque Humane Society by Dubuque police.