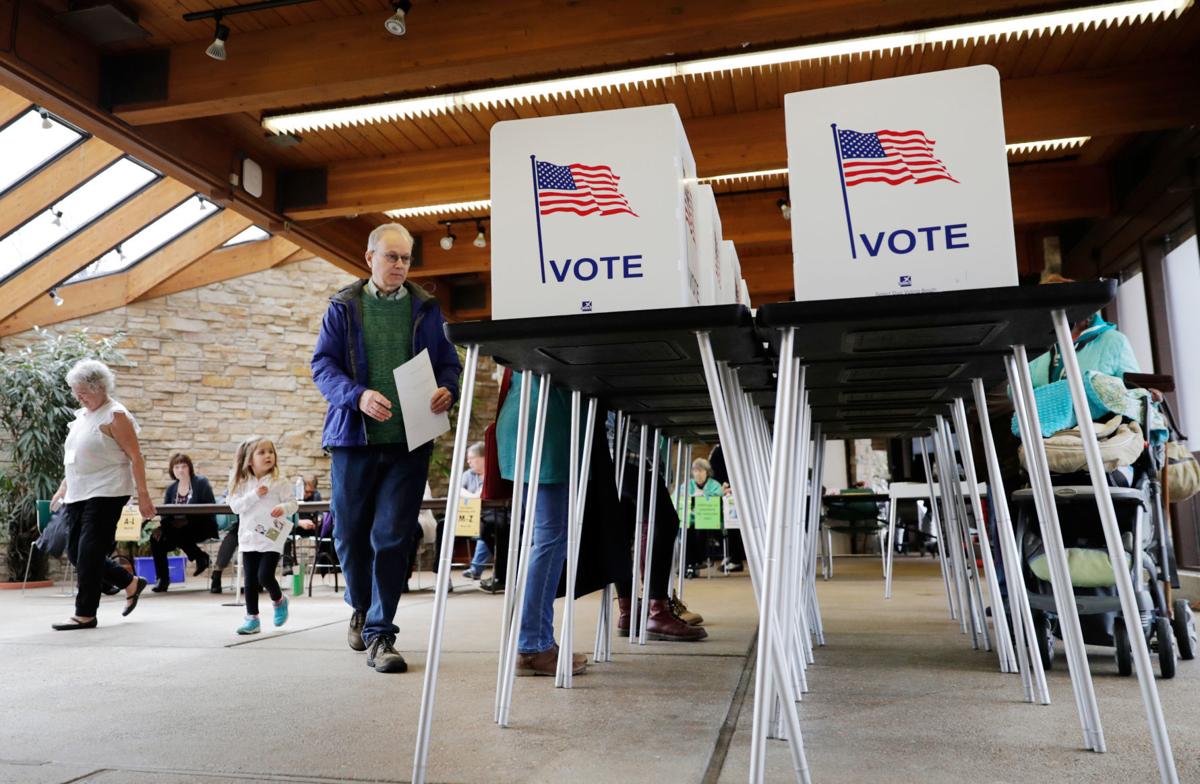 U.S. District Judge William Conley said he will rule "as soon as possible" after hearing arguments Wednesday on three lawsuits asking him to postpone Wisconsin's April 7 election or make it easier to cast ballots, due to the public health threat caused by the COVID-19 pandemic.
During vigorous exchanges with lawyers during closing arguments that closed the 4-hour-long hearing, Conley said he does not believe he has the authority as a federal judge to postpone a state's election, even though he said the state would be wise to postpone it.
"I don't see a basis on which I stop this very risky decision by the state of Wisconsin," Conley said. "It's not up to a federal district judge to act as health authority."
Conley also sounded skeptical tones about some of the plaintiffs' other requests, but it was not as apparent whether he was playing devil's advocate with lawyers during arguments.
While challenging Jon Sherman of the Fair Elections Center on the need to bar a ballot witness signature requirement for older and infirm people who live alone, Conley said he didn't believe it was unreasonable to expect those people to make arrangements to get a witness signature.
But when Patrick Strawbridge, representing the Republican National Committee and the Republican Party of Wisconsin, argued that those voters had 45 days to make such arrangements, Conley called that an "insulting argument." Nobody knew 45 days ago, Conley said, how serious the risk of COVID-19 would become, and said "each day the risk is becoming more obvious."
As Conley nears his decision, the Wisconsin Elections Commission said Wednesday that requests for absentee ballots have passed the 1 million mark.
And in a court filing Tuesday, Gov. Tony Evers said in the face of staffing shortages at Wisconsin's polling places caused by the COVID-19 pandemic, he will use members of the Wisconsin Army National Guard to help as poll workers, though he admitted that their numbers aren't likely to satisfy staffing needs.
Voters in Tuesday's election will cast votes in a presidential primary, Wisconsin Supreme Court election and in hundreds of local municipal and school board elections.
A Marquette Law School Poll released Wednesday found 51% of Wisconsinites support postponing the election, while 44% support keeping it on the scheduled date.
Conley heard testimony and arguments in the cases Wednesday during a hearing that was held through the Zoom video platform. An order by Evers bars gatherings of 10 or more people, and the federal court in Madison last week temporarily banned in-person court hearings. Audio — and briefly YouTube video — of the hearing was made available to the public, though the video was quickly taken offline and the audio, made available by telephone conference call, experienced technical glitches at times that caused it to cut out.
As of Wednesday morning, the Elections Commission said, just over 1 million absentee ballot applications had been received by municipal clerks in Wisconsin. Clerks have sent out 1,028,734 ballots and have received 387,833 from voters.
The commission notes that the number of requests doesn't include absentee ballot requests that have not yet been entered into the state system by clerks, including emailed requests, mailed requests or requests by voters that require the clerk to approve a photo identification, so the number of ballot requests may actually be higher.
The number of absentee ballots requested is more than the number of absentee ballots cast in any previous election and close to equaling all ballots cast during the spring 2019 election. The highest number of ballots cast in recent spring elections was 2.1 million in 2016. No recent spring election comes close to spring 2020 in the number of absentee ballots issued.
In the face of COVID-19, the Elections Commission and municipal clerks have encouraged voters to cast absentee ballots to avoid having to go to the polls on April 7, where municipalities have run into shortages of poll workers, causing some municipalities to be unable to staff polling places at all. Others have reduced the number of polling places by combining them. But close contact among voters and poll workers had remained a concern because of the spread of COVID-19.
Despite the state's issuance of a "safer at home" order on March 24, which directed Wisconsin residents to remain home and ordered the closure of nonessential businesses and public places, Evers has said he does not intend to stop in-person absentee voting or cancel voting at polls on April 7.
Conley will issue rulings in three lawsuits.
One, brought by the Democratic National Committee and the Democratic Party of Wisconsin, asks Conley to extend deadlines for absentee voting and waive the voter ID requirement for absentee voting, along with the proof-of-residence requirement for voter registration.
A second lawsuit, brought by the League of Women Voters of Wisconsin and the Wisconsin Alliance for Retired Americans, asks to waive a requirement that absentee voters have a witness sign their ballot and fill in their address, saying it poses a barrier to older or medically vulnerable voters who live alone.
The third lawsuit, filed by a group of union and minority organizations, asks to postpone the April 7 election.
John Devaney, a lawyer for the Democratic Party, told Conley the party was joining in asking to postpone the election.
"I want to emphasize the point that the defendants just are not recognizing the harsh reality of the situation on the ground for these voters," Devaney said.
In a court filing on Monday, the city of Madison also asked Conley to postpone the election, citing a shortage of poll workers. The campaign of Democratic presidential candidate Bernie Sanders also called Wednesday for postponement of the election, with an eye toward voting entirely by mail.