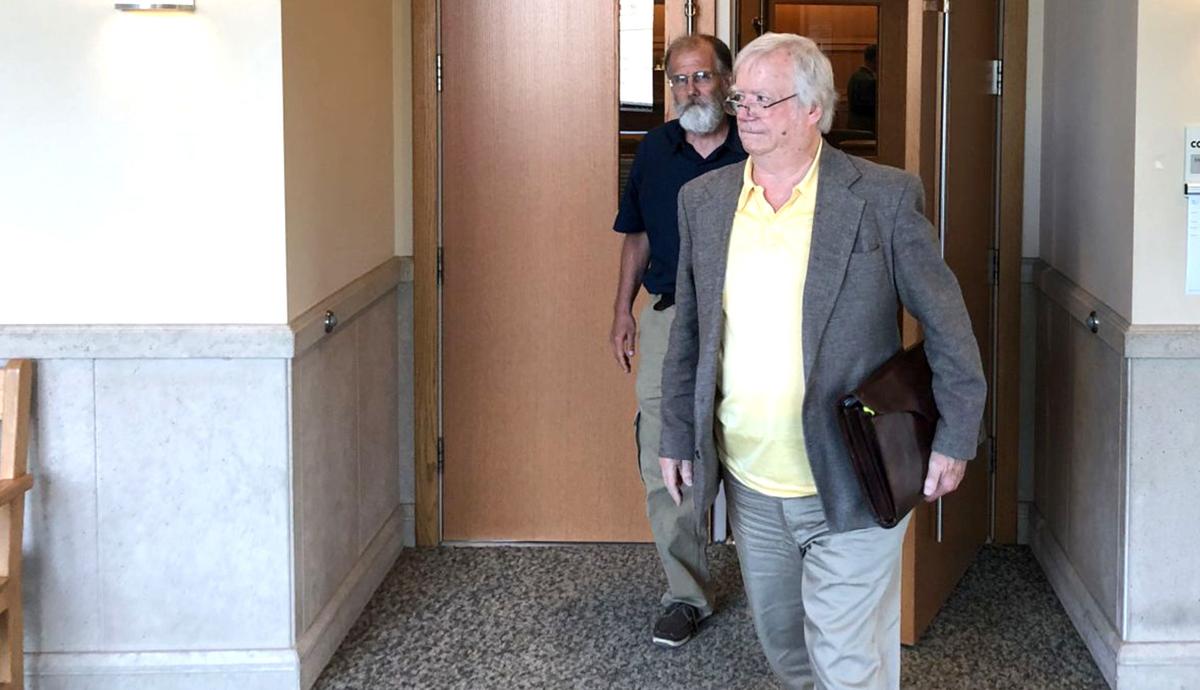 A longtime conspiracy theorist and retired professor from Dane County who thinks the Sandy Hook massacre was a government hoax was found in contempt of court Friday in a defamation case brought against him by one of the Sandy Hook parents.
James Fetzer, an Oregon resident and University Minnesota-Duluth professor emeritus of philosophy, admitted to violating an order to keep a May 28 videotaped deposition of plaintiff Leonard Pozner confidential. Instead, he shared it or allowed it to be shared sometime between June and August with what he called fellow "researchers" of the 2012 murder of 27 people in Newtown, Connecticut.
Dane County Circuit Judge Frank Remington ruled in June that Fetzer and Mike Palecek, of Saginaw, Minnesota, had defamed Pozner. The two edited the 2016 edition of the book "Nobody Died at Sandy Hook," which alleges Pozner circulated a fraudulent copy of his son Noah Pozner's death certificate. Fetzer also co-authored a chapter in the book and has repeated in his blog the claim that Leonard Pozner circulated a fake death certificate for his son.
In the Friday hearing, Remington ordered Fetzer to pay Pozner $7,000, or the estimated cost of the time one of his lawyers spent bringing the contempt action. Fetzer told the court he provided the deposition to others in an attempt to prove that the person who appeared in the deposition was not Pozner — an allegation he said he was now convinced of.
Images of Pozner from the deposition and from past news coverage appear to show the same person.
Remington said Fetzer will be expected to have the $7,000 by the morning of Oct. 14, when a jury trial is set to begin to determine how much in compensatory damages Fetzer and Palecek will have to pay Pozner.
And "if you don't, bring your toothbrush because you'll be going to the Dane County Jail," he said.
Pozner's attorneys will also be allowed to raise the contempt finding when the jury considers awarding any punitive damages, Remington said, "and you're going to try to put the genie back in the bottle" by trying to get the deposition back from the at least four people he helped access it.
Noah Pozner, at age 6, was the youngest victim of the Sandy Hook shootings. Fetzer claims the massacre never happened but was instead an event staged by the Federal Emergency Management Agency as part of an Obama administration effort to enact tighter gun restrictions.
Fetzer has also advanced conspiracy theories about the Sept. 11 attacks, John F. Kennedy's assassination, the shootings in Parkland, Florida, and other events.
Fetzer and his attorney, Richard Bolton, admitted Fetzer violated the order to keep the deposition confidential prior to trial — an order Fetzer had agreed to. But they argued that Pozner's image had already been widely circulated in the media and that personal information about Pozner in his deposition did not rise to the level of being covered by federal health privacy law.
Remington, though, said that by releasing the deposition, Fetzer had deprived the court of the opportunity to formally consider those issues.
Pozner is asking for $1 million in compensatory damages in the Dane County case.
[Editor's note: This story has been updated to correct Mike Palecek's residence and when James Fetzer shared the deposition.]
Sign up for our Crime & Courts newsletter
Get the latest in local public safety news with this weekly email.