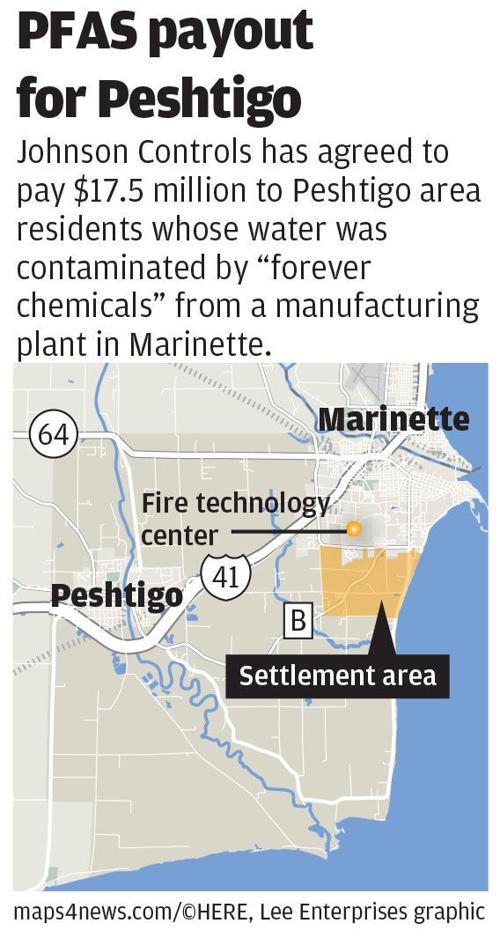 Johnson Controls has agreed to pay $17.5 million to Peshtigo-area residents whose water was contaminated by "forever chemicals" from a manufacturing plant in Marinette.
The agreement announced Thursday is part of a settlement in a 2018 class-action lawsuit against the company's Tyco Fire Products subsidiary and is subject to court approval.
In a statement, the company said the settlement is not an admission of wrongdoing but "expresses our desire to resolve this litigation so that we can focus on the permanent solutions we have identified to get rid of the PFAS from the (Fire Technology Center)."
"This is an important part of our effort to make this situation right," said company spokeswoman Katie McGinty.
The Legislature's rules committee voted 6-4 along party lines Friday to strip key language from a newly-adopted rule limiting the use of firefighting foam containing chemicals known as PFAS, including targets for evaluating the effectiveness of treatment.
Under the proposed settlement, anyone who lived or owned property in the covered part of the town of Peshtigo for at least a year since 1965 will be eligible for compensation. According to the settlement, there are more than 300 homes in the roughly 3-square-mile area south of Marinette.
The settlement does not cover roughly two dozen wells contaminated by sludge from the Marinette wastewater treatment plant that was spread on farm fields in the surrounding area.
McGinty said PFAS in those biosolids came from "a much broader arena of players," adding that after three years of study Tyco has identified "precisely where our PFAS is."
"We make no bones about the fact that Tyco's activities have contributed PFAS to the environment," McGinty said. "We're totally responsible for anything that came from our actions."
In a statement, an attorney representing the plaintiffs said the settlement, the first of its kind in a nationwide litigation, is a "huge milestone" for people harmed by fluorinated firefighting foam, known as AFFF.
"This settlement marks a significant step in victims' efforts to secure just compensation for those impacted by PFAS contamination caused by AFFF," said Paul Napoli. "But there is still more work to do as we continue to seek to hold the manufacturers of these chemicals accountable for the harm they've inflicted on individuals and the environment."
Dozens of private wells in the Marinette and Peshtigo area have been contaminated with PFAS believed to have originated from firefighting foam.
Tyco discovered in 2013 that soil and well contamination on its Marinette fire training property contained PFAS. Four years later, the company acknowledged that the chemicals had spread beyond the facility. The state Department of Natural Resources is monitoring what could be the state's largest environmental cleanup.
McGinty said the company is actively pursuing cleanup plans for groundwater, surface water and soil, and will send the PFAS to out-of-state hazardous waste facilities.
Johnson Controls, a multinational conglomerate that makes fire, HVAC and security equipment for buildings, has set aside $140 million to cover cleanup costs.
"We're going after PFAS and we're going to get rid of PFAS," McGinty said. "We're going to ensure that we have, again, healthy soils, that we're going to be delivering clean and safe drinking water and surface water."
PFAS have been linked to cancer, liver disease and thyroid problems, and may interfere with the effectiveness of vaccines. A recent study also found exposure to high levels of two common compounds leads to lower sperm count and smaller penises.
Concerning levels of PFAS have been found throughout Wisconsin in drinking water, groundwater, surface water, soil, sediments, air, fish and wildlife, as well as in human blood samples.
Several contaminated sites at the Dane County Regional Airport have been linked to training areas used for decades by the Wisconsin Air National Guard and local fire departments.