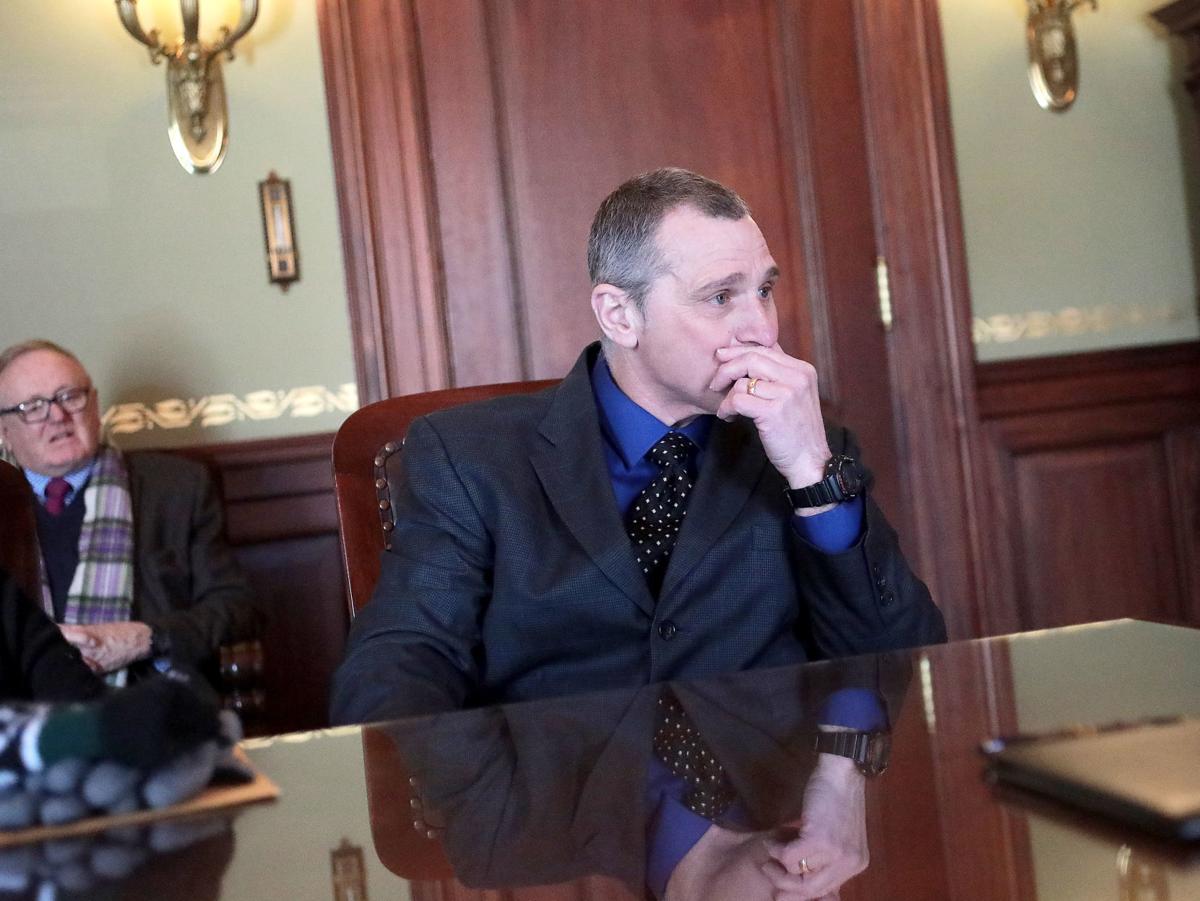 Rudolph Rott, 62, held back tears as he sat next to Gov. Tony Evers in the governor's office Wednesday.
"Well, this is it. Are you ready?" Evers asked him while picking up a pen.
Rott, of Holmen, watched as Evers signed his name across the bottom of an official pardon document, making Rott the 23rd person to be granted clemency since Evers became governor.
"This is one of the best parts of my job," Evers told Rott after congratulating him.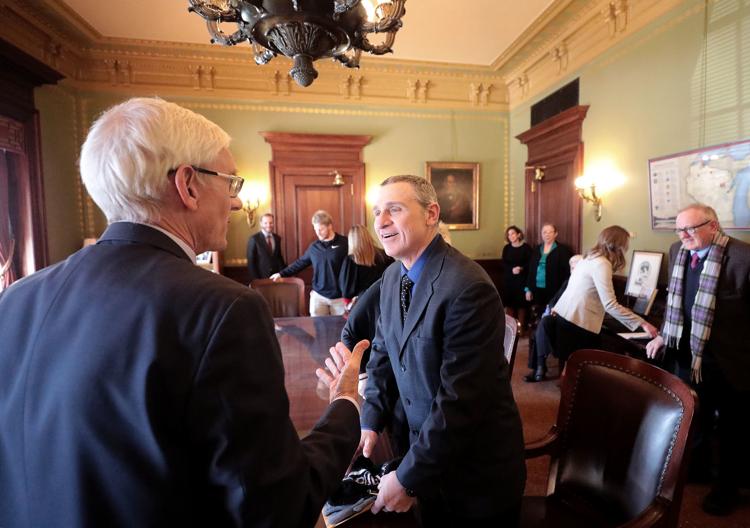 Evers granted seven more pardons Wednesday, bringing the total number of recipients to 29 since the governor reinstated the pardon board last year.
A pardon doesn't clear a conviction from someone's record, but it is an official grant of forgiveness that restores certain rights, such as the ability to own a gun, serve on a jury, hold public office and hold certain professional licenses or positions.
Previous Gov. Scott Walker did not issue any pardons during his eight years in office. Evers changed that course in October, issuing four pardons, followed by eight in November and 10 on Jan. 13. The January pardons were announced Wednesday.
Pardons are issued to those who have completed their sentences and taken significant steps to make amends, contribute to their communities and become better people. Evers said granting forgiveness to those who are deserving is "part of my DNA."
"These are important for me personally also," Evers told Rott. "I've always believed in second chances and redemption after people have been able to prove themselves after some mistakes."
Rott was convicted of a felony for dealing marijuana and cocaine 35 years ago when he was 27.
Now 62, Rott is a business owner, husband, father and volunteer in his community. Rott has run several manufacturing businesses and has volunteered as a youth sports coach, a church board member and a Sunday school teacher. He has three children and has been married for 25 years. Rott asked for the pardon so he can hunt and possibly run for local office.
Rott was one of two people who met with Evers in person to receive their pardons Wednesday. The other, who declined to be interviewed, was Bradley Cummings, who was caught selling prescription drugs when he was 18. Cummings, an employee at the Portage County Register of Deeds, asked for the pardon so he can run for public office and become a notary for work purposes.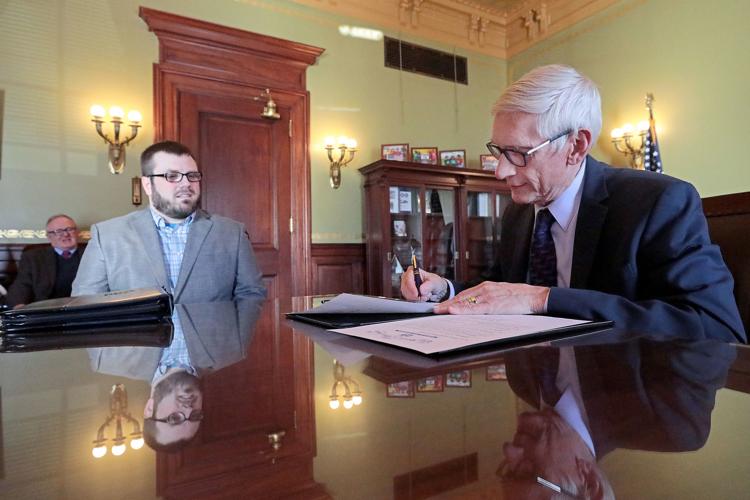 While meeting with Rott, Evers was warm and conversational. He looked into Rott's eyes and listened to him talk about his childhood, his work experience and how it was important for him to "earn" the pardon by helping people and contributing to his community.
"I'm very thankful to you," Rott told Evers. "You opened up the door for this opportunity."
At one point, Rott apologized for "getting off on a tangent."
"You only get pardoned every once in a while," Evers joked.
Afterwards, Rott said he felt "blessed" to have been pardoned. He's excited to go hunting with his son and have more doors open to him. Rott is retired, so the pardon won't necessarily help him with employment, but he said he can now run for school board or town board. Volunteering for his church will also be easier.
"It's all been forgiven," Rott said. "Those little things that still kind of pop into your mind — they're history. That's a relief for me right there."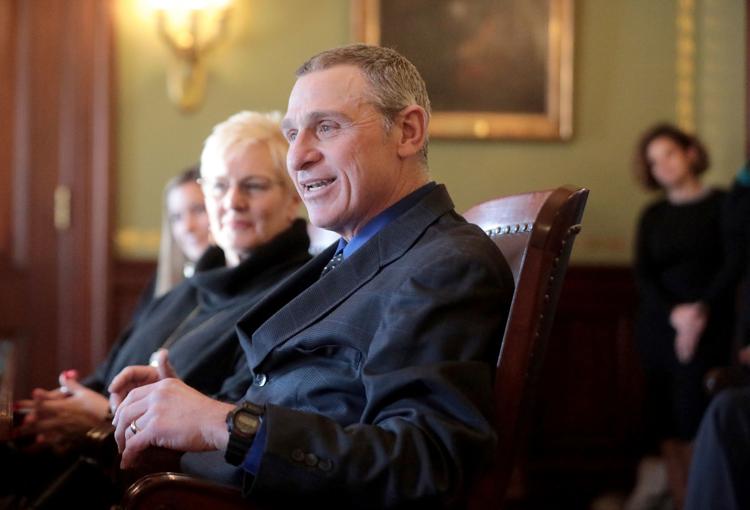 The five others issued pardons Wednesday are:
Robert Olson, 58, stole two calves and sold them with a friend when he was 19, receiving a felony theft conviction. He completed probation, paid restitution in full and has owned an RV sales and service company for the past 25 years. He's also an active member of his community. Olson asked for a pardon so he can get a passport, a firearm and become a licensed foster care parent.
Paul Anderson, 43, got a felony when he was 19 after he copied a friend's car key and used the car without his friend's consent. Anderson obtained his EMT license and was a volunteer firefighter from 2003 to 2005. He is currently a parts manager at a car dealership and asked for the pardon to improve his career opportunities.
Scott Sowle, 50, was convicted of a felony after attempted burglary when he was 19. Sowle completed probation and did not commit any more crimes. He also received several letters of support from local community members. Sowle is a safety manager for a local manufacturer, and wanted the pardon so he could travel internationally and possibly run for local office.
Michael Hranicka, 45, was 18 when he, along with others, spray-painted school property, stole snowmobiles and stole electronics from someone's home. He completed probation and has had no new criminal activity. As a self-employed flooring installer, he asked for a pardon to expand his business opportunities. Hranicka also volunteers for trout conservation efforts, and the pardon will help him get involved in youth conservation programs. He also hopes to run for public office.
Anthony Bianco, 29, was a getaway driver during a robbery when he was 17. He paid restitution, completed his GED, and now works for a local lumber business. Bianco is an active member in his community and church. He asked for the pardon to clear his name and be eligible for promotions at work.