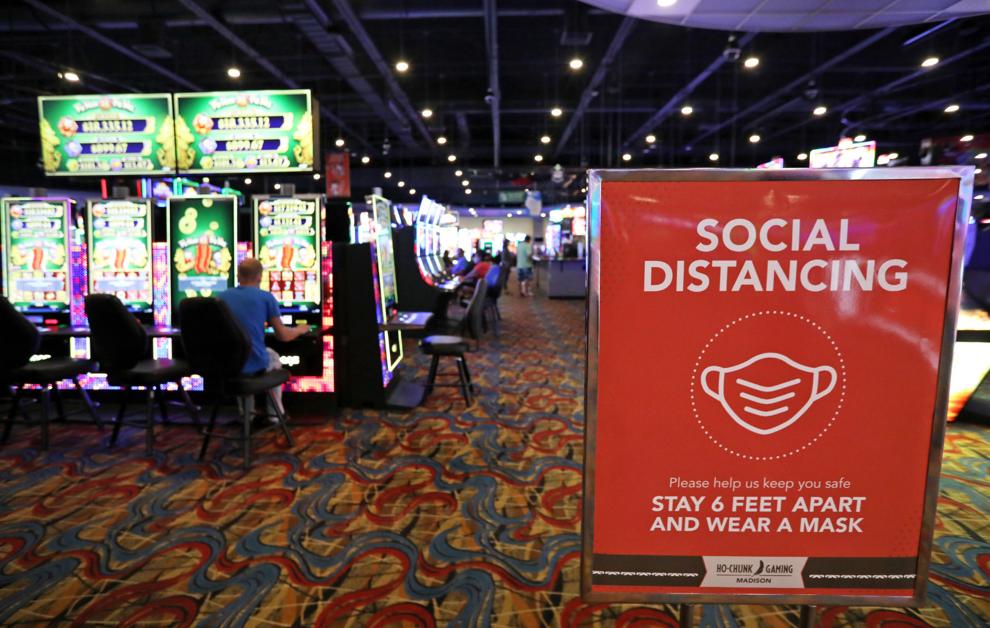 The Ho-Chunk Nation, which operates casinos, hotels, restaurants and other businesses across Wisconsin, is suing its insurers over denials of its business interruption insurance claims brought on by the COVID-19 pandemic.
The lawsuit, filed late Tuesday in Dane County Circuit Court, is the latest in a number of lawsuits filed against insurers by businesses that had to shut down last year because of government or tribal closure orders aimed at stemming the spread of the infectious disease.
The lawsuit states the pandemic caused direct physical losses and damages to the tribe's businesses, which should be covered by the layering of insurance policies issued to the tribe by various insurers and underwriters, including Lloyd's of London. The group of insurers is led by Boston-based Lexington Insurance Co.
"The pandemic limited access, reduced usable space, and required the installation of physical barriers," the lawsuit states. "It also increased the need to clean and sanitize at the (tribe's properties). The policyholders undertook significant repair and remediation before use of the property could be permitted without risking further loss and injury to visiting patrons."
Those losses should be considered direct physical losses caused by the coronavirus and the pandemic because the businesses were rendered unusable and uninhabitable while closure orders were in effect, the lawsuit states.
Insurance companies have pushed back against paying claims for business interruption losses due to the pandemic, contending that business interruption policies only cover losses that are due to physical damage to businesses, and that pandemic-related closures do not count as such.
The tribe counters, however, that its "loss is physical because the probability of illness for any patron if the property were physically used made the property uninhabitable and/or unusable. The pandemic prohibited access to the property."
Previous rulings
In November, in a similar case, Dane County Circuit Judge Mario White dismissed a class-action lawsuit brought against Society Insurance by the owners of Pasqual's, a Madison restaurant. He agreed with Society that Pasqual's, which closed its dining room because of the pandemic, did not suffer physical damage to its property and was still able to prepare food in its restaurant. Pasqual's has appealed the ruling.
In another case, in April, also a class action against Society Insurance, Circuit Judge Jacob Frost granted Society's motion to dismiss a claim of coverage for Badger Crossing, a Monroe County bar and restaurant, based on its insurance policy's civil authority and contamination clauses. But Frost declined to dismiss Badger Crossing's claim that COVID-19 had physically invaded the business and made it unsafe. Society has appealed the decision.
Tribal holdings
The Ho-Chunk Nation operates casinos in Madison, Black River Falls, Nekoosa, Tomah, Wisconsin Dells and Wittenberg. It also has property in Lake Delton, La Crosse, South Milwaukee, Lyndon Station, Baraboo, Mauston, Milwaukee, Wisconsin Rapids, Muscoda, Kildare, Port Edwards, North Freedom, Neillsville, New Lisbon and Green Bay, and in Illinois, Minnesota and Missouri.
The lawsuit doesn't state how much the Nation is seeking in claims from its insurers but asks for a declaration that its losses are covered by its insurance policies and asks to be awarded unspecified compensatory and punitive damages.
Last year, Ho-Chunk Nation President Marlon WhiteEagle told the State Journal the loss of gaming revenue due to the pandemic had "pretty much crippled our tribal economy." He said the Nation's six Wisconsin casinos, which generate more than 80% of its annual operating budget "are really the bread and butter of our funding."
---
Reset, restart: Madison-area businesses embrace new reality
To survive, business owners know they need to be prepared for what's next. It's safe to say most weren't prepared for the cataclysm of the last year. Yet, most adapted. From reducing hours and adding curbside pickup or outdoor seating to changing product lines, finding new suppliers and moving their operations online, companies reinvented themselves. Some of those changes were temporary; others will alter the face of Madison's business community for years to come.