A Green County judge on Friday rejected a bid by a 16-year-old boy charged with shooting his infant daughter to death to move the boy's homicide case into juvenile court.
Instead, the first-degree intentional homicide case against Logan T. Kruckenberg-Anderson, of Albany, will remain in adult court where it was originally charged in January. He is also charged with hiding a corpse.
Circuit Judge Thomas Vale said Kruckenberg-Anderson and his lawyers, state assistant public defenders Guy Taylor and Ashley Morse, had failed after an all-day hearing to prevail on any of the three prongs needed to have the case sent to juvenile court.
In Wisconsin, anyone age 10 or older who is charged with first-degree intentional homicide is initially charged as an adult, but those 16 or under at the time of the alleged incident can ask to have the case sent to juvenile court in a procedure called a reverse waiver.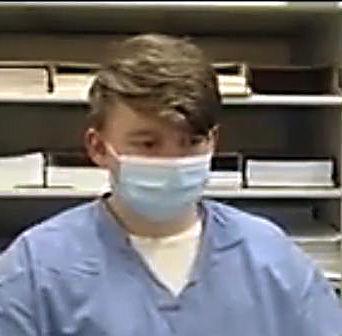 To succeed, Kruckenberg-Anderson would have had to prove that he would receive inadequate treatment in the adult justice system, that granting the reverse waiver would not depreciate the seriousness of the crime and that it is not necessary to keep the case in adult court to deter other juveniles from committing similar crimes.
The hearing was held by video conference from different locations, with Vale on the bench in his courtroom and Kruckenberg-Anderson in the Green County Jail.
A criminal complaint filed Jan. 12 states that Kruckenberg-Anderson initially lied to investigators searching for the missing infant, then admitted he had taken the infant girl to a wooded area, put her in the hollow of a tree and covered her with snow, then left her to die.
When investigators found the girl they saw that she had been shot in the head. Kruckenberg-Anderson then admitted he had also done that, the complaint states.
In court Friday, state Division of Criminal Investigation Special Agent James Pertzborn played part of a recorded interview with Kruckenberg-Anderson, in which the boy explained why he had shot the infant twice.
"Remember the movie 'Zombieland'?" Kruckenberg-Anderson asked Pertzborn. In the movie, he said, "the first shot is not a guarantee," so a "double-tap," a second shot, is required.
Adult system
Vale ruled that while a defense psychologist, Dr. Nick Yackovich, had shown that Kruckenberg-Anderson lacked maturity and rational thinking and that he didn't trust adults to help him make decisions, his intellectual capabilities are normal. Also, Vale said, Kruckenberg-Anderson's lawyers didn't show that there was a tremendous difference in treatment opportunities for those in the juvenile system and young offenders in the adult system. If found guilty, Kruckenberg-Anderson would be housed in a juvenile facility like Lincoln Hills until he is 18 before being transferred into the adult correctional system.
Even then, Vale said, he could then be sent to Racine Youthful Offender Correctional Facility, which houses male inmates between the ages of 18 and 24.
If adjudicated delinquent as a juvenile, Kruckenberg-Anderson could only be kept under state supervision until he is age 25. An adult conviction carries a life sentence, with the possibility of release after 20 years.
On the question of deterrence, Vale ruled that in a place like Green County, most people are aware of the outcome of a "horrific crime" like Kruckenberg-Anderson's, which has received media attention.
"I believe that's true when we have a sensational crime on a local level that impacts people," Vale said.
He also said transferring the case to juvenile court "absolutely would" depreciate the seriousness of the offense.
While the defense argued Kruckenberg-Anderson's acts were the impulsive acts of someone who felt he had few options in a crisis, Assistant District Attorney Laura Kohl argued that Snapchat messages read in court showed that the situation Kruckenberg-Anderson and his 14-year-old girlfriend faced was long discussed and considered.
In messages a month before the baby was born, Kruckenberg-Anderson urged the girl to get an abortion, even one performed by an amateur.
"(Kruckenberg-Anderson) pushes his decision that he doesn't want to be bothered by this child," Vale said.
In a Snapchat message to the girl on Dec. 14, Kruckenberg-Anderson tells her, "Either way we aren't keeping it. You understand that right. Either someone takes it or it takes a slug."
When that passage was read in court, Kruckenberg-Anderson, not visible to the public at that point, became upset and wanted to speak. Vale set up a meeting between the boy and his attorneys, leading to a break in testimony lasting about 15 minutes.
Morse argued the evidence concerning Kruckenberg-Anderson's late push for an abortion showed that he had a naïve, unrealistic view of what was possible at that point, and that what was to come was unplanned.
---