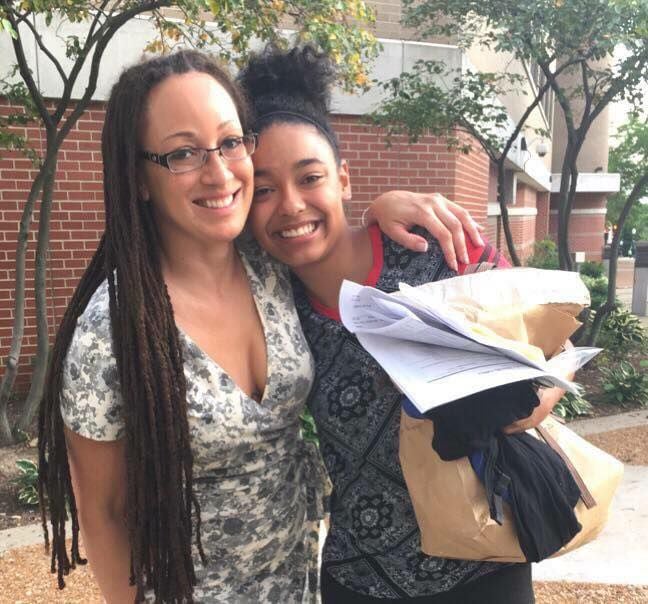 Genele Laird, the young black woman whose forcible arrest by white police officers after she allegedly brandished a knife at East Towne Mall became a viral video, will be referred to an alternative restorative justice program and won't face criminal charges if she completes the program, Dane County District Attorney Ismael Ozanne said Friday.
"Her victims each made the decision that restorative justice makes sense in this case," Ozanne said at a news conference Friday, a day after Laird's release from the Dane County Jail where she had been held since the Tuesday incident.
Ozanne, Madison Police Chief Mike Koval and others spoke at the news conference but did not take questions from reporters, citing the ongoing investigations in both a potential criminal case against Laird and an internal investigation into the officers involved in the incident.
Koval has so far not named the officers involved due to threats he said have been made against them.
Laird, 18, of Madison, will be enrolled in Dane County's pilot Community Restorative Court program, which seeks to hold certain young offenders accountable for misdemeanor-level crimes outside of the formal court system. If she fails to complete the program, Ozanne said he has already written a criminal complaint that would charge her with a mix of felonies and misdemeanors, including discharging bodily fluids at a police officer, battery to a police officer, resisting an officer causing soft-tissue injury, obstructing an officer and disorderly conduct while armed.
The program requires buy-in from victims, police and prosecutors. In this case, Ozanne said, Laird's alleged victims and the police officers she struggled with as they attempted to arrest her all agreed with the disposition. While the Community Restorative Court is reserved for young offenders in South Madison facing misdemeanor charges, Ozanne said he made an exception for Laird after consulting with Madison Police Chief Mike Koval, who endorsed the move.
"I think it is especially necessary in light of the community interest and attention which has surrounded this matter," Ozanne said.
The court, which has operated on South Park Street for about a year, is open to low-level, first-time offenders between 17 and 25. Offenders appear before a group of community members who determine an appropriate penalty that can repair the harm done. Calling itself "victim-based, offender focused and community driven," the program also seeks to help offenders deal with personal problems to prevent them from reoffending.
Koval said he and others in the department were convinced the court was an appropriate venue for the case and was not just "a euphemism for 'Get out of jail free.'" He said the officers' consent to try the restorative justice court had nothing to do with a bystander's video of the arrest, which has been viewed more than 2 million times, but a conviction that it was the most just response in a city that values community policing.
Jim Palmer, executive director of the Wisconsin Professional Police Association and legal counsel for the two officers involved, said the officers wrestled with the decision because they didn't want to do anything that might compromise the safety of fellow officers. But he said they were persuaded by Ozanne's stated commitment to continue prosecuting those who assault officers or resist arrest.
While Koval and Palmer defended the officers' use of force in getting Laird to comply with their demands to put her hands behind and back and stop resisting arrest, Palmer said they appreciate that others, whose views are "shaped through personal experiences that are very real," see the video differently.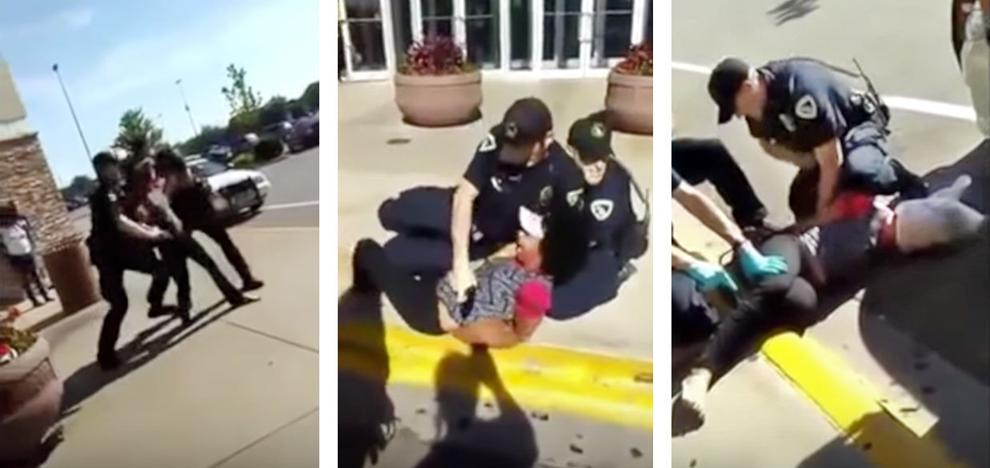 On Tuesday, Ozanne said, a caller to 911 reported that Laird was "out of control" and threatening East Towne employees with a knife after she said her cellphone had been stolen. When police arrived, Laird was already outside, the video showed. As an officer spoke with mall security, Laird approached and said she just wanted to leave her name and leave. She was told she needed to stay, Ozanne said, but she insisted on going. That's when the officer moved to take her into custody.
"Wisconsin law and the state and federal constitutions allow an officer to temporarily detain a person while investigating a crime," Ozanne said.
But Laird was initially uncooperative and, as one officer struggled to pull her arms behind her back, another ran up and grabbed one of her arms. As she continued to resist, the second officer kneed her several times and the three tumbled to the pavement, where the same officer continued to knee and hit her then stunned her with a Taser before she was ultimately taken into custody, the video shows.
At one point, Laird can be heard saying she can't breathe, and paramedics were called in. She was evaluated in an ambulance, then taken for further evaluation at a hospital before being taken to jail, Ozanne said. Police found a knife in Laird's backpack, Ozanne said.
After speaking with Laird's attorneys, Ozanne said, he believes she accepts responsibility for what happened and understands "that it was her conduct toward fellow community members, including officers involved, that caused this incident."
Laird's lawyer, Syovata Edari, could not be reached for comment after the news conference.
Former Dane County special prosecutor Barbara Franks, who joined Ozanne and Koval at Friday's news conference, said she experienced the same pain others in the black community felt upon viewing the video. But speaking "through the lens and the heart of a black mother and grandmother," Franks appealed for common ground between police and communities of color, for many of whom fear and distrust of police remains strong.
"It's going to take a willingness on both sides to resist standing proudly in our own indignation," Franks said. "It is going to take a willingness on both sides to acknowledge our own complicity.
"From my personal experience, most officers are earnestly trying to do their jobs to the best of their ability and to stay alive to go home to their families at the end of the workday," Franks said. "However, for the broader law enforcement community, it's going to take an acknowledgment that the militarization tactics of yesterday are no longer effective or valid in today's climate."
Laird's sister, Deirdre Thompson, who had come to court on successive days hoping to see Laird released from custody earlier, said her family would have no further comment on the incident.
"Since we've gotten the resolution that the family wants, we're not going to be making any more press statements," Thompson said.
Others who protested Laird's treatment by police and called for Laird's unconditional release and prosecution of the officers were not satisfied with the resolution.
"We think it was awful and disrespectful," said M Adams, of the Young Gifted and Black Coalition and Freedom Inc. "It's completely disrespectful to what restorative justice practices actually are. Genele was clearly a victim, and there's no sort of restorative justice practice for the trauma that she's experienced, for the amount of violence, for the amount of harm done to her, and it looks like people who are supposed to be in service to us are acting with little to no accountability to us."