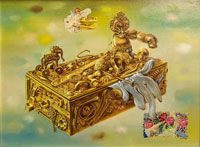 A former State Capitol Police officer pleaded guilty Wednesday to felony theft for stealing a painting by Wisconsin artist Aaron Bohrod from the Governor's Mansion in 2011.
Travis Sackett, 32, of Tempe, Arizona, who was a Capitol officer from 2009 to 2011 and worked as part of the Dignitary Protection Unit, pleaded guilty to stealing the 1968 painting "Gold Fantasy Box." A state Department of Administration employee discovered in January that the painting was missing from storage at the mansion.
Another charge, mail fraud, for selling the painting to a Connecticut art dealer, was dismissed but can be considered by Dane County Circuit Judge Nicholas McNamara when he sentences Sackett on Aug. 8.
Sackett also pleaded guilty to four other charges that were part of an unrelated case: forgery, misuse of someone else's identity, identity theft and misdemeanor bail jumping. All relate to Sackett's forgery of a lien satisfaction document that he tried to file at the Dane County Clerk of Court's office, purporting to show that he had paid about $13,000 in restitution from a 2012 theft case.
Under a plea agreement, both sides are recommending that Sackett be placed on probation and serve 10 months in jail.
Sackett was also originally charged with misconduct in office, but that charge was dismissed at a preliminary hearing in April.
According to a criminal complaint, DOA employee Joan Sample was tasked with auditing and cataloging state-owned property at the Governor's Mansion but was unable to find the Bohrod painting. Searching the internet, she found it for sale at Don Barese Fine Art and Antiques in Hamden, Connecticut.
Barese told police he bought the painting from Sackett in March 2011 for $1,800. In February, Barese told the Wisconsin State Journal that Sackett claimed to have bought the painting for $400 at an estate sale. Barese said the painting is worth about $5,000.