Rhonda Reese, the former executive director of the Midwest Horse Fair, was sentenced Tuesday to three years of probation after she pleaded no contest to five misdemeanors and a felony stemming from her embezzlement of nearly $239,000 from the organization over more than five years.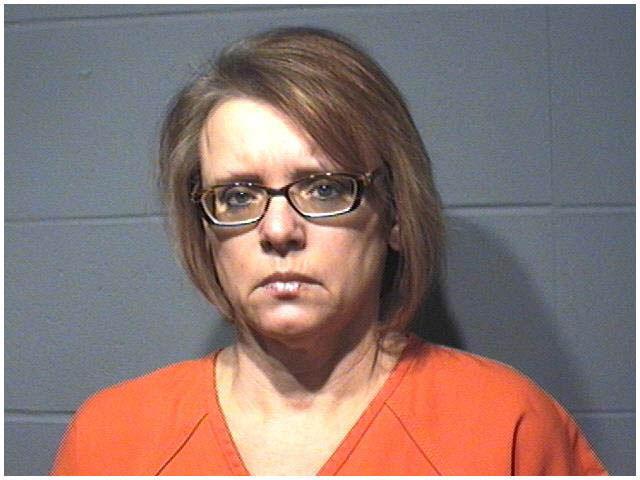 Reese, 53, formerly of Columbus, instead pleaded no contest to five counts of misdemeanor theft in a business setting and one count of felony theft in a business setting. Agreeing to the terms of a plea agreement, Circuit Judge Andrew Voigt did not enter a judgment of conviction on the felony count and placed Reese in a first offenders program for that count.
The only reason Voigt did that, he said, was because Reese has paid back all of the money she took from Midwest Horse Fair from 2011 until July 2017, when she was abruptly fired from the organization.
"The fact that you are able to make restitution payments in advance," Voigt said, "that really is, to be blunt, the most significant reason the court will support the agreement as presented and not modify any portion of it."
Without that up-front payment, Voigt said, "I'd be considering additional consequences to ensure that restitution was paid."
Each of the misdemeanors carries up to nine months in jail, and the felony carries up to 12½ years of combined prison and extended supervision. Should Reese fail to make good on the deferred prosecution agreement she signed, she would return to court to be sentenced on the felony.
The deferred prosecution agreement will also last for three years.
Voigt said he also considered that Reese's theft scheme went on for a long time, that she destroyed the trust and freedom she had built with the Horse Fair's board of directors and that significant efforts were made by the fair and by police to determine what Reese had done.
"While it may be the amount of restitution has been paid," Voigt said, "it is impossible for the court to believe that somehow makes the victim whole or society whole completely, given the amount of energy it took to unravel all of this."
Reese apologized and said she has made changes in her life to ensure she would never be in a similar situation.
"Words really can't express the regret I have and disappointment that's cost my family, friends, co-workers and most importantly everyone affiliated with the Midwest Horse Fair," Reese said. "I am truly sorry for all the anguish I have caused."
Reese said she thinks about what she did every day.
"I wish I could get back everybody's trust but I know unfortunately I can't," Reese said. "I am truly and deeply sorry for everything."
Reese's lawyer, Kim Zion, said Reese struggled to find a job after she was arrested and charged with stealing from the Horse Fair. She sent out 250 applications, with the help of a job counselor, before she found a job, Zion said. She is planning to move out of Wisconsin, though, a move that Voigt approved once learning that Horse Fair officials do not oppose it, as they had before Reese had fully paid back the money she took.
"To this day she still feels horrible about what happened, horrible about what she did to the Midwest Horse Fair," Zion said. She said Reese has lost her family and friends and has been publicly humiliated. She has also lost any financial security she had, Zion said.
The organization did not make a statement in court. In a written statement, Wisconsin Horse Council board member Patricia Miller said the loss of $239,000 has had "a large impact" on the programs supported by the Columbus-based Horse Council, which operates the fair, especially in trying to build a reserve fund.
"That figure could have been reached much earlier and more profits could have been used by the WHC to fund its programs if embezzlement had not taken place," Miller wrote. "This year what should have been put into the reserve fund has been spent on legal fees."
She said the organization's reputation has been unfairly damaged by Reese's actions and social media speculation about them.
"Rhonda Reese was the face of MHF, and it remains to be seen if MHF will suffer losses in net income again this year because of her actions," Miller wrote.
Clean record
Assistant District Attorney Kevin Calkins said the agreement makes sense not only because Reese at great sacrifice paid what she took. She has no prior criminal record and, before it was found she had been stealing, had done good work for the Horse Fair, he said.
"Because of that trust relationship," Calkins said, "that betrayal was very difficult for them to deal with."
He said Reese, who divorced after the charges were filed, liquidated her retirement account and sold her home to make the restitution payment. To the Horse Fair, he said, it was important to have the money back in its coffers during the current COVID-19 pandemic.
Popular event
The Midwest Horse Fair is an annual event held at the Alliant Energy Center in Madison that draws thousands of visitors from across the U.S. The pandemic forced the cancellation of this year's fair.
An investigation by Columbus police found that Reese had stolen from the fair through various means, including personal purchases made on a Horse Fair debit card and the use of Horse Fair funds to pay for purchases Reese made using two credit cards she obtained in her name and in the name of the Horse Fair.
The complaint states she also wrote at least 41 checks to herself from the fair's bank account.
As an independent contractor, Reese also directed the Empty Stocking Club, a charity operated by the Wisconsin State Journal, and organized spelling bees for the newspaper. She did not handle money in either of those roles, however. Both contracts were terminated after she was charged.
---
Photos: Midwest Horse Fair
---
---
---
Sign up for our Crime & Courts newsletter
Get the latest in local public safety news with this weekly email.