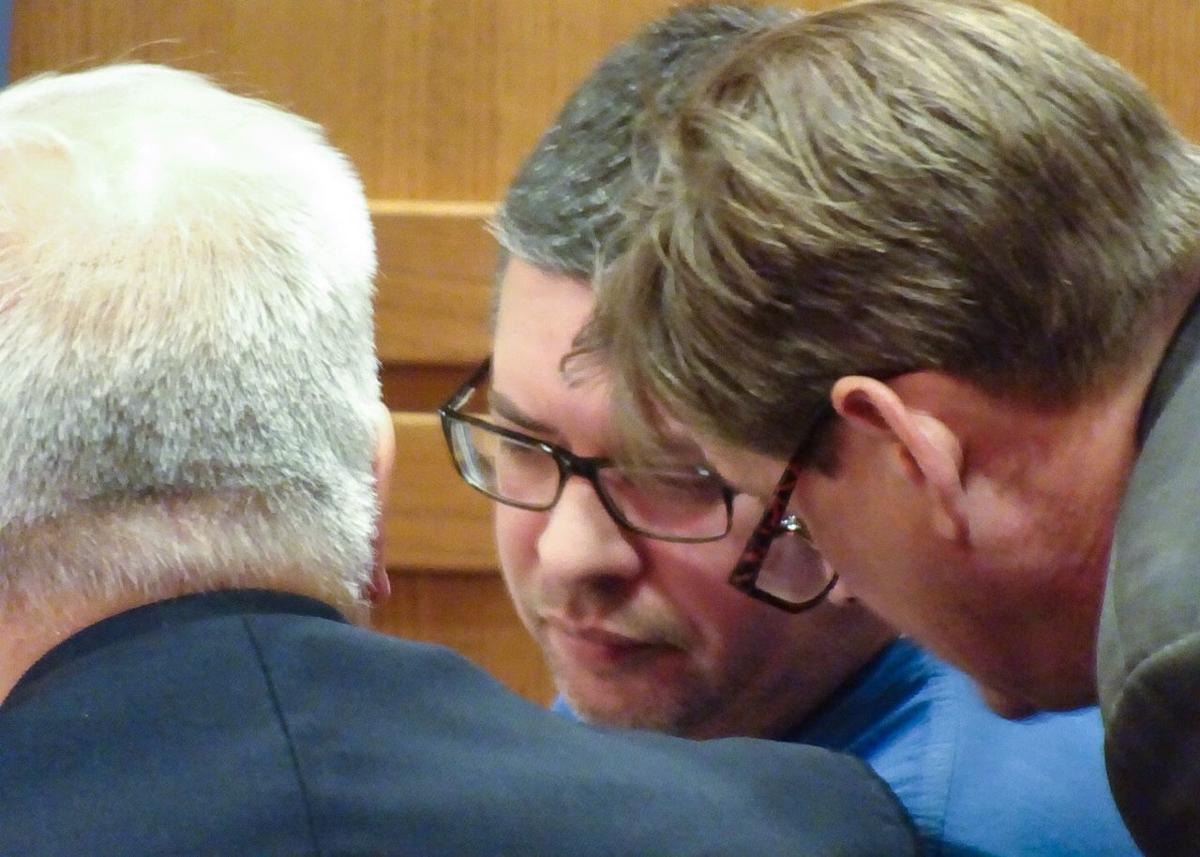 Christopher Kaphaem, the former UnityPoint Health-Meriter nurse convicted of hurting nine babies in the hospital's newborn intensive care unit, will spend 13 years in prison.
But before handing out the sentence Thursday, Dane County Circuit Judge Jill Karofsky said one important question remained unanswered: Why would Kaphaem leave the nine babies with injuries ranging from bruises to a skull fracture, then claim not to remember how any of that happened?
"It is still confounding to me why this happened," Karofsky said. "There are so many victims. So much frustration, so much anger, so much pain, so much abuse to those who are so vulnerable."
"I have a hard time understanding how you don't remember hurting these babies," she said.
Kaphaem would offer no explanation.
"If I knew the answer, I'd put that in the (sentencing) memorandum," said his lawyer, Jonas Bednarek.
The last child who was injured sustained multiple broken bones, including a fractured skull that was revealed in a medical scan on Feb. 8, 2019.
When interviewed by police the next day, Kaphaem said he remembered the two children he was being asked about, including the boy with the skull fracture, but had never lost his cool with any of the babies in his care, Deputy District Attorney Matthew Moeser said.
"I don't take it out on babies," Kaphaem told a Madison police detective and a Dane County Child Protective Services investigator, on a recording played in court by Moeser. "I understand I'm one of the common denominators. I feel like I'm being targeted."
Moeser said that as the investigation ramped up, as many as 40 potential cases were considered because of links to Kaphaem, but police chose the nine that were the most clear cut.
Bednarek asked for a two-year prison sentence. He said he also doesn't know why Kaphaem did what he did, but said "deep-rooted mental health issues" are possible.
"I wish I could tell you so we could take care of this problem," Bednarek told Karofsky. "We have struggled with that mightily as a defense team."
Parents speak out
Mothers of four of the infants, and one father, spoke at Thursday's hearing. Some said they were each already dealing with the guilt of leaving their babies behind every night at Meriter while they went home, feelings only compounded after later learning their babies were being injured at the hospital.
"It was extremely unsettling to be surrounded by medical professionals who could not determine what happened to my son while he was in their care," said one of the mothers, who discovered her son suddenly had bruises on his hands, fingers and palms while in the hospital after his premature birth.
The boy's mother said she brought the strange marks to the attention of staff, but nobody could tell her what was wrong.
"I felt powerless. I felt worried for my son," she said.
His injuries healed, she said, but her family has not.
"My son was injured when I wasn't there," she said. "I struggle with this guilt daily. I should have stayed. I could have protected my son. This could-have, should-have, would-have battle plays itself over and over in my mind even to this day 2½ years later."
Upon learning Kaphaem was to blame, she said, "our trust was completely shattered." She doesn't trust anyone to watch her son and doesn't work full-time because she won't send him to daycare.
"I don't trust anyone to care for him," she said.
Another mother, whose child was found to be the first to have been injured, said her son was born prematurely after a challenging pregnancy. Professionally, she is a child therapist who helps traumatized children heal. But, she said, "We feel as parents that we failed him. The single most important job as a parent is to protect their child and we were not able to do that."
Her son sustained an infiltration injury in his right hand and arm from a bad IV insertion, causing his arm and hand to swell tremendously. At a minimum, according to Dr. Nancy Harper, a child abuse specialist who testified about all nine of the children Thursday, his injury is consistent with neglect, quite possibly abuse.
"Our belief and trust in health care is shattered," the boy's mother said. "We feel betrayed. We feel now that we have to be hyper-vigilant about his care." Sometimes, she said, that hyper-vigilance can interfere with her son's care, "so we feel like we're in an impossible situation."
"You are good parents," Karofsky assured the parents during her sentencing remarks. "This is not your fault. None of it is your fault."
Evidence of abuse
Harper, a pediatrician and professor at the Otto Bremer Trust Center for Safe & Healthy Children at the University of Minnesota, testified about the injuries that all nine of the children sustained and about the mechanisms required to cause those injuries.
While several sustained unexplained bruising, one boy sustained rib and wrist fractures along with a possible forearm fracture, all indicative of abuse. Another sustained a skull fracture along with multiple rib and leg fractures, indicating abuse that happened on multiple occasions, Harper said.
"I've never seen anything quite like this before," Harper said of the Kaphaem case.
Hope for closure
Reading from a statement after wiping his eyes, Kaphaem said he felt so much embarrassment and shame he had asked that none of his family or friends come to court Thursday.
"None of what I'm feeling, however, can come close to the myriad of emotions and states of mind experienced by the families here today," he said. "You put your trust in me to care for your most precious loved ones and I failed you. The anguish I have caused is something no parent should ever have to endure."
He said he understands the anger that the parents feel and why they want him to spend the rest of his life in prison.
"I don't expect your forgiveness, but I hope this hearing can bring about closure to this sad chapter in your lives," he said. "It is clear from the statements that one bad apple can indeed spoil the bunch."