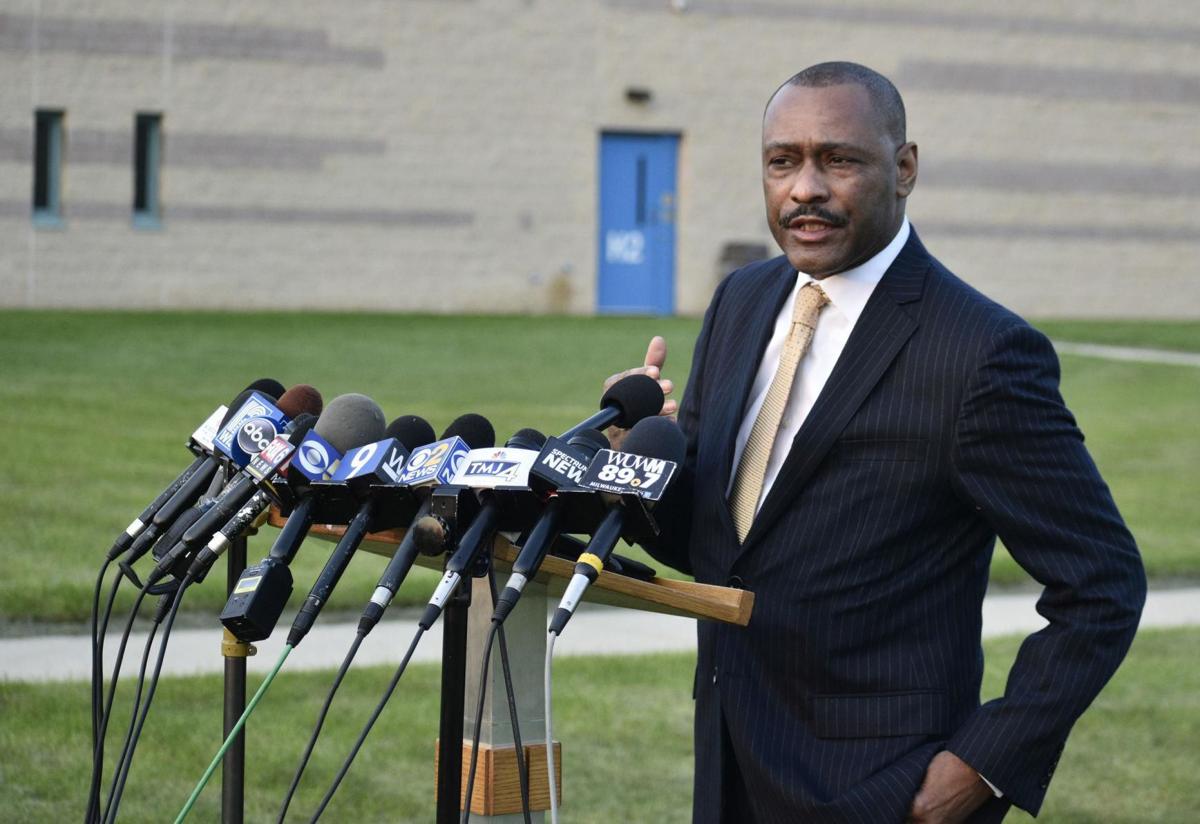 Former Madison Police Chief Noble Wray has been tapped by the state Department of Justice to review the investigation of the police shooting of Jacob Blake in Kenosha last month, and will consult with the district attorney before any decision is made on whether to file charges against the officer in the case.
Blake, 29, was shot seven times in the back on Aug. 23 by Kenosha officer Rusten Sheskey after Blake walked away from officers who were trying to arrest him and then reached into his vehicle. Authorities have said a knife was found in the vehicle and DOJ has said Blake told investigators after the shooting that he had a knife, but it's not clear what, if any, role it might have played in Sheskey's decision to open fire.
The shooting was captured on video and posted online, sparking several nights of protests and unrest in Kenosha, a city of about 100,000. Blake has been left partially paralyzed.
Wray, who like Blake is Black, will review DOJ's report on the shooting before it is forwarded to Kenosha County District Attorney Michael Graveley, who will be responsible for making any decision on whether to charge Sheskey, who is white, with a crime.
Attorney General Josh Kaul said Wray's help was solicited after Graveley asked for an "independent expert" to review the results of DOJ's investigation.
"(We) both believe that having an evaluation of the facts conducted by a consultant who can evaluate those facts in light of standard policing practices and explain where they're consistent with those practices or where they differ from them will help reach the most just outcome in this case," Kaul said during a press conference Monday in Kenosha.
Graveley said he did not help pick Wray.
"I actually asked that I not be a part of the selection process, and I did that because I wanted the maximum confidence for whatever decision results in this case," he said.
DOJ said its Division of Criminal Investigation "is in the final stages of its investigation" into Blake's shooting but did not provide a specific timeline, nor did it provide an estimate of how long it would take Wray to review the report or when Graveley would make a decision on whether to file charges. DCI does not make charging recommendations in its investigations of officer-involved shootings.
The report will be made public if Graveley decides not to charge Sheskey and there are no other reasons to not release it, according to DOJ.
Wray retired from the Madison Police Department in September 2013 after 29 years with the department, the last nine as its second Black chief. A Milwaukee native, he was heavily influenced by former chief David Couper's community-policing philosophy.
At the time he retired, and for the second time in six years, the department had been named a finalist for the Center for Problem-Oriented Policing's Goldstein Award for its years of work in turning around problems in the South Side Broadway-Simpson neighborhood, where Wray served as the department's first neighborhood officer. Wray was also lauded for increasing diversity in the department.
Since his retirement, Wray has served as a consultant, including for a U.S. Department of Justice initiative to help police improve their relationships with communities and in the department's work in Ferguson, Missouri, after the police shooting of Michael Brown.
He also served as the interim CEO of the Urban League of Greater Madison in 2014.
Wray had wanted to retire earlier in 2013, but decided to stay on to handle the aftermath of the fatal Madison police shooting of Paul Heenan in November 2012.
Heenan, 30, was intoxicated when he entered a neighbor's home, then struggled with the homeowner and an officer responding to a reported burglary in process. The department and Dane County District Attorney Ismael Ozanne cleared Officer Stephen Heimsness of wrongdoing in the shooting, but Heimsness later agreed to resign after Wray sought to fire him for unrelated allegations.
Both Heenan and Heimsness were white.
Heenan's death was one of several high-profile killings by police that led to a state law in 2014 that requires outside investigations of such deaths. It's under that law that state Justice Department investigators, and not Kenosha police, are investigating Blake's shooting.
The Madison Police Department's decision under Wray to clear Heimsness was heavily criticized by Heenan's friends and family and police-reform activists, and the city later reached a $2.3 million settlement with Heenan's family, although it did not admit any wrongdoing.
But Wray denied that decisions he made in the Heenan case would hurt his credibility in assessing the Blake case.
"You can't be a police chief for 10 years and not have questions come up about some of the things that you have done," he said. "I think that actually helps."
Police sought to arrest Blake after getting a call from a woman who said her boyfriend was not supposed to be there, DOJ has said, and two attempts by police to subdue him with a taser were not successful.
The Kenosha police union has said the caller complained that Blake was attempting to steal her keys and vehicle, and union attorney Brendan Matthews has said officers were aware that Blake had an open warrant for felony sexual assault before they arrived and that Blake fought with officers, including putting one of them in a headlock.
Blake's attorney, Ben Crump, has said that Blake was only trying to break up a domestic dispute and did nothing to provoke police. Crump has called for Sheskey's arrest and for the two other officers at the scene — Vincent Arenas and Brittany Meronek — to be fired.
Three of Blake's children were in the back seat of the car when he was shot.
Sheskey, Arenas and Meronek are on administrative leave pending the outcome of the investigation.
Kenosha News reporter Dan Truttschel and The Associated Press contributed to this report.



Photos: Scenes from Joe Biden's visit to Kenosha on Thursday