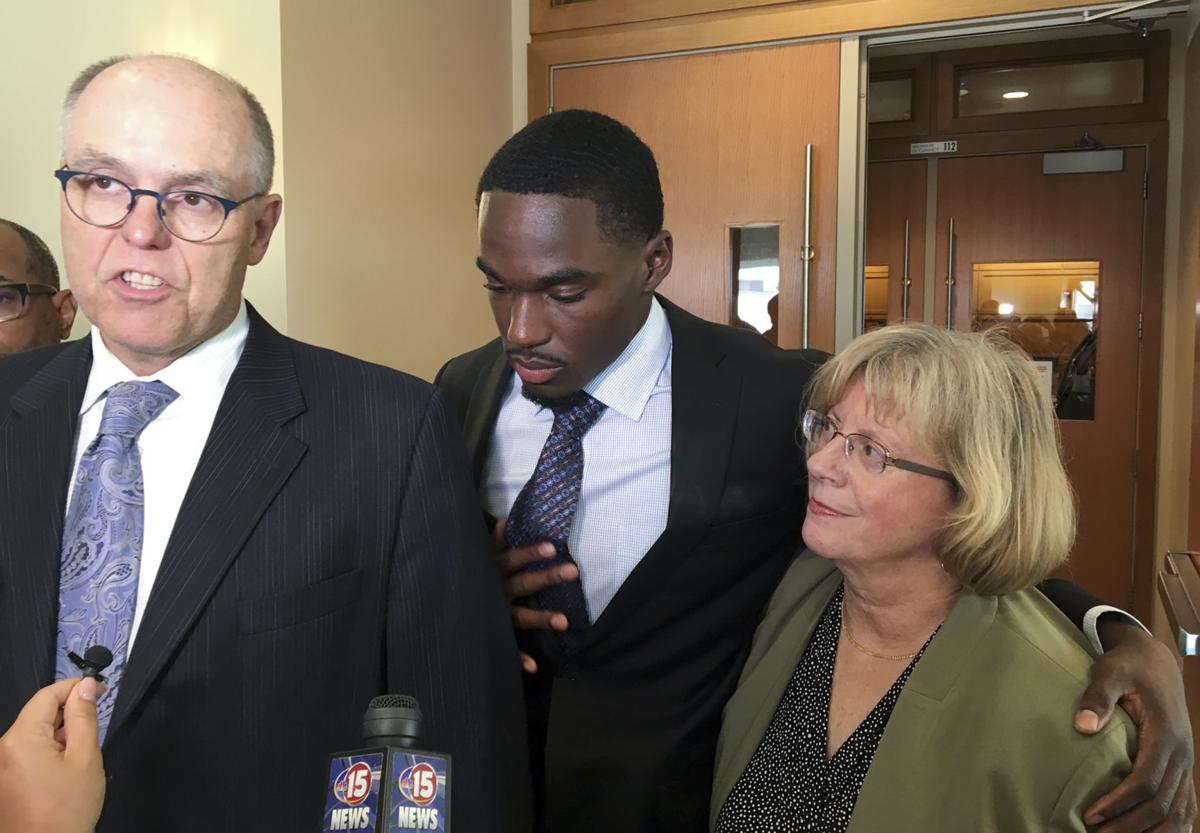 A Dane County jury deliberated for less than 45 minutes Friday before finding former Wisconsin Badgers wide receiver Quintez Cephus not guilty of two sexual assault charges.
Cephus' family celebrated the verdict in the hallway outside Circuit Judge William Hanrahan's courtroom with cheers, handshakes, hugs, high fives and tears.
"They searched for the truth and they found it," Stephen Meyer, one of Cephus' lawyers, said about the jury after the verdict.
The jury found Cephus, 21, of Macon, Georgia, not guilty of second- and third-degree sexual assault for alleged assaults of two woman on April 22, 2018, at Cephus' apartment near the UW-Madison campus. Cephus was suspended from the team and subsequently expelled from school.
The verdicts came within an hour after lawyers finished closing arguments that ended the weeklong trial. The arguments presented vastly different interpretations of the evidence and testimony provided during the trial, which included testimony from both women and from Cephus, who told jurors Friday that sex with both women was consensual.
"Obviously, we're delighted with the result," Meyer said. "The jury confirmed what (co-counsel) Kathy (Stilling) and I had always insisted from the start, that he was an innocent person. We appreciate the hard work by the jury and the thoughtfulness they showed."
Cephus, still appearing a little stunned by the verdict, said he was pleased.
"I'm happy," Cephus said. "I've had a lot of people here supporting me and my family. I've learned a lot through this situation. And I know this sounds crazy, but I think you grow through what you go through, and I've been able to grow a lot."
He said he didn't know what was next for him.
"I'm excited about the rest of my life going forward," he said.
Whether Cephus' future will include Division I football "is out of Q's control," Meyer said.
"He's got a lot of stuff he's got to go through," Meyer said. "His life has been on hold for 15 months. Just the nature of these allegations sets an individual back. He's a strong person. He's going to come back. Who knows with what, but he's a better person and he's going to be OK."
Meyer said a decision about whether to revive a lawsuit Cephus filed against UW-Madison over the student disciplinary process, which Cephus dropped in March, is in the hands of another set of lawyers.
But Bishop Tavis Grant, presiding bishop of the Antioch Network who has served as the Cephus family's minister and spokesman, said in a statement Friday after the verdict that UW-Madison "owes Quintez Cephus at least an apology. But moreover, they owe this young man his life back."
Grant, who attended the trial with Cephus' family, said Cephus deserved his day in court, but "the University of Wisconsin was simply out of bounds."
UW-Madison spokeswoman Meredith McGlone said the university had no comment on Grant's statement.
The student disciplinary process has a lower burden of proof than the standard of "beyond a reasonable doubt" required for a criminal conviction. Federal law also requires that proceedings begin quickly and cannot wait for the outcome of a criminal case.
The last day of the trial began with Cephus taking the witness stand to testify in his defense. He told jurors that he had met both women only hours before the incident that led to the charges. They did not appear to him to be intoxicated, he said, when he and teammate Danny Davis took the women from the Double U bar on University Avenue to Cephus' apartment.
Cephus testified that when they arrived at the apartment, one of the women went to his bedroom, beckoned him in, and then started removing her clothing, and that the other woman followed Cephus into the bedroom. Cephus said he had sex with both women, and that both had asked for him to do specific things during sex.
The women both testified this week they were very intoxicated at the time and do not remember much about the night. One described her memories of the night as "snapshots," while the other told jurors she had longer periods of memory, which started when she woke to find herself naked in bed with Cephus and her friend.
Meyer singled out the existence of surveillance video from city streets, from the Double U bar and from the Humbucker Apartments, where Cephus lived, as a factor that helped sway the jury.
"For 12 months, I thought about this case and I kept asking myself, what if there wasn't a video?" Meyer said. "What if these videos didn't exist? Would he be standing here now?"
In her half of the defense's closing argument, Stilling said the videos show jurors that the women were not severely intoxicated.
"The videos don't lie, they don't shade the truth, they don't have anything to gain," Stilling said.
The videos show both women walking without stumbling or weaving, Stilling said. One is seen skipping, and Davis rides the back of one of the women at one point. Instead of seeing that, Stilling argued, the police investigation was driven by a woman who regretted a threesome that ended badly for her.
But Assistant District Attorney William Brown saw it differently. While cameras covered much of the group's activity up until 12:34 a.m., Brown said, and the defense showed jurors all of it, there is no surveillance video between 12:34 and 2:28 a.m., when everyone is at Cephus' apartment, at the time the alleged crime was committed.
But at 1:13 a.m., he said, one of the women sent out a Snapchat message: "Raped," it begins.
"She's clearly intoxicated," Brown said. "Some of the words don't make sense, but she's intoxicated."