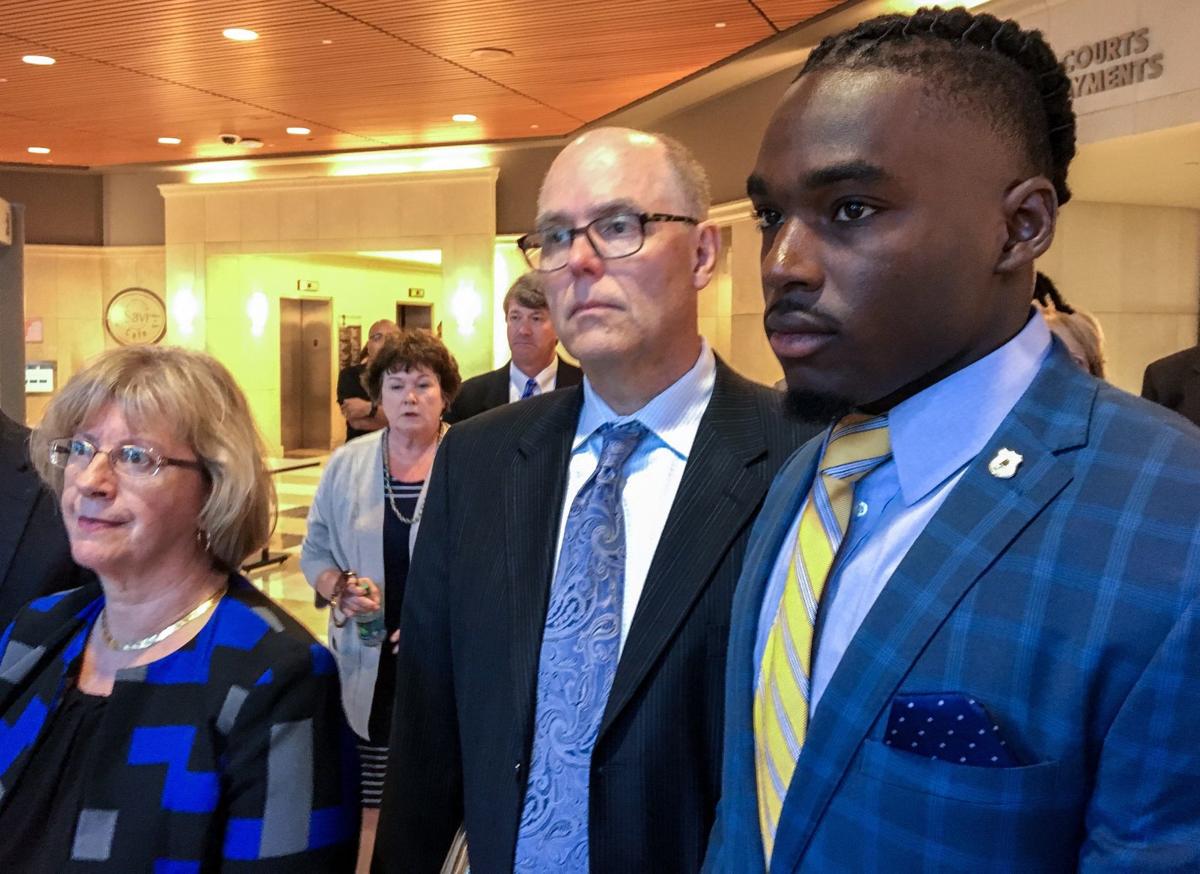 Lawyers representing University of Wisconsin football player Quintez Cephus dropped their federal civil rights case against school officials on Thursday, but said Friday that they will likely re-file the case after Cephus goes to trial on sexual assault charges in late July.
Cephus, 21, who was charged in August with second- and third-degree sexual assault over allegations made against him by two women concerning an incident in April, filed a lawsuit in October against the UW Board of Regents and three UW officials, including UW-Madison Chancellor Rebecca Blank, alleging that they violated his constitutional rights by pursuing a student disciplinary investigation against Cephus.
The wide receiver from Macon, Georgia, demanded that UW stop its Title IX investigation, which lawyers for Cephus said was unfair because Cephus was unable to defend himself during it without violating his constitutional rights due to the then-ongoing criminal investigation.
The civil case was filed in U.S. District Court on Oct. 9, along with a motion for an injunction to stop the UW's Title IX probe. Later that month, UW filed a motion to dismiss the case. Cephus' lawyers withdrew their injunction motion on Nov. 20 and sought more time to file an amended complaint. The amended complaint was originally due on Jan. 30, and the deadline was later extended to Friday, March 15.
But on Thursday, a day before the deadline, Cephus' lawyers filed a notice that they were voluntarily dismissing the case, which was formally closed on Friday. Attorney Stuart Bernstein said in an email Friday that he anticipates re-filing the lawsuit after Cephus' criminal trial.
You have free articles remaining.
"Mr. Cephus' criminal trial is currently scheduled for July 2019," Bernstein wrote. "We believe that the trial will reveal significant evidence that exonerates Mr. Cephus of wrongdoing. At that time, we anticipate filing a complaint which more completely highlights Mr. Cephus' innocence together with the unjust actions by university officials."
UW-Madison spokeswoman Meredith McGlone said UW officials had no comment.
Cephus' sexual assault case was to go to trial in February but the trial was postponed so lawyers representing Cephus in the criminal case could review newly received records from the cellphone accounts of the alleged victims. The trial is now scheduled to start on July 29.
Attorneys Stephen Meyer and Kathleen Stilling also this week renewed their motion for forensic examinations of cellphones belonging to the two women. In January, Circuit Judge William Hanrahan had denied a similar motion, citing the alleged victims' privacy rights.
Meyer and Stilling wrote in their motion, which was filed Tuesday, that most of the text messages provided by the women to police do not appear in the records they received, making it evident that the women were using other phone apps besides text messaging to communicate. They wrote that their request would be for data from a limited time period and that results of the examination would be reviewed by Hanrahan, outside public view, balancing the privacy rights of the two women while protecting Cephus' due process rights.
Judges have denied defense motions to dismiss each of the charges against Cephus.