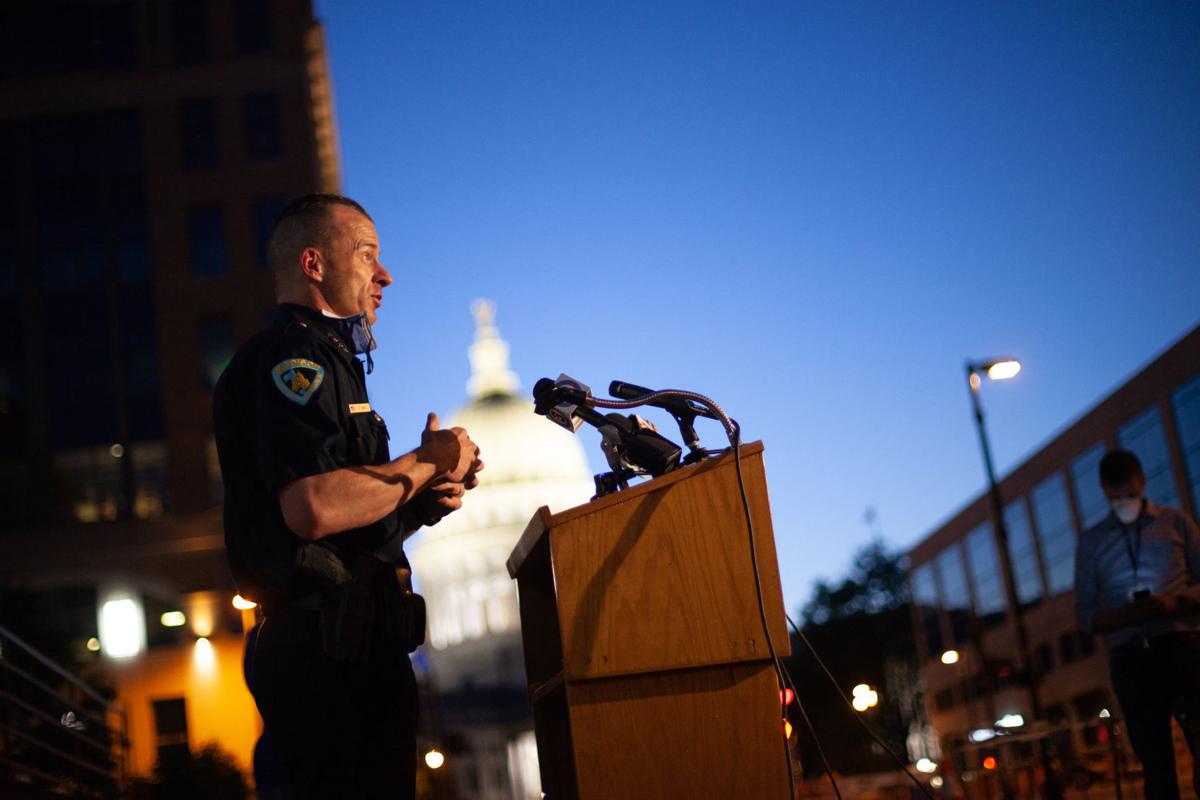 The body charged with hiring Madison's next police chief discussed a flexible timeline Monday that could see a final candidate named in December or January.
The tentative schedule gives the Madison Police and Fire Commission, or PFC, about two months to seek input from the community through an online survey, email and hand-written comments; possible call-in discussions on local radio shows and webcasts; and two online meetings in which community groups have up to 20 minutes to make statements.
The first such online meeting happened Monday over Zoom, where commission members heard comments from two neighborhood groups, a church leader and a political activist group.
Mayor Satya Rhodes-Conway sent a letter to the PFC Wednesday asking the group to select a chief within 90 days, or by Oct. 6.
"Particularly in this transformative historic time, our community needs a permanent, community-vetted police chief to take us into a new era of public safety design and implementation," Rhodes-Conway wrote.
Although the PFC's plan could take twice as long as Rhodes-Conway asked, PFC members said they are not dragging their feet.
"It's an ambitious timeline, but it's doable," member Mary Schauf said.
According to the PFC's working timeline, the position announcement would be posted Aug. 10, with an application deadline and an end to the community input process on Sept. 14.
The Police Executive Research Forum, or PERF, which is helping identify candidates, would present a pool of qualified applicants to the PFC on Oct. 12 after completing a vetting process.
The date for first interviews is less certain. They could take place in a special meeting the week of Oct. 19 or at the PFC's regular meeting Nov. 9.
A few weeks later, the PFC would conduct interviews with finalists and possibly have a community advisory panel interview them as well. PERF's Rebecca Neuburger said it takes an additional few weeks after that to conduct a more thorough background investigation of the finalist.
Neuburger noted that PERF is in "uncharted territory" conducting searches for police chiefs in the wake of the death of George Floyd in Minneapolis police custody in May. She said Madison's search and one in Louisville are the organization's first since then.
"The ground has shifted in significant ways," Neuburger said. "We don't have a benchmark for what that means in terms of interest for positions like this. I just don't know. It could go in either direction."
Also at play is whether there will be enough time for community input. PFC members said they could extend the timeline a few weeks to allow for more robust engagement, if necessary.
On Monday, residents had a wide range of requests for the person who is hired as chief.
Ann Murphy, who said she represented a small group of residents who are calling themselves West Side Neighbors for Black Lives, said the police chief should be a Black woman who is not a police officer because "police culture is essentially violent." Murphy said the chief should be committed to abolishing police and standing up for people of color.
But Kim Richman — who represented the Buckeye-Grove Good Neighbor Project, which consists of about 650 Far East Side residents — said the chief should have experience protecting the community. He said the chief should continue building relationships with residents and "not be swayed by public opinion" and a "culture of police hate."
Micah Lê, with the Democratic Socialists of America, said the chief should improve police accountability, fire the officer who fatally shot a Madison teenager in 2015 and "de-militarize" the department, including prohibiting the use of tear gas and guns.
Rev. Marcus Allen, pastor of Mt. Zion Baptist Church and representative of the African American Council of Churches, said the chief should support and expand restorative justice, use crisis workers instead of police to respond to mental health calls and build a pipeline that encourages African American students to become police officers.
"The next police chief must be intentional about building and establishing trust with the Madison community," Allen said.
[Editor's note: This story has been updated to correct the name and location of the neighborhood group represented by Kim Richman. Richman represents the Buckeye-Grove Good Neighbor Project on Madison's Far East Side.]