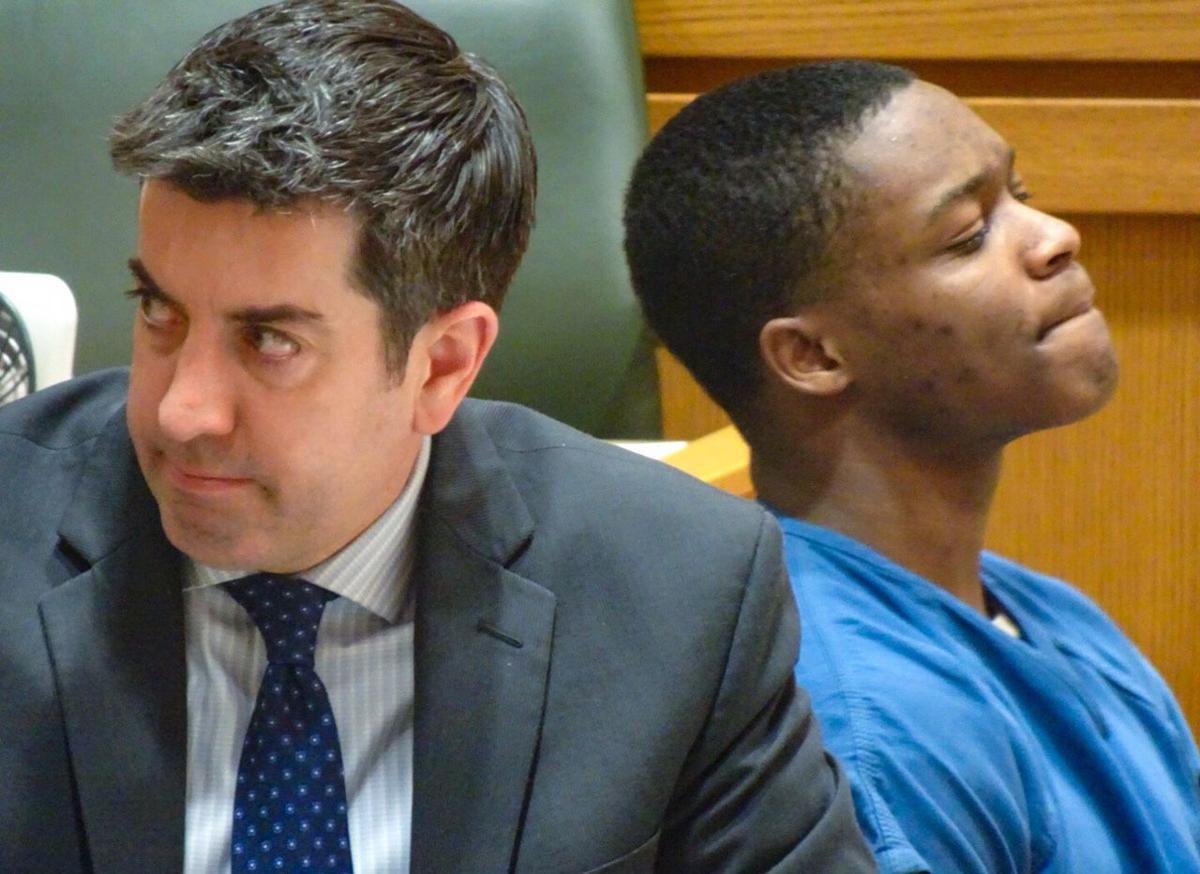 A former Lone Rock man who, at age 17, shot a man to death during the robbery of three ounces of marijuana last year in a Fitchburg parking lot, was sentenced Monday to 21 years in prison.
Joshua B. McInnis, 19, told Dane County Circuit Judge John Hyland that he was sorry for killing Julian J. Patterson, 20, during a robbery on March 12, 2018, in the parking lot of the New Fountains Apartments on Anton Drive in Fitchburg.
"It was a mistake and I was scared," he said. "My intention was to never kill him. Honestly, I regret this so much. To Julian Patterson, the mother and the family, please forgive me."
McInnis said he was hanging around the wrong people and that he was young at the time, "but I'm not using that as an excuse. I know exactly how it feels to have somebody you love taken away from you."
While Hyland was sympathetic to some of what McInnis said and saw promise in his smile that shone in a photo of McInnis finishing high school in jail, he said the public demands to be protected from gun crimes.
"You had a weapon, you were willing to use it, you did use it," Hyland said. "And that's why you're here for sentencing today."
McInnis pleaded guilty in November to first-degree reckless homicide. A first-degree intentional homicide charge, which carries a life sentence, was dismissed.
With credit for the time McInnis has spent in jail since his arrest last year, he will get out of prison in just under 20 years. After that, he will be on extended supervision for five years.
Assistant District Attorney William Brown asked for a 25-year sentence.
Fight starts
Patterson and his girlfriend drove a van to the apartment complex after she had been communicating with someone who was interested in buying marijuana. Once there, McInnis and Gary C. Mays Jr. got into the van with them to conduct the transaction. But a fight broke out as the robbery took place, and McInnis brought out a handgun. Patterson was eventually able to get out of the van, but was knocked down.
A criminal complaint stated that McInnis stood over Patterson and fired one shot, but McInnis disputed that version of events, said his lawyer, Michael Covey. Covey said McInnis maintains that during the fight outside the van, Patterson was charging at McInnis when McInnis "panicked" and fired the shot.
"It is undeniable that the actual shooting was not premeditated in any way, shape or form," said Covey, who sought an eight- to 10-year prison sentence for McInnis. While McInnis thought the robbery would be an "easy score," Covey said, "he didn't have the mindset that the score was going to cost a life."
'No greater pain'
But that is cold comfort to Nicole Hayes, Patterson's mother. After Patterson's father died, she said, she and Patterson were alone. And now he is gone.
"There is no greater pain than losing Julian," she said, addressing McInnis. "I have lost part of my heart and my soul that can never be measured. You have destroyed me. I will never be the same."
She said her son was a kind soul who was charitable toward others. He had dreams of moving away and going into business, and someday starting a family.
"None of that happened or will ever happen," Hayes said. "Because on March 12, you looked down at my son and pointed the gun at him and pulled the trigger. You ran away and left him to die on the pavement. I hate you. I want to come over there and I want to put my hands around your neck until you are unconscious, but not kill you. I don't want you to die. I want you to suffer."
Travon A. Jackson, 19, who arranged the marijuana deal but wasn't present at the robbery, pleaded guilty last year to being a party to armed robbery and was sentenced to five years in prison.
Mays, 19, will go to trial in two weeks for a second time on a felony murder charge. His first trial ended in a hung jury.
Sign up for our Crime & Courts newsletter
Get the latest in local public safety news with this weekly email.