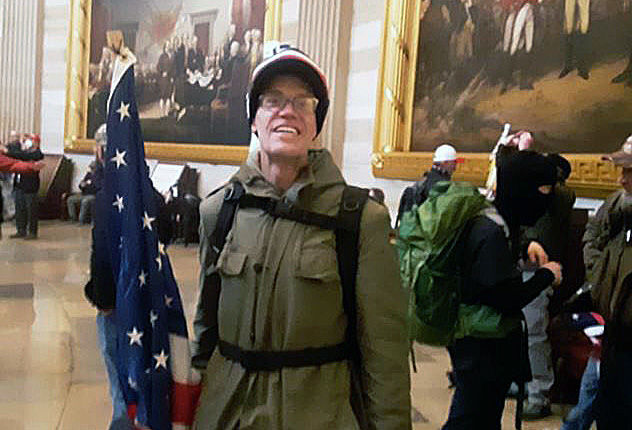 A Wisconsin man was arrested Tuesday in Eau Claire for being part of the mob that breached the U.S. Capitol last week as Congress was certifying Electoral College votes giving Joe Biden the presidency.
Kevin Daniel Loftus, 52, of Eau Claire, faces two federal misdemeanors for knowingly entering and remaining in a restricted building or grounds without lawful authority, and violent entry and disorderly conduct on the Capitol grounds.
He appeared by video for a brief court hearing in federal court in Madison on Tuesday, when Magistrate Judge Stephen Crocker said he can be released from custody but must remain in Eau Claire or Chippewa counties. Because he has a history of drunken driving, he was ordered not to use alcohol, and he cannot possess any firearms or attend any demonstrations.
Crocker also told Loftus he is not to obstruct justice in any way, flee or commit any other crimes. If he does, Crocker said, Loftus could find himself back in custody.
"I think you're a smart enough man not to do that," Crocker said. Asked if he understood, Loftus said, "Yes, your honor," the only words he spoke during the 16-minute hearing. He did not enter a plea.
Loftus, 52, has no criminal record in Wisconsin, according to online court records.
According to the criminal complaint in the federal case, Loftus was identified through a photo taken of him in the Capitol and ones posted to his Facebook account. A witness also positively identified him. The complaint also says he posted a link to a New York Post story about the riot at the Capitol, along with the admission "i am wanted by the FBI for illegal entry," to his Facebook page.
His page also includes another admission that he is in an FBI photo lineup of people wanted for the Capitol incursion, plus an "lol."
The complaint says the FBI interviewed Loftus on Saturday in Eau Claire and that he admitted "to walking inside the U.S. Capitol on January 6, 2021.
"Loftus also admitted to walking on what he thought was the top floor of the U.S. Capitol where Loftus took several photos while he was inside the building walking around," the complaint says.
A photo posted to Loftus' Facebook account on Monday shows him wearing a red "Make America Great Again" hoodie along with other demonstrators at what appears to be the U.S. Capitol grounds.
A post from Sept. 25 shows him in a red "Keep America Great" cap holding a "Veterans for Trump" sign.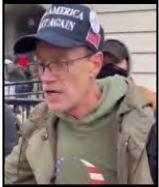 In the FBI photo, he appears to be wearing a sweatshirt with a logo for the QAnon conspiracy theory.
Loftus is scheduled to appear by video for an initial appearance in federal court in Washington, D.C., on Friday.
---
Watch now: Madison celebrates election of Joe Biden; reaction muted elsewhere
Watch now: Celebration and relief on Madison's Capitol Square
Watch now: Williamson Street celebrates Joe Biden's election
Watch now: Reaction to Biden victory from Western Wisconsin
Watch now: Southern Wisconsin has mixed reactions to election results