In one of the most violent incidents in a summer of record-breaking gun violence in Madison, several people fired into a crowd celebrating the life of a man slain last month, sending panicked adults and children running for cover and leaving three people with gunshot wounds.
Police on Wednesday marveled that no one was killed in the mayhem that broke out around 9 p.m. in Garner Park on the city's West Side, where several as-yet-unidentified people approached the park's shelter from the area of Mineral Point Road and fired handguns and likely an AK-47 at the more than 300 people gathered to memorialize 24-year-old Maurice R. Bowman Jr.
"Because of the number of rounds fired and the number of people here, I'm very happy but very surprised that there weren't more victims," said Jason Freedman, captain of the police department's Midtown District.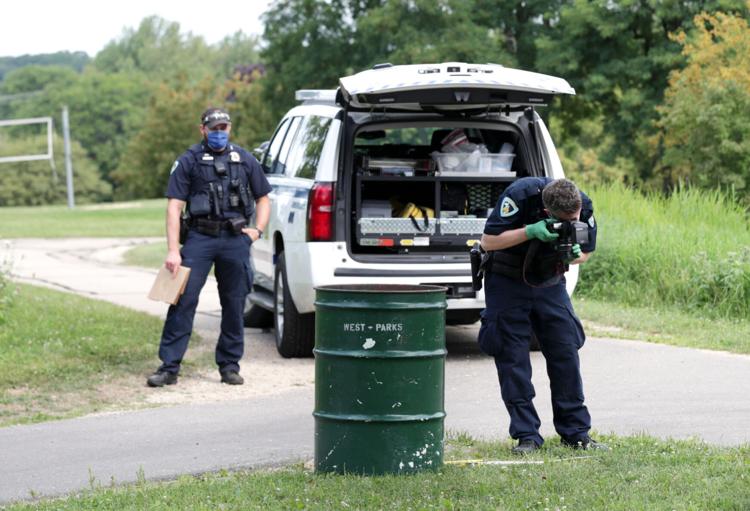 Video of the incident posted to Facebook shows a group dancing in the park's shelter as music plays in the background before the crack of shots and the person taking the video flees and the video records mostly darkness and the sound of more gunfire.
Officers found about 65 spent shell casings in the area, including 42 handgun casings of multiple calibers and 21 rifle casings. There were also several live rounds linked to at least two firearms that were recovered, and officers found a loaded handgun with a round in the chamber in a trash can.
The three people injured by gunfire were a 24-year-old man shot in the leg, a 40-year-old woman also shot in the leg and a 32-year-old man shot in the foot. A 21-year-old woman also reportedly suffered a graze wound to her back but did not immediately seek medical help, and a man injured his hand after falling on some rocks.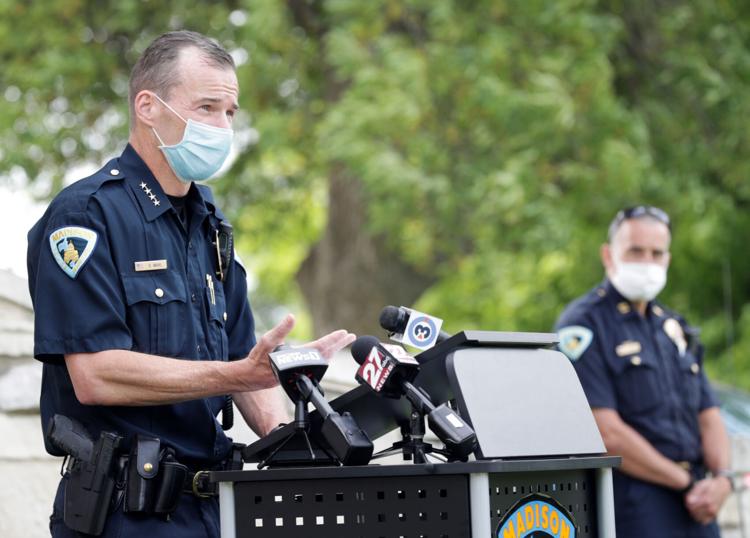 Police spokesman Joel DeSpain said there's evidence that people in the park shelter returned fire after the group was attacked. While two people have been arrested in connection with the incident, he said there's no indication they participated in the shooting.
Jumanji E. Bridges, 23, of Fitchburg, was arrested for possession of a firearm by a felon, resisting arrest and possession of THC, while Emmanuel F. Hunter, 24, of Madison, was arrested on a probation violation and for extradition.
Police were able to respond to the incident almost instantaneously, Acting Police Chief Vic Wahl said, because officers were already there monitoring the gathering after getting noise complaints.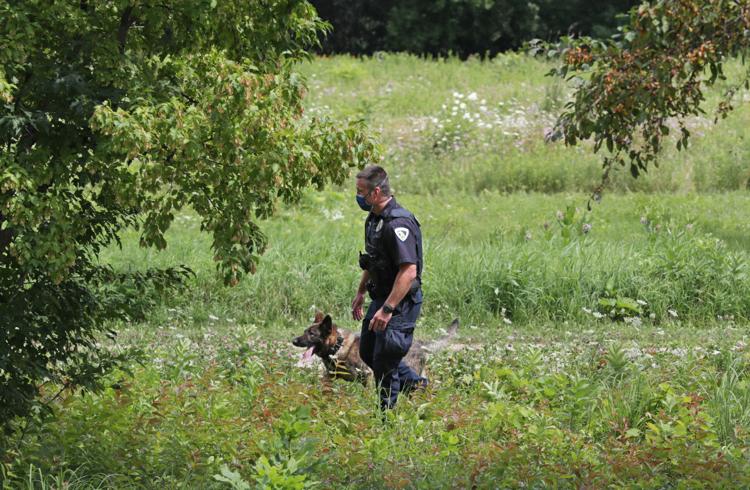 Large planned gatherings have been banned under a Dane County public health order aimed at curbing the spread of the COVID-19 coronavirus, and while the state's emergency health order strongly recommends people cover their faces outside when social distancing can't be maintained, few in the video are wearing masks.
Even so, Wahl indicated it wouldn't have been smart to try to break up the gathering before the shooting started.
"I don't think it would be a wise decision to force some sort of conflict over a public health order, to be honest with you," he said, noting that after the shooting started and police moved in, "there was a fair amount of hostility and lack of cooperation from the group."
"We have to be very strategic and wise about how we are intervening and taking actions," he said. DeSpain said police don't want to "incite something by intervening."
Motive unclear
The exact motive for the shooting is not yet clear, Wahl said, although it appears targeted and not the result of any specific incident. Bowman, whom the gathering was meant to honor, was shot to death while a passenger in a vehicle traveling in the 900 block of Chapel Hill Road on Madison's Southwest Side on July 25. Wahl said the investigation into the killing continues.
Court records show Bowman had a criminal history going back to 2013, including felony convictions for car theft. State Department of Corrections records show he was incarcerated for more than two years at the Prairie du Chien Correctional Institution.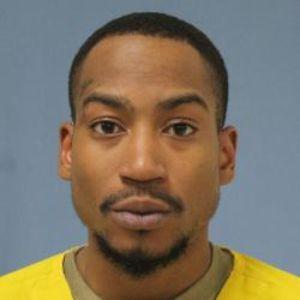 In a January 2016 memorandum asking the court for leniency in sentencing, Bowman's attorney, Nancy Moore, notes her client endured a childhood "riddled with family dysfunction and parental separation and neglect," but that the birth of his son in 2014 served as a "wake-up call" and that he had matured and was trying to stay out of trouble. In an August 2016 letter, Bowman, also known as "lil Reese," wrote to the court that he was working, had completed a class on forklift operation and had signed up for parenting classes.
In addition to the COVID-19 pandemic, protests against police in the wake of the death of George Floyd in Minneapolis, and looting and property damage that sometimes followed or were a part of those protests, Madison is also seeing a record amount of gun violence.
Wahl said Madison police have responded to 50 shots-fired incidents and recovered 355 shell casings in the last month, which is almost as many recovered during all of 2019. There have been 11 people struck by gunfire in the last month, including Bowman.
"Every metric year to date as of last week in terms of shots fired and gun violence is off the charts," Wahl said. "It's really striking."
Investigating the incidents has been a challenge, he said, as witnesses and victims are often reluctant to cooperate with police.
'It could be you'
Anthony Cooper, executive director of the Focused Interruption Coalition, which responds to gun violence and uses peer support to try to prevent further conflict and retaliation, said "there's a lot of rage among our young folks against each other," some of it "gang stuff" and some of it "drug-related."
"We cannot force anyone to work with us. It's all voluntary," he said.
Michael Johnson, president and CEO of the Boys & Girls Club of Dane County, called on the city to fund more peer support and said he recognized that "many people have a lack of trust in law enforcement."
At the same time, he called the community's "code of silence ... total BS.
"It could be you next time," he said. "It could be your child next time."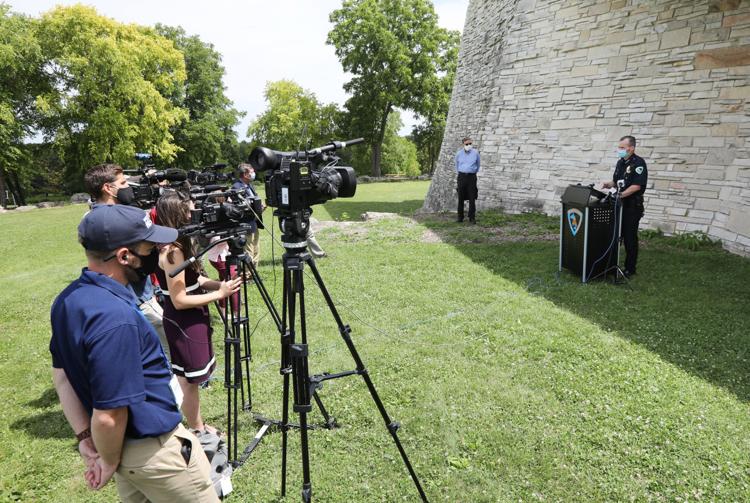 The Madison police Violent Crimes Unit is investigating Tuesday's shooting, and anyone with information is asked to contact Madison Area Crime Stoppers at 608-266-6014 or submit information online at P3Tips.com.
DeSpain called Tuesday's shooting "a very, very traumatic, very fluid situation" that left "grown men crying asking for rides home," and he pleaded for unity at a time when the community is riven by disagreements over policing.
"I think it really is a moment in time for Madison to take a look at what happened here, take a look at the number of shots being fired and decide: Is this a time we need to come together, drop whatever differences we have?" he said. "Whether you like or don't like the police, I think it's a time where we have to come together and do what we can to save people's lives."
State Journal reporters Shanzeh Ahmad and Dean Mosiman contributed to this report.
Gun violence in Madison | Cycles of trauma
Sign up for our Crime & Courts newsletter
Get the latest in local public safety news with this weekly email.