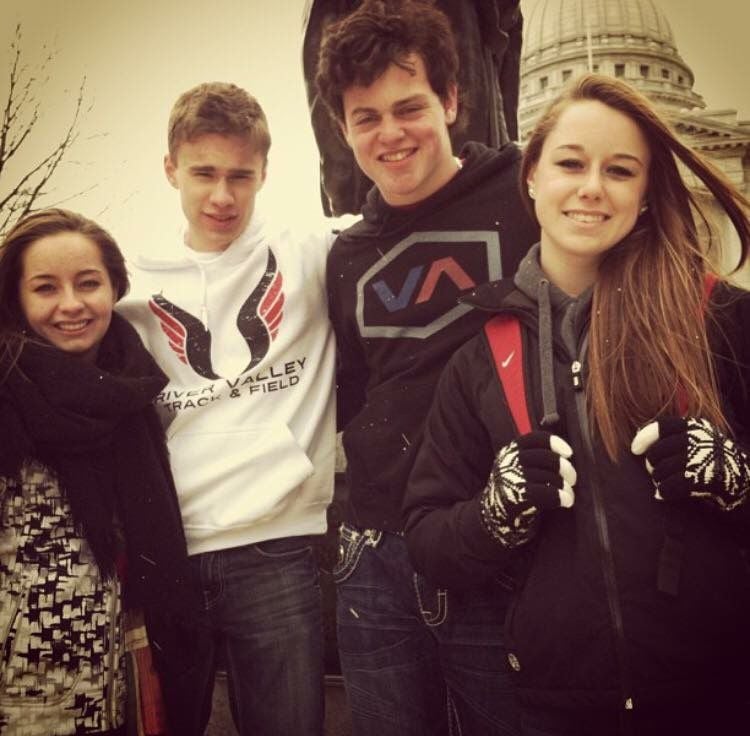 SPRING GREEN — Mike Honer was about to drive to work at Culver's here Monday when his parents stopped him to tell him that a body found in a Rome river was presumed to be his good friend and former River Valley High School classmate Beau Solomon.
"I was 40 minutes late for work because I spent that whole time crying," Honer said. "It's safe to say (it) was the worst day of my life."
Honer wasn't alone. Solomon, a UW-Madison sophomore-to-be who was studying abroad in Italy and apparently was killed his first night in the country, touched hundreds of lives with his charisma, confidence and maturity that made him stand out in any crowd, his friends said.
"He had a strong handshake, he looked you in the eye when he talked to you and he was mature beyond his years. He had this magnetism and vibrancy about him that was very special," said Randy Wright, the former UW and Green Bay Packers quarterback who coached the strong-armed Solomon for two of the eight years he attended the Trickey-Wright quarterback-wide receiver football camp. The former River Valley quarterback joined the camp's staff this year as an instructor and worked at a camp in De Pere in late June, just before leaving for Italy, Wright said.
The Trickey-Wright camp focuses on teaching fundamentals and techniques to kids from fourth grade through high school. Solomon, who didn't receive all-conference or all-state honors at River Valley, worked with the youngest kids for the first day of the two-day camp and then worked with Wright with the oldest kids on the second day. He communicated well with both groups and quickly earned the campers' respect, Wright said.
"He was as confident, articulate and comfortable with those kids as I was and I've been in football for 45 years," Wright said. "For a young coach without a lot of experience, that's a rare trait."
The camp sends a strong message to the campers that great high school quarterbacks must be as good off the field as they are on it. "Beau really believed in that," said Wright, who also cried when he heard the news that Solomon was dead. "You could tell he had a strong family behind him and had a great upbringing."
Solomon was the third of four brothers who were raised to be respectful and polite by their parents, according to Honer. The brothers are all close, but Solomon was particularly close to his youngest brother, Max, Honer said. "We're all hurting but it's nothing compared to what Beau's brothers are going through," he added.
While each of the brothers are confident and outgoing, their personalities differed and Beau Solomon's was shaped by a bout with cancer, former classmate Wyatt Schauf said.
"You could tell he was living every day to its fullest," said Schauf, a sophomore-to-be at UW-Platteville who was on the football team with Solomon. "He was always in a good mood. He made people laugh. He also listened to you because he genuinely cared. You could talk to him for hours about anything. He knew how to get to the right side of your feelings."
Solomon made a strong first impression on his new classmates after his family moved from the Iowa-Grant School District to River Valley just before the start of his freshman year. "He made everybody feel comfortable instead of the other way around," said Honer, who just finished his freshman year at UW-Eau Claire. "He was the glue that kept our class (of about 100 students) together. And that's crazy because he didn't know any of us before his freshman year."
"He had so much empathy, much more than people our age or people in general," said classmate Tyler White, who blocked for Solomon on the River Valley football team and just finished his freshman year at UW-Whitewater.
Honer partnered with Solomon in forensics during their first three years in high school and he said they made it to the state finals each year in play acting and group interpretation. In the latter competition, they just talked like they always talked. "We had a script but we never practiced it," Honer added. "Beau taught me how to talk in public."
A serious student who attended Badger State, Solomon was loved by teachers because he always raised his hand and answered questions. "He always was talking, even when he wasn't supposed to," White said.
Solomon often arrived late for class because he was talking with teachers and administrators but always presented a tardy slip. Prior to graduation, he admitted to a teacher he had forged them all. "And the teacher thought it was hilarious," White said.
Honer and White guessed that Solomon drew people to him his first night in Rome if, as usual, he was well-dressed and talking up a storm. "He was magnetic," White said.
Asked if Solomon had the makings of a great coach, Wright said, "Beau could've been a great whatever-he-wanted-to-be."
But in Italy, Wright figured Solomon was no different than any college student who has studied abroad. "He was anybody's kid. You just cry and feel sick for his parents," he said.
Sign up for our Crime & Courts newsletter
Get the latest in local public safety news with this weekly email.