Eight weeks after Madison's mayor declared "the party's over," there's little sign those involved in troubling behavior at the top of State Street — including fights, aggressive panhandling, drug dealing and prostitution — are ready to call it a night.
But if past is prologue, Downtown residents and business owners can take comfort in the imminent arrival of what may be the only reliable deterrent: Another bitter Wisconsin winter.
Opinion is mixed on whether a perceived increase this summer in crime and disruptive behavior in the area where State meets the Capitol Square has increased, abated or simply leveled off.
Maria Milsted, whose family owns property at State and Mifflin streets, said the problems are "quadruple" what they were in June, and points to panhandlers stalking people to their cars, tip jars stolen from a local business, a needle and other unpleasant items tossed into a building mail slot and "naked people running around day and night."
"It's a matter of time," Milsted said. "There's going to be a homicide up there."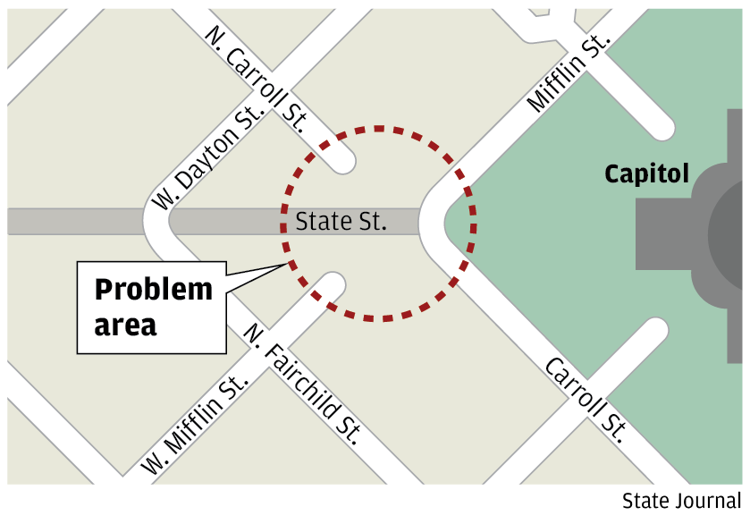 In one particularly stark example of how bad the panhandling has become, police report that an employee at Ian's Pizza at 100 State Street — which has its own list of people banned from the establishment — was recently chased down and "sucker punched" by a panhandler whose plea for money she declined.
At a Mifflin Street neighborhood meeting on Wednesday, residents and business owners complained of people getting into a loud, profanity-laced argument on the street, sidewalks made impassible by groups of people hanging out, people urinating and defecating in public spaces, open-air drug dealing and prostitution, and elderly Downtown residents too afraid to walk over to the Overture Center to volunteer.
At a meeting Thursday with Downtown business owners and leaders, Mayor Satya Rhodes-Conway acknowledged the illegal behavior on State Street needs to be addressed. But she insisted the problem is not driven by Madison's homeless community.
"I am not talking out homeless people, and I am not talking about moving homeless people from anywhere that they are Downtown, or otherwise," Rhodes-Conway said. "I'm talking about controlling bad behavior."
Still, it's not clear that what the area is seeing now is much different from what it was like earlier this summer or in summers past.
'Eye of the beholder'
"Are things getting worse? Not sure," said West Main Street resident Vic Villacrez.
"What I do know is that over the summer there have been a number of incidents involving assaults, guns, overdoses, etc.," he said in an email. "That is not news, it gets reported almost daily. But the high amount of aberrant behavior has created a heightened state of concern."
The area's representative on the City Council for the last 24 years, Mike Verveer, said the question of whether the area has become more or less safe is "somewhat in the eye of the beholder."
The problems were significant at the beginning of the summer, Verveer said. But since the police stepped up patrols in the area and amid other city initiatives, the trouble has abated "at least somewhat."
"Overall, we've seen some improvement at the top of State Street since the mayor and (police) started their extra initiatives last month," Jason Ilstrup, president of the Downtown business association Downtown Madison Inc., said in an email. "Our main concern at this point is finding long-term, sustainable solutions to these criminal issues."
A typical summer
Impression and anecdotes aside, police data going back to the beginning of 2019 show calls for service to the area rising with the temperatures, with increases in quality-of-life-related complaints in late June and mid-August. The numbers of property and violent crimes, though, have remained relatively flat from late April through the end of August.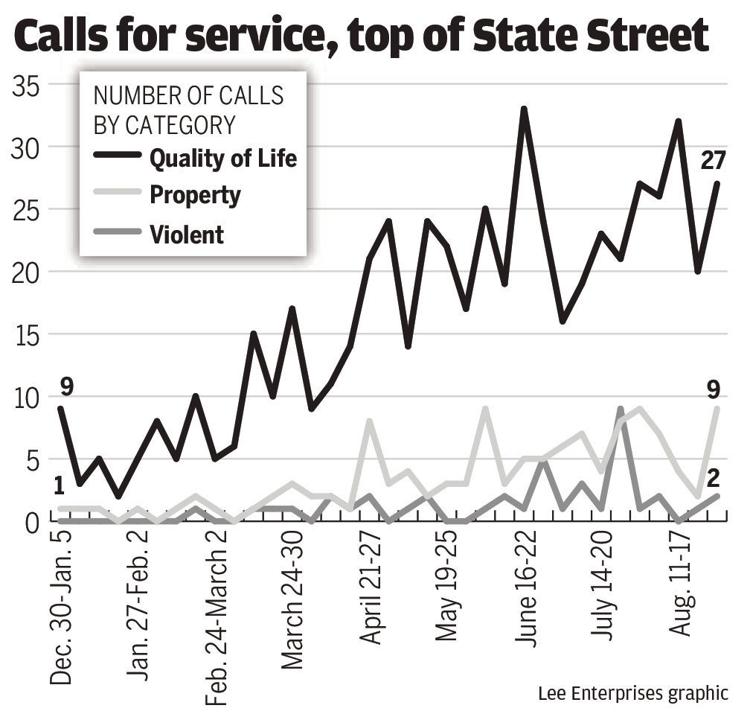 Similarly, the trend in total calls for service this summer isn't significantly different from what police saw in the previous three summers. There were about 170 calls for service in June, for example, but about 150 in July 2018 and 180 in July 2016.
You have free articles remaining.
Register for more free articles
Stay logged in to skip the surveys
Rhodes-Conway said at Thursday's meeting that police and the city are continuing to explore ways to "rein in the negative, anti-social behavior" on State Street, including new police strategies and making changes to the environment Downtown.
"We are actively working on it," the mayor told the room of about 15 representatives of the Downtown business community.
In July, Rhodes-Conway announced a number of initiatives to address the problem:
Increased special operations and foot patrols by police.
Changes to the physical environment, including removing benches; adding fencing and lighting, and, for the homeless population, portable toilets and storage lockers; and limiting the availability of free electricity at public outlets to discourage people from hanging out in the area.
Bringing activity to empty storefronts, possibly with "pop-up" stores.
Encouraging service providers and charities to shift distribution of food and other supplies for the homeless to the city's homeless resources center, The Beacon.
More quickly tagging belongings left on the sidewalks by the homeless and removing them when their owners fail to claim them.
On Friday, Rhodes-Conway's chief of staff, Mary Bottari, said changes so far include the removal of four benches, and "an artistic fence to the garden area behind Ian's is in the process of being commissioned."
Electricity availability is also being limited to events such as farmers' markets, she said, and trees have been trimmed and lighting improved to better illuminate the area. The city's effort to tag and, if necessary, remove belongings left on the street by the homeless has been expanded to the area in front of the Central Library on West Mifflin, she said, and one portable toilet has been added to a Downtown garage.
Police strategies
Central Police District Capt. Jason Freedman said that in addition to the department's usual staffing in the district — including three neighborhood officers — police have conducted 21 special enforcement operations this year that typically involve four to six officers monitoring the area for "ordinance violations, wanted persons, drug activity" and other infractions in four-hour blocks.
In 2017, the department did nine such operations, he said, and last year it did 15.
Police have also dispatched two officers on foot in four-hour blocks, he said, "providing high visibility and focusing on engagement rather than enforcement." There have been 13 such operations this year, he said, and they are likely to continue on a weekly basis "for the next several weeks."
Despite the increased police efforts, Downtown neighborhood officer Kraig Kalka acknowledged at the Mifflin neighborhood meeting that residents and business owners may well be seeing fewer police on the streets.
That's because while calls for service to police continue to rise, the number of patrol officers is not keeping pace with need, he said, and when officers spend much of their shifts assigned to specific calls, there's less time for them to proactively interact with the community and be present on their beats.
Asked if he thought this summer's extra enforcement has reduced crime in the area, Freedman said the department is still studying the data.
More work needed
For some, the mayor's proposals did not go far enough. Police and others have advocated for connecting the 100 block of West Mifflin Street to the 100 block of North Carroll Street, reasoning that eliminating what are now dead-end cul-de-sacs and adding traffic flow would eliminate spaces for troublemakers to linger. Such traffic connections exist at the Square's other three corners.
Police have also called for removing some bus shelters and cutting off electricity to all public outlets in the area, among other changes.
At Wednesday's meeting, Verveer noted that court rulings over the last few years have effectively neutered Madison's anti-panhandling ordinance, pointing to a city attorney analysis from January 2016 in which the office advised against enforcing the ordinance out of fear of subjecting the city to legal challenges.
When asked how she plans to address aggressive panhandling Downtown at Thursday's meeting, Rhodes-Conway emphasized the need for increased services for Madison's homeless population, including access to housing, addiction treatment and mental health services.
Verveer noted that the City Council has in the past refused to back proposals from former Mayor Paul Soglin aimed at keeping people from sleeping on the sidewalks and public benches, and that the council elected in April is even more progressive and is unlikely to back anything perceived as criminalizing homelessness.
"I sympathize with your plight," he told those at the meeting. "You think I don't hear this? I hear it constantly."
Mayor Satya Rhodes-Conway has emphasized the need for increased services for Madison's homeless population, including access to housing, addiction treatment and mental health services.