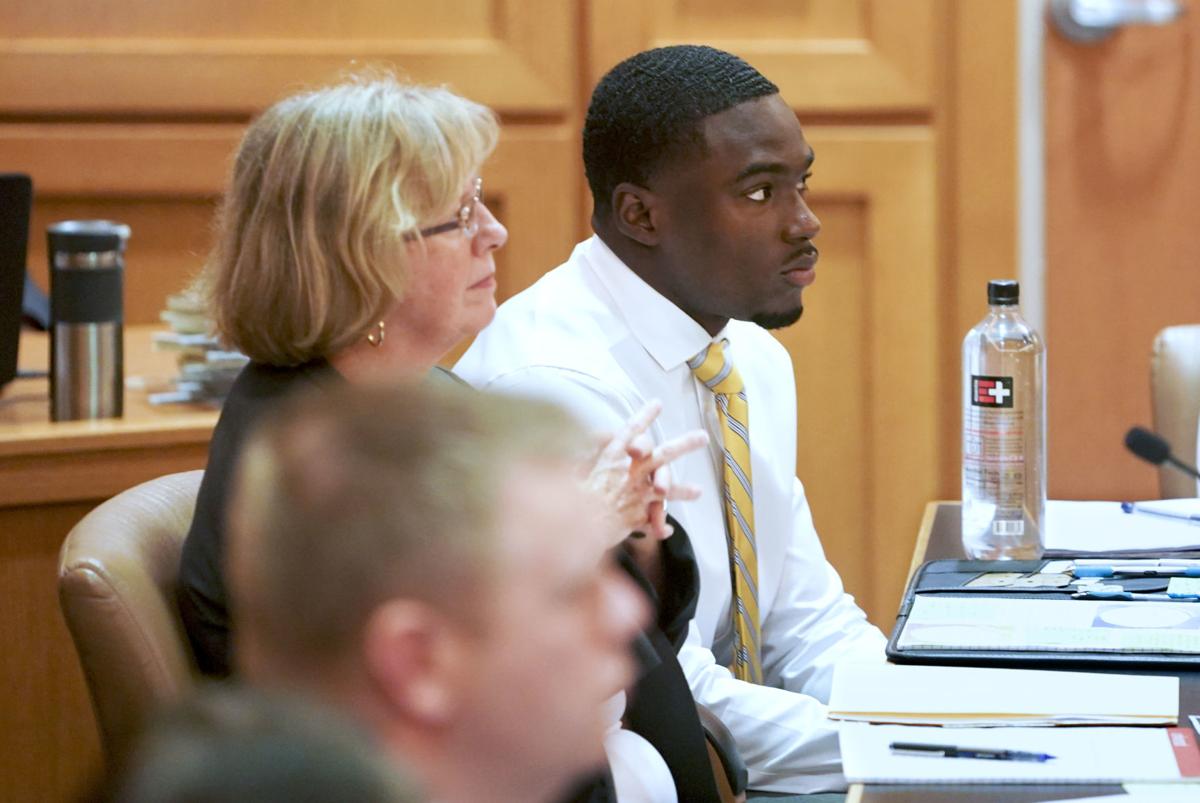 As the trial of former University of Wisconsin football player Quintez Cephus opened Tuesday, the lines drawn by prosecutors and defense lawyers about what happened between Cephus and the two women he's accused of sexually assaulting inside his apartment last year couldn't have been much starker.
Assistant District Attorney Jessica Miller, making the opening statement for the prosecution, started with a Snapchat message sent by one of the women after she woke up to find herself and her best friend naked on Cephus' bed.
"My phone is going to die. I just got raped. I don't know what to do," Miller said the woman wrote.
But Stephen Meyer, one of Cephus' lawyers, said what happened that night instead was "not a sexual assault but a consensual threesome," organized by one of the women.
"This case is a 1,000-piece puzzle," Meyer said. "It is not a 50-piece puzzle as the state tries to present."
Jurors heard hours of testimony from one of the women, the one who wrote the Snapchat message Miller quoted to jurors. The woman said she didn't follow football and had never heard of Cephus until she was introduced to him the afternoon before the alleged assaults. She said she had been in an off-and-on relationship with A.J. Taylor, a teammate of Cephus, and said it was Taylor who introduced her to Cephus during an afternoon of bowling that included another Badgers teammate, Danny Davis.
Asked by Assistant District Attorney William Brown whether she had "organized" a threesome and sought to have sex with Cephus, the woman replied, "Absolutely not."
Cephus is charged with second- and third-degree sexual assault for the alleged April 22, 2018, assaults at his apartment on Spring Street. Cephus, 21, of Macon, Georgia, who played wide receiver for the Badgers, is no longer on the team and has been expelled from UW-Madison.
Memory lapse
In her testimony, the woman said she and her friend, both 18 at the time, had separately "pre-gamed," consuming alcohol before going out to bars, where they would meet up with Cephus and Davis. She said she was drunk, and when she found her friend at the Double U, she was drunk as well. The woman said she had little recollection of things that happened at the Double U, and only fleeting memories of the ride to Cephus' apartment and events there, until she recalled waking up naked next to Cephus and her friend.
You have free articles remaining.
The woman said she awoke to Cephus assaulting her and her friend and told Cephus to stop. The woman said Cephus had sex with her friend even though her friend's eyes were closed and she appeared to be unconscious. Her friend, she said, at another point tried to refuse sex from Cephus, telling him, "I'm too tired."
The woman testified she sent the Snapchat message to another friend at one point, but didn't specifically remember doing it. Some of the words, possibly misspelled as she typed them in, had been auto-corrected to other words that may have appeared nonsensical, but in context they made sense, she testified.
The woman said she fell asleep on the floor at one point and was awakened by Davis snapping photos of her with his phone. She later angrily made Davis and Cephus delete the photos.
Davis to testify
Miller told jurors that as part of an immunity agreement, Davis allowed police to search his phone for evidence the photos had been erased and not sent to anyone else. Davis is slated to testify during the trial.
"Danny is going to tell you that taking that photo was the dumbest thing he did," Miller said.
On cross-examination by Kathleen Stilling, one of Cephus' attorneys, the woman insisted she was telling jurors the truth. She said there was much she didn't remember from that night.
Stilling repeatedly challenged the woman about her level of intoxication that night, pointing out that on surveillance videos, the woman did not appear to stumble or stagger. The woman also denied to Stilling feeling hurt or angry at the time because Taylor didn't join her that night at the Double U, as she had hoped. She denied flirting with Cephus or calling him "handsome."
A friendly text
In his opening statement, Meyer argued that the woman was disappointed when she realized Cephus liked her friend more during what was to be a threesome.
The other woman, Meyer said, sent a text message to Cephus a few hours later telling him, "If you find my Juul, LMK," — referring to her vaping device and the acronym for "let me know" — followed by a kiss emoji and a heart.
"It's not a crime to be an athlete," Meyer told the jury. "It's not a crime to be a teetotaler. It's not a crime to have sex. It is, however, very wrong to falsely accuse someone."