"We were ... faced with a significant level of public unrest as a result of three morally corrupt cops in Minneapolis who took the life of Mr. Floyd," Mahoney said a day after announcing his retirement after four decades in law enforcement. "The reverberations from that decision have impacted every law enforcement agency and every law enforcement officer across this country, including myself. But that's not the reason I chose to leave."
Mahoney said the COVID-19 pandemic has also taken a toll on law enforcement, especially those who have had to work in infected areas of the jail.
"We lost a deputy sheriff to COVID. Another deputy is still recovering from their exposure," Mahoney said. "We've taken that hard."
After 41 years in law enforcement — the last 14 as sheriff — Mahoney is leaving on May 8 for a new job as director of strategy and support at American Family Insurance, where he will focus on physical security, risk assessment and incident management.
Since Mahoney, 61, is stepping down about a year and a half before the end of his four-year term, Gov. Tony Evers will need to appoint his replacement, the Sheriff's Office said. The next election for sheriff will be Nov. 8, 2022. Whoever is elected will be sworn in on January 2023.
In a letter to Evers earlier this month announcing his retirement, Mahoney offered to help the governor search for an interim replacement and provide the person with guidance, as other sheriffs have done for him.
Dane County Sgt. Scott Lehmann, who has served 25 years in law enforcement, has already expressed interest in being appointed to the interim position. Lehmann said in a statement Tuesday that Mahoney served with "integrity, compassion and professionalism."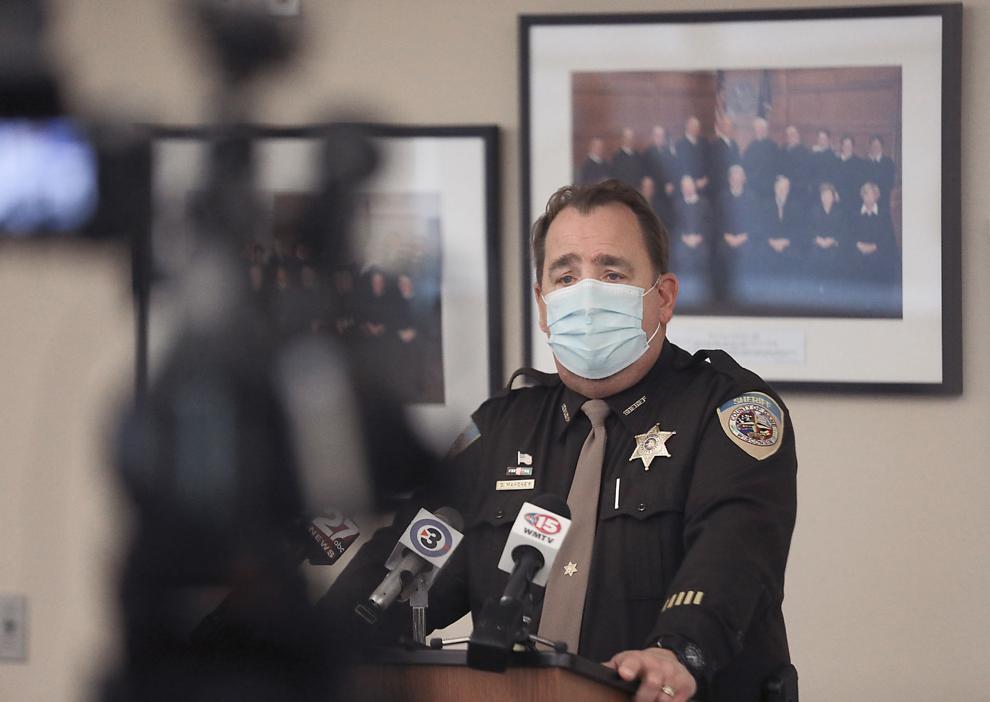 "Sheriff Mahoney leaves big shoes to fill," Lehmann said. "My plan is to seek appointment by the governor to serve the remaining two years of the sheriff's term."
If selected, Lehmann said he would build on Mahoney's work to reduce the jail population, rebuild trust between communities of color and law enforcement, and "find effective, innovative solutions to make Dane County safer and stronger in the years to come."
Dane County Board Chair Analiese Eicher said in a statement that the county has "embraced innovation" and improved practices in its criminal justice system in large part because of Mahoney's leadership.
Mahoney highlighted several accomplishments during his time in the Sheriff's Office, including meeting monthly with underrepresented communities and people of color, expanding the use of electronic monitoring to offer an alternative to jail for offenders, adapting use-of-force policies based on community feedback, and working with local groups and formerly incarcerated individuals to address recidivism.
Mahoney said he's also proud to have worked for years on the $148 million plan to build a new jail and close the "highly dangerous and cruel" jail in the City-County Building, along with another outdated facility.
The project plans include building a seven-story tower behind the Public Safety Building, adding medical and mental health beds, ending solitary confinement and increasing programming space while reducing the overall number of beds from 1,013 to 922.
Mahoney won't be in office by the time the project is complete, but he said he'll still be there to see the doors open, just "from a different perspective." Construction could start as early as the fall.
"We will create a more humane and safe environment for those who remain incarcerated," Mahoney said. "I have every confidence that our County Board will move this (project) forward in its current plan."
Dane County Executive Joe Parisi said in a statement that Mahoney implemented "some of the most progressive criminal justice reforms in our county's history." He noted that Mahoney reduced the "burgeoning" jail population and ended the costly practice of moving inmates out of the county to other jails.
"Few people will have such a profound and positive impact on an organization and community than what Dave Mahoney accomplished in his four decades of public service," Parisi said.
While he will no longer be sheriff, Mahoney said he plans to stay in Madison and continue advocating for criminal justice and law enforcement reform.
"It has truly been a privilege to serve as Dane County's sheriff this past 14 years," Mahoney said.
---
Everything you need to know about COVID-19 vaccinations and testing