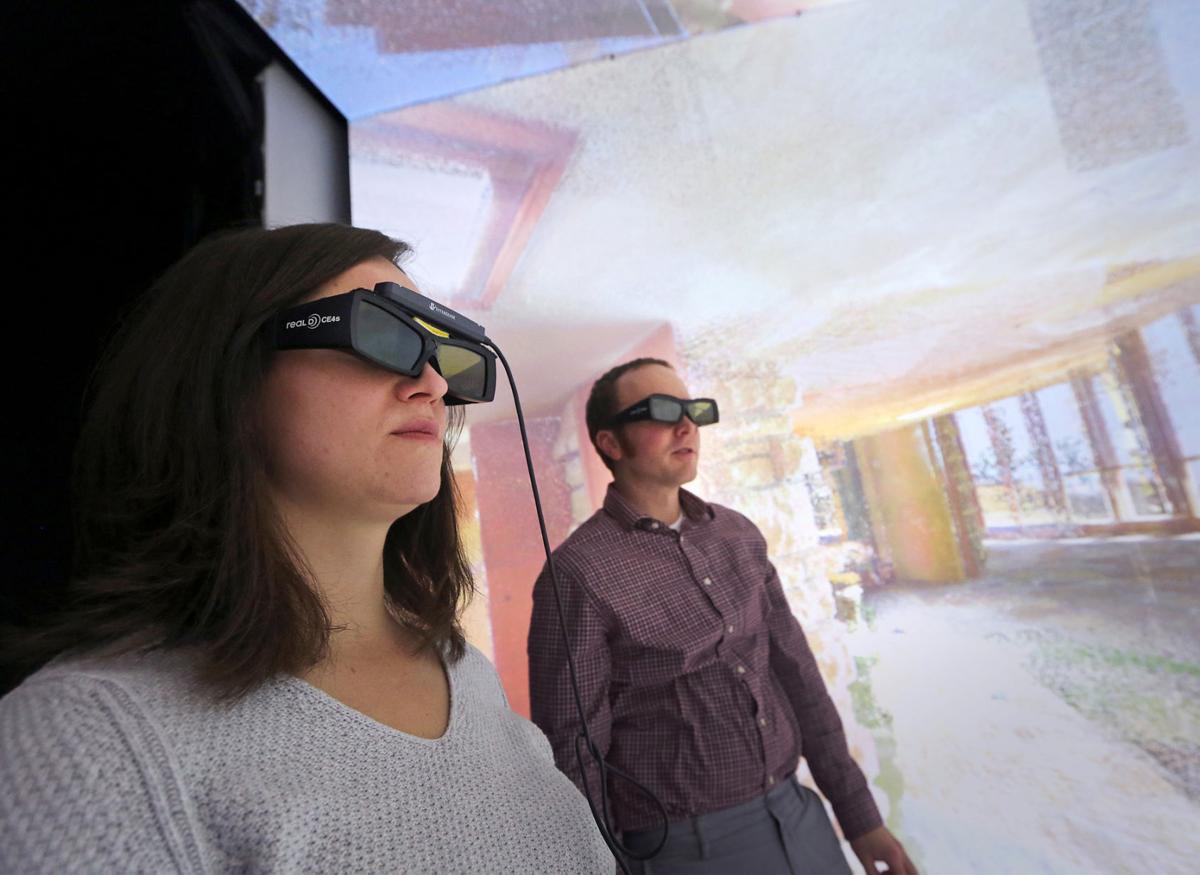 Rolling onto the scene of a woman's murder in February 2014 in Mazomanie, Dane County Sheriff's Deputy Scott Lehmann took one look at the exterior of the old and rambling two-story house and his heart sank.
Lehmann is a crime scene investigator, and he knew from that initial glance at the 2,200-square-foot home that it was going to take a long time to do his job. He would have to document the entire house as a crime scene — using just the traditional documentation tools of a tape measure and pencil and paper, he said — as well as collect evidence. That can be risky early in an investigation, when it's not always clear what's most important.
It only became more daunting inside, as Lehmann picked his way through the home's many rooms, each one cluttered with furniture and other objects that might help find the killer of 43-year-old Cheryl Gilberg, who had suffered two gunshots to the head in a bedroom upstairs.
"You have to measure every wall, the height of every ceiling, in every room," Lehmann said. "On top of that, you have to position every piece of furniture or other item that's in each room as close to precisely as you can, to create a diagram that portrays everything accurately."
With such a big job in front of him, Lehmann opted to pick up the phone rather than his tape measure. He knew there was a better option: 3-D laser scanners, touted as the latest, best tools for faster, easier and exponentially more detailed crime scene sketching. And he knew his then-boss, Lt. David Karls, had been making valuable connections with early adopters in the state.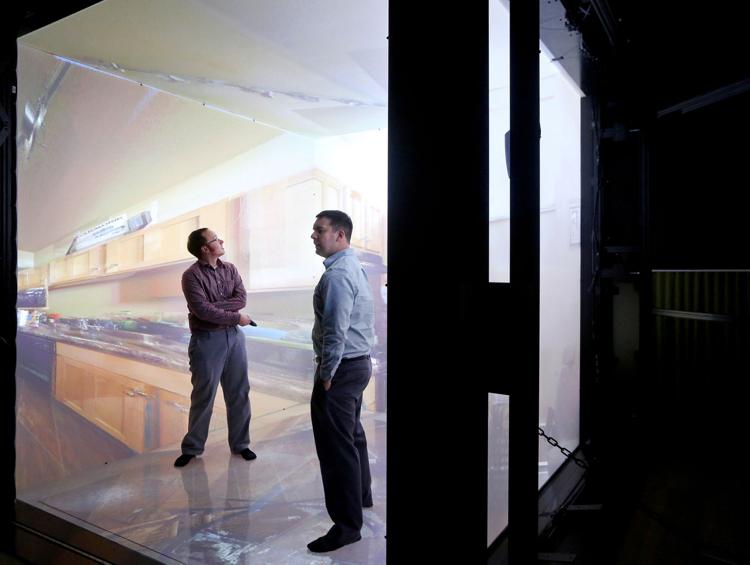 Through Karls' contacts, Lehmann was able to talk with professors and academic staff at UW-Madison's Living Environments Laboratory at the Wisconsin Institute for Discovery. They had a potent 3-D laser scanner powered by lidar in use in the lab since 2013, as part of a $2.5 million federal grant for a research project studying how virtual reality tools can help people manage their health better at home.
The university agreed to loan out the scanner to the Sheriff's Office for a day, along with the technical expertise of programmer Ross Tredinnick, who completed 37 scans over about 10 hours at the house — a job Lehmann said would have taken a team of investigators two to four days the old-fashioned way.
"It was a really unique experience," Tredinnick recalled. "They had me go through all the precautions they do — I wore the booties, I didn't touch anything. It felt good to be using our technology for another purpose to help the public."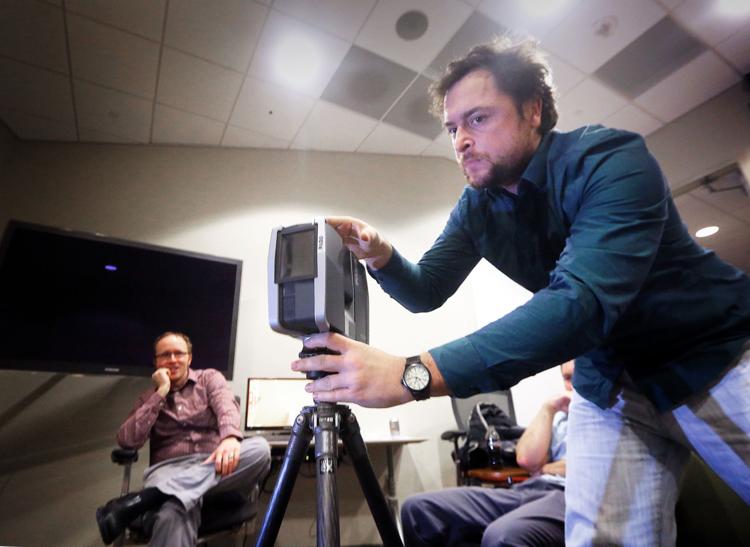 A lidar scanner uses a combination of lasers and a camera to create detailed, three-dimensional models of entire physical environments. It's a lunchbox-sized device that sits on a tripod and slowly rotates 360 degrees, documenting a single room typically with one 10-to-12-minute scan or capturing the whole interior of a house by stitching several scans together using provided software.
"It's the amount of data you can collect," Karls said. "We collected almost 800 million points of data in about 10 hours of work at the (Mazomanie) homicide scene."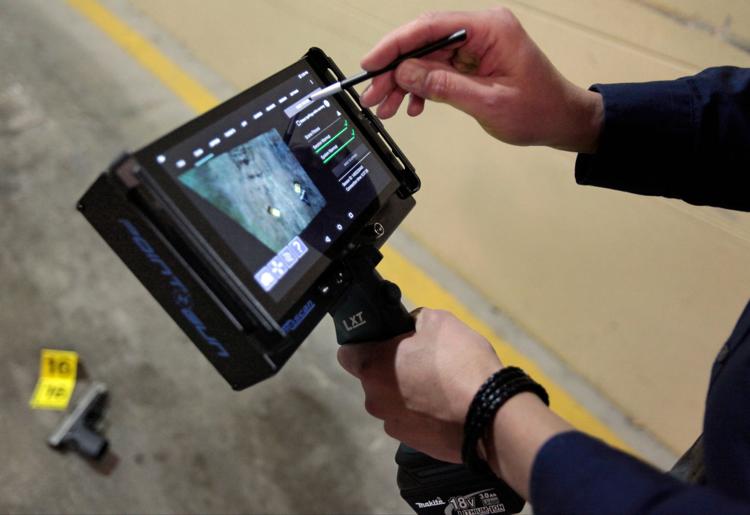 You have free articles remaining.
Beyond the tape measure, other traditional crime scene sketching tools include high-resolution scanning cameras and electronic measuring systems similar to what surveyors use that police agencies call "total stations." But their typically 2-D scene drawings pale in comparison to the seamless renditions of a 3-D laser scanner, Karls said.
"You have a finished product that can be used in court proceedings," Karls said. "You can basically walk the jury through the scene without them leaving the courthouse."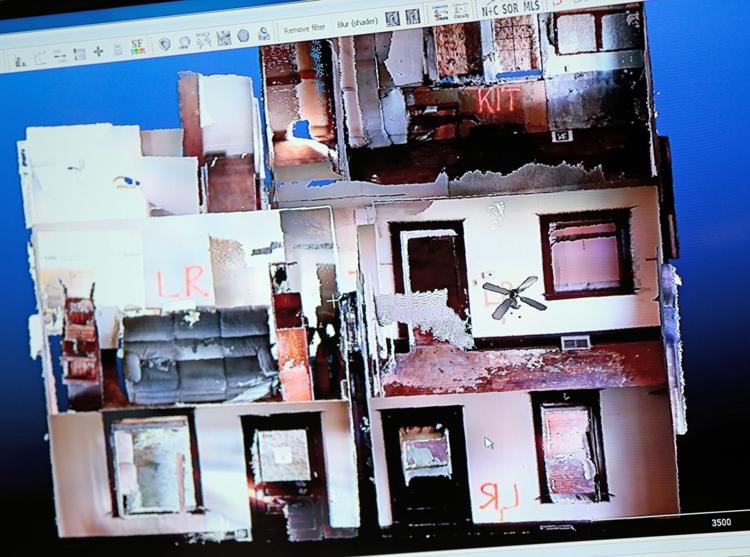 Lidar itself is a remote sensing system that works like radar but with light, the two words that form its name. It uses repeated pulsed lasers that reflect into a space off an angled mirror in the device to hit objects in the surrounding environment and then bounce back.
Distance measurements are recorded based on the time it takes for pulses to bounce back. That data is then plotted onto a panoramic photograph of the space to create a data set of full-color 3-D points, known as a point cloud.
Point clouds from several locations produce a full 3-D model of the environment when several scans are stitched together with special processing software. Lidar was developed in the early 1960s as a weather forecasting tool, but it has grown to have a host of industrial and academic applications, including uses for mining, robotics, agriculture, self-driving cars and archaeology.
Crime-scene sketching is one of lidar's newer uses, with a small but growing number of law enforcement agencies purchasing scanners as their cost has come down in the past 10 to 15 years. Prices have dropped from around $250,000 to $50,000 for a tripod-mounted scanner now, with smaller hand-held scanning devices that offer much the same punch plus increased mobility now selling for about $17,000.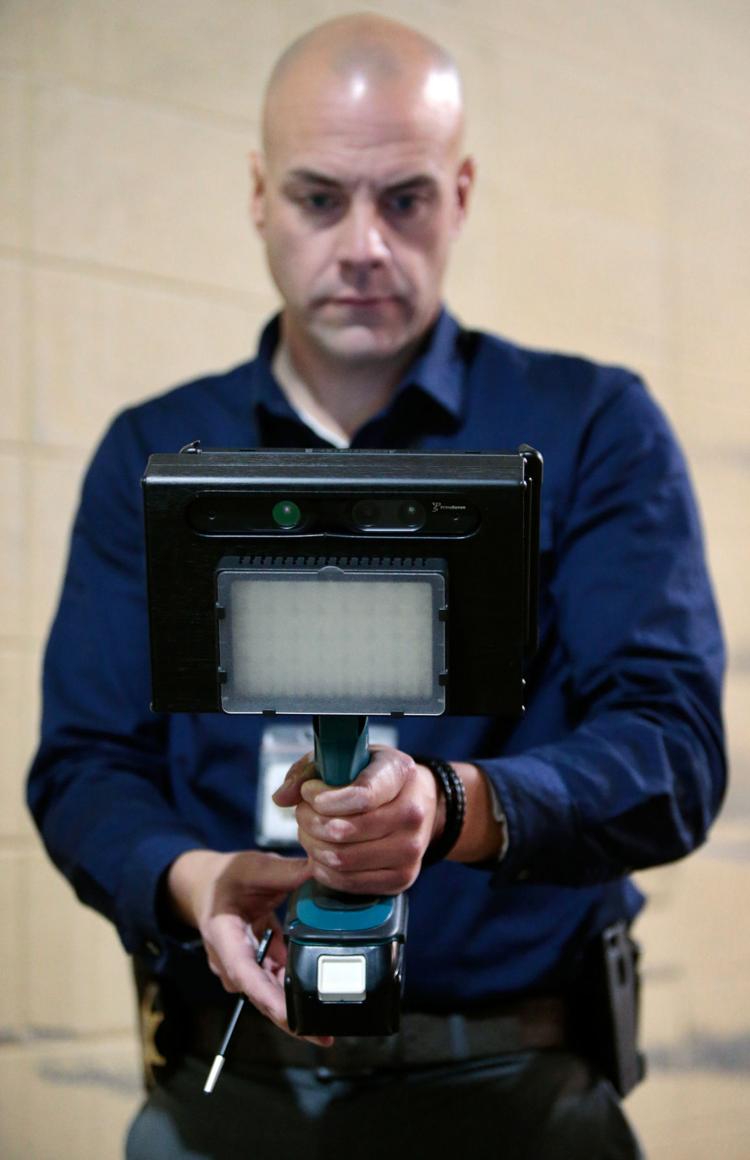 Impressed by the 3-D model produced by the scans of the murder house in Mazomanie — which ultimately wasn't needed in court because a plea bargain averted a trial — the Sheriff's Office purchased its own handheld scanner in early 2015. Lehmann said it's been used around 25 times for training and at crime or crash scenes. The Madison Police Department expects to buy a 3-D scanner in the next two to five years, Lt. Karl Strassburg said, with help from the Wisconsin State Patrol an option if the need for a 3-D scanner arises sooner.
The State Patrol has been leasing a tripod-mounted scanner as needed for about four years, with a purchase of one expected "very soon," said Trooper Ryan Zukowksi of the State Patrol's Technical Reconstruction Unit.
The State Patrol has used leased scanners to document crashes and assist at several crime scenes, including the September 2012 house fire in Argyle that killed three young boys in an arson set by their father, Armin Wand III.
"We refer to the scanner as another tool in the toolbox," Zukowski said, noting it doesn't work as well as some other methods in bright light and certain outdoor scenarios. At a 700-foot-long, multi-vehicle crash scene, for example, a tripod-mounted scanner would collect far too much data. "Between the scanner and total station and tape measure and airplane (photography), it kind of depends. The scene dictates what the best choice is."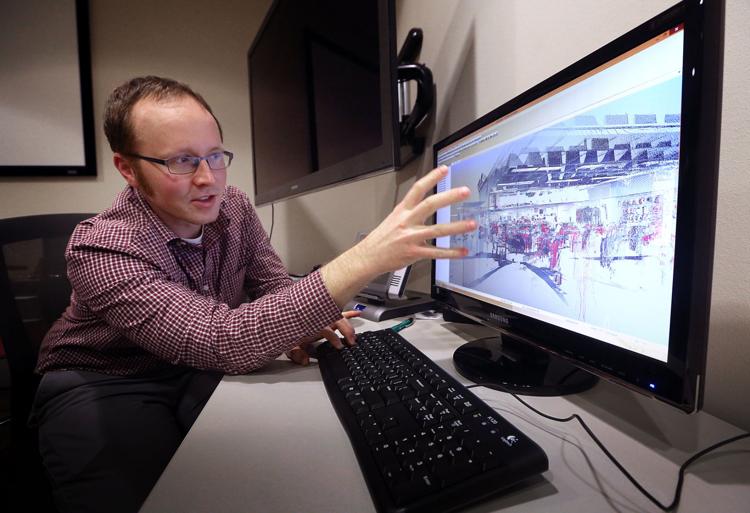 Because the processing software in 3-D scanners allows users to delete objects in produced images, law enforcement use of the technology also must include chain-of-custody protections adapted for electronic records. Those familiar with the technology said the database would show any changes and who made them, among other easy tells.
"You're also still taking photographs at the scene, for example," noted Tom Morris, a consulting crime and crash scene reconstructionist on contract with the St. Louis Police Department since 2003. "If you have a photograph in the case file that shows a gun on the floor, but it's not in the 3-D drawing, you have some explaining to do."