Glenna Shannahan was asleep the first time the thief or thieves broke into her Near West Side Madison home and garage and left with her 2019 Audi, computers, cash and credit cards.
The second time she watched from inside the building where she runs the Bridge Club of Madison as the thief she described as a cute young kid "beautifully dressed and groomed," pulled up in an SUV and took the car again, only two days after it had been stolen and one day after the police had recovered it.
The boy smiled and waved as he got into the car, Shannahan said, and it dawned on her that he must have kept the car's key fob from the first theft.
Despite a pandemic that had fewer people traveling to work or anywhere else, there was no break last year in the yearslong rash of car thefts by groups of young people who specialize in taking cars left running or walk into unlocked homes to steal keys and valuables.
In Madison, 744 vehicles were reported stolen last year, up from 639 in 2019 and almost double the 381 reported in 2016. During the first month and a half of this year, Madison police report more than 100 vehicles stolen.
The thefts are not constrained by city borders, though, and for the past two months police from Madison, the Dane County Sheriff's Office, Sun Prairie, Middleton, Fitchburg and other jurisdictions have been meeting to share information, according to Fitchburg police Lt. Ned Hartwick, who is helping to lead the effort.
"That's what people don't understand. It was a quick grab and go," said Laura Denham, whose Fitchburg home was entered and her 2013 Ford Explorer and other items stolen early on the morning of Oct. 29 after she'd opened the garage door to let her cat out. "They drive down the street and look for a garage door open and they go for it."
She said the whole operation lasted no more than five or 10 minutes; she was on the phone to 911 as she watched the culprits drive away.
Hartwick said surveillance video of thefts can show three or four teens get out of a stolen car and start checking other cars in the neighborhood for keys. Find one "and now they have another car in the caravan," he said, and there can be three- and four-stolen-car caravans driving around.
Police have repeatedly said juveniles are not stealing cars to sell them or sell them to chop shops. The thefts largely consist of stealing vehicles for joyrides and, more recently, the commission of other crimes. Thieves will drive stolen cars to stores to use stolen credit cards before the card holder has time to report them stolen. Madison police point to two cases in early February in which stolen vehicles were used as getaway cars in separate strong-armed robberies of two women, ages 62 and 86.
Years ago, it might have been possible to identify a core group of about 30 youths who were repeatedly stealing cars, but that's changed, Hartwick said. Now there can be two or three groups of five or six people each that is active at any one time, he said.
Focus on recovery
If there's any good news in the Madison car-theft numbers, it might be that they also show Madison police are making more arrests than they were five years ago, nabbing people in about 25% of cases in 2020, as opposed to about 17% in 2016. And those 16 and under are making up a smaller percentage of those arrested for the crimes — from 69% in 2019 to 50% last year.
Hartwick, though, said that local police are often more focused on finding stolen cars than on catching the people who steal them.
"Part of the strategy is that if we can cut down on the number of stolen cars in the first place, the idea is that the other related violent crimes will also be reduced," Madison police spokesperson Tyler Grigg said.
Hartwick also said there's often little evidence to go on; the victims don't know the thieves, and the thieves don't leave many clues in the cars.
"We've heard some frustration from community members that we aren't setting up surveillance on these vehicles waiting for the suspect(s) to return so that we can arrest them and charge them with appropriate crimes," Hartwick said, although police will use surveillance in areas that are repeatedly used as dumping grounds for stolen cars.
In Denham's case, her car was recovered only hours after it was stolen, but also after it was used to commit four other burglaries that morning, she said. In Shannahan's case, her Audi was found in a Fitchburg parking lot in the Allied Drive neighborhood the day after she reported it stolen.
After it was stolen again the day after that, it was recovered from a parking lot across from East Towne Mall with a full tank of gas but smelling of marijuana, she said.
No one's been arrested in Shannahan's case, but two boys — ages 14 and 17 — were arrested for taking Denham's SUV. Denham said the juvenile is at a residential treatment center in Milwaukee. The 17-year-old, James D. Cook, remains in the Dane County Jail on nine open felony cases going back to July, including for other car thefts and burglary.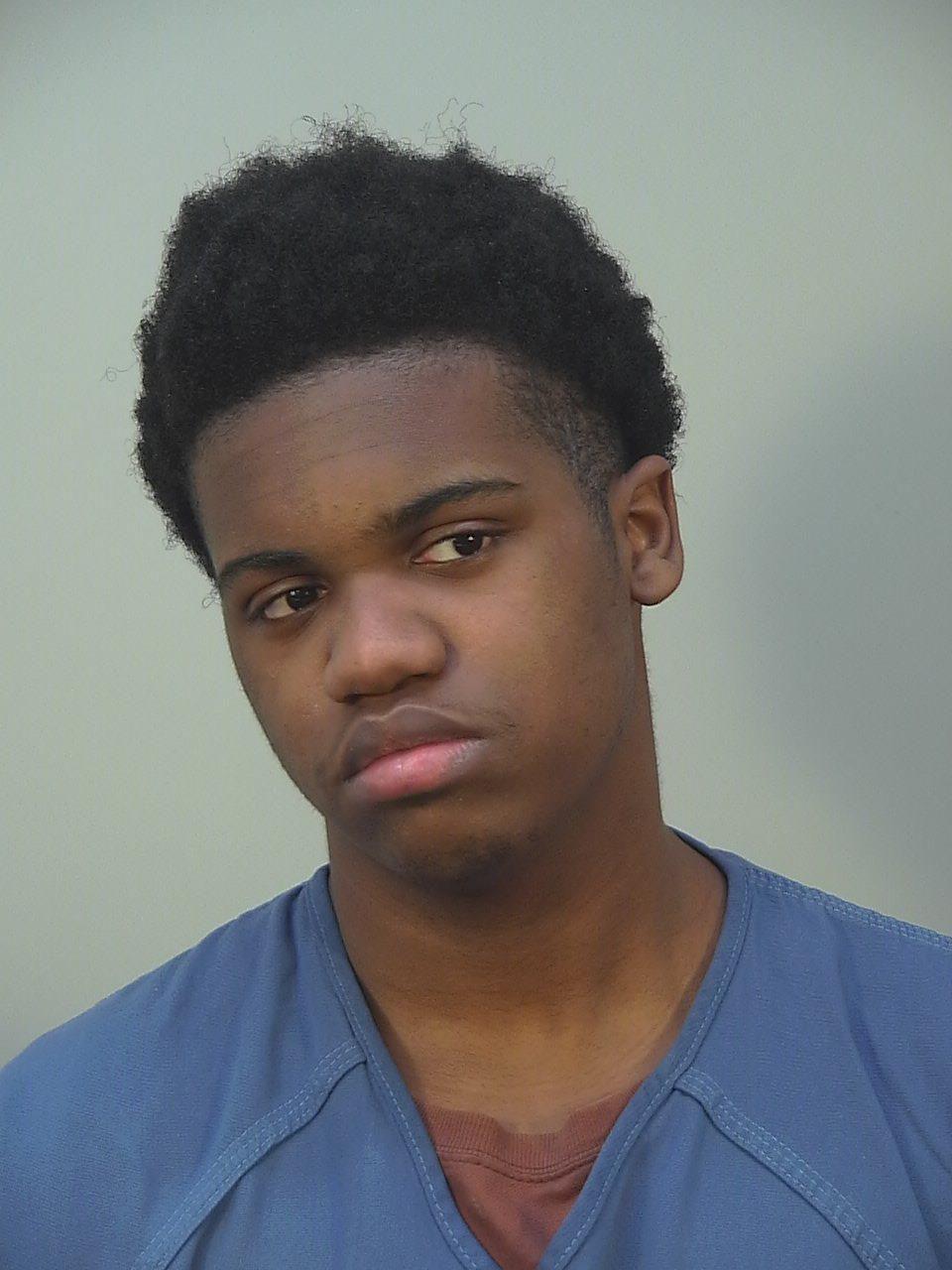 Denham knows that stories like hers will spur some people to call for tougher consequences for youth offenders, but "they're kids," she said. "We as a community need to come up with something else."
Shannahan said not apprehending youths in the short term will hurt them in the long run.
"We're just letting them become hardened criminals," she said.
More youths held
Madison and Dane County's liberal policymakers have long preferred treatment and engagement with youth offenders over a lock-'em-up approach, but Dane County's juvenile court judges have also complained of a lack of placement options for juvenile offenders, who often have serious treatment needs caused by abuse and neglect, homelessness, a lack of parenting, cognitive delays and mental illness.
In a statement Friday, Circuit Judge Everett Mitchell, the presiding judge for the Dane County juvenile division, said that "in order to effectively hold young people accountable, we must ensure that we maximize community-based options that can support their treatment and educational needs."
He ticked off a number of initiatives currently underway, including more mentoring opportunities, mental health support for youths while in detention, and "culturally relevant mental health individual and family treatment as well as in-home support for our families."
There were 147 vehicle-theft cases filed against juveniles in Dane County last year, according to Clerk of Courts Carlo Esqueda. Juvenile Court Administrator John Bauman said that of 97 youths referred to the county's Juvenile Reception Center for car theft last year, 85% of them were kept in detention and 63% of that group remained in detention after their initial court appearance.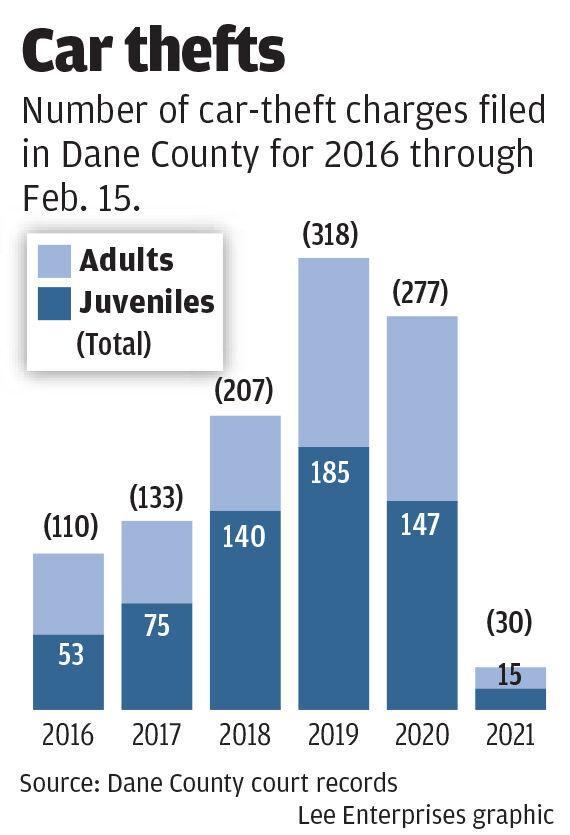 Bauman said that the other 50 cases could include youths charged with less serious crimes, such as being passengers in stolen cars, or police might have been wary about referring youths for detention amid the pandemic. Indeed, monthly referrals for car theft dropped from between 12 and 23 in January through March of last year, to no more than seven a month for the rest of the year.
State law requires juvenile offenders be held in the least restrictive setting needed to keep both them and the community safe, and Dane County District Attorney Ismael Ozanne said the state's juvenile system is "not meant to hold juvenile offenders for long periods of time."
"That said, I believe juvenile judges have been holding some repeat offenders for longer periods of time," he said.
Data from the juvenile court system bear that out. The average number of Dane County youths detained per month by the Department of Corrections — such as at the Lincoln Hills youth prison in Irma — was 24 in 2020, Bauman said, or significantly more than the 10 county saw in 2018.
Shannahan said that before her car was stolen the first time, her automatic garage door was down but the door leading from the garage into her home was open. She speculated that maybe the garage door malfunctioned or that the thief or thieves had some kind of universal garage door opener, or that they followed her home one day and watched as she punched in the code to open the door.
Police have repeatedly said car thieves are not hot-wiring vehicles or picking locks, and that the vast majority of car thefts and associated burglaries could be eliminated if people locked their doors and didn't leave their cars unattended and running.
They also say that while Dane County hasn't seen the kind of serious injury or fatal accidents that have been caused by young car thieves in other areas, there have been a handful of crashes involving stolen vehicles in recent years, and it may only be a matter of time before one such crash leaves a person dead.
"I don't see this stopping anytime soon," Denham said of the thefts. "People are making it very easy for them to continue this."
---
Recent stolen-vehicle cases
Madison-area police continued to respond to multiple stolen-vehicle complaints this winter.