A Madison man who was charged Friday with killing his neighbor told police he pistol-whipped the man after having problems with his gun, but said he also fired one shot at the man's head, according to a criminal complaint.
Saynit Keokanya, 38, was charged Friday with first-degree intentional homicide for the death of his neighbor, 81-year-old Nang Yee Lee, who lived in the same Northport Drive apartment building on the North Side where Keokanya lives. Police have said the two did not know one another, however.
The attack happened the night of May 22. Lee, who was taken to UW Hospital with head injuries, died on Monday. The Dane County Medical Examiner's Office ruled his death a homicide by blunt force trauma.
Police had originally thought Lee was shot.
The complaint states Keokanya believed he had to save himself and his brother from something that was attacking them. He said later it was Enoch, who he said was a fallen angel. He said Enoch was telling him to "continue on" after he had loaded a gun and was trying unsuccessfully to cock it, the complaint states.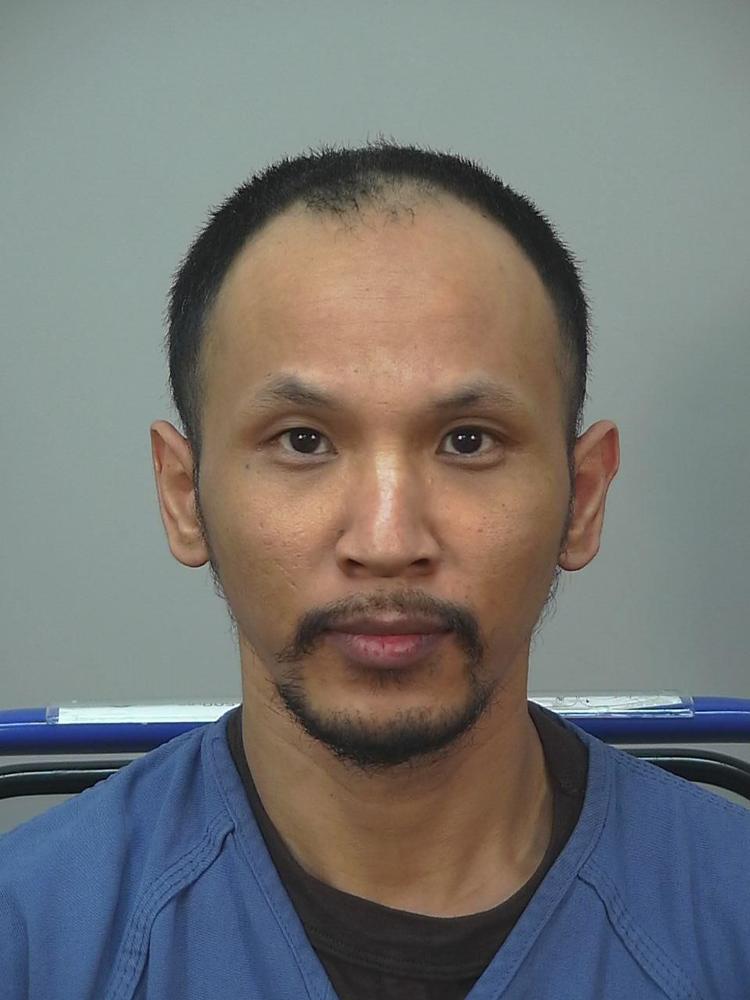 Keokanya was jailed on $500,000 bail after appearing in court Friday by video conference from the Dane County Jail. State Assistant Public Defender Crystal Vera, appearing for Keokanya, said the criminal complaint shows evidence that Keokanya's mental health is a concern.
Keokanya is scheduled to be back in court for a preliminary hearing on Thursday.
According to the complaint:
Police were called to the apartment building about 9:15 p.m. and spoke with Keokanya's brother after arriving. He told them Keokanya was acting very strangely and was out of control. He said Keokanya called him and said, "I hurt someone, I think I killed him," and earlier had been accusing everyone of being "out to get him." At that point, Keokanya's brother said, Keokanya had a gun in his waistband.
As an officer spoke with Keokanya's brother, he heard a male voice from the other side of a fence, identified by Keokanya's brother as Keokanya. He was saying, "They're after me," and, "They're going to get me."
In an interview later with Detective Adam Kneubuhler, Keokanya said, "I have to let it out." He said he felt something attacking him, which wanted to kill himself and his brother.
Then he heard a loud buzzing sound coming from across the hall, which was later found to be coming from a large fish tank in the apartment across the hall.
Keokanya said he kicked open the door to that apartment and found nobody was home.
Assistant District Attorney Tracy McMiller said during Keokanya's court appearance that the apartment belonged to a mother and her 4-year-old child, who were not home at the time.
Keokanya told Kneubuhler that he thought it was Enoch, referring to him as a fallen angel. He said he put a clip into his gun but could not cock the weapon. He later said he was trying to load the weapon but someone was attacking him. Then, he said, he went to his room and took the gun apart.
He said he had fired one shot, at "his head." But then he thought briefly and said he actually pistol-whipped him first.
Asked who it was he had shot, Keokanya said "the neighbor downstairs." He said he was having a hard time putting bullets into the chamber of his gun because the "old man" was coming at him, so he pistol-whipped him.
Keokanya said he had a gun in each hand, a 9mm and a .380 caliber gun. Surveillance video from a hallway camera showed Keokanya walking with what appeared to be a gun in each hand. The video showed him going to the second floor, toward his apartment, at 8:41 p.m.
After the attack on his neighbor, Keokanya said he jumped from a second-story balcony at the apartment building. It was later found he had fractured his left foot in the jump. While at UW Hospital, he told a doctor he had used cocaine and marijuana before the incident.
In Keokanya's apartment police found several firearms in various stages of disassembly, among them a bloody Glock that appeared to have an upper and lower receiver for two different guns put together. Another was a homemade gun with black wrapping holding it together.