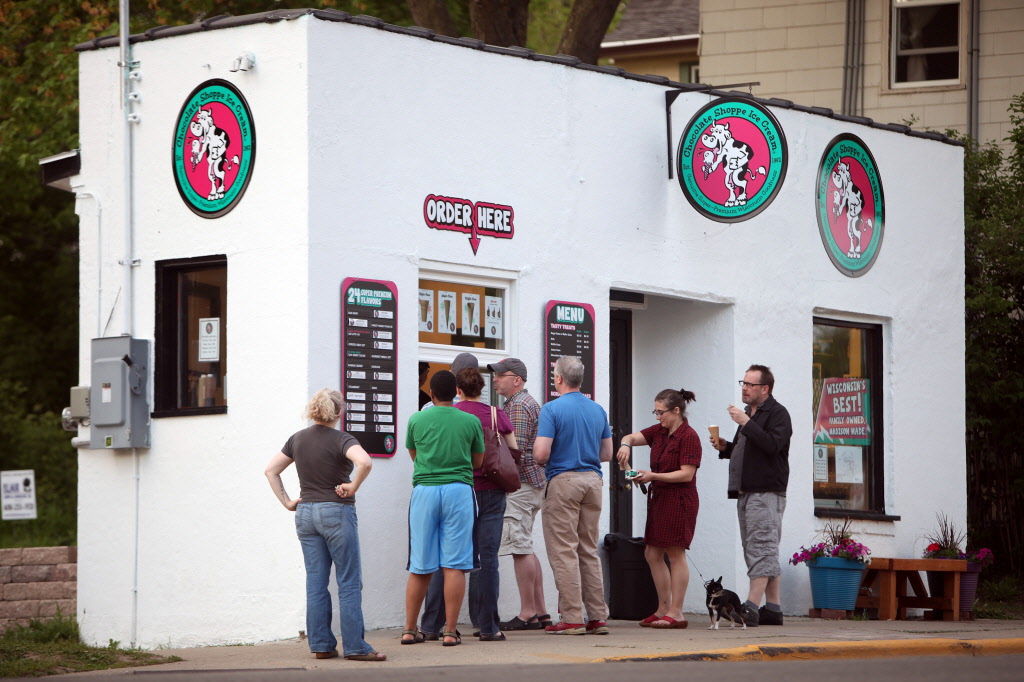 Chocolate Shoppe Ice Cream will leave its Atwood Avenue store by Oct. 31 under an agreement settling its lawsuit against the building's new owner.
Robert Gingras, attorney for Casey and Zach Davenport, owners of D Port Properties, said Monday that the settlement was reached last week. Under the agreement, he said, Chocolate Shoppe agreed to vacate the building by midnight on Oct. 31. He said there will be no monetary payment for D Port's "self-help" eviction of Chocolate Shoppe on Oct. 2 or for Chocolate Shoppe's lockout claim.
"I think this is the right settlement," Gingras said. "(Chocolate Shoppe) had the first right of refusal to buy the property, but they declined."
Chocolate Shoppe attorney Travis West did not immediately respond to email and phone messages, and company CEO David Deadman could not be immediately reached.
Chocolate Shoppe, which has six retail locations in Madison, Fitchburg and Middleton, sued after it said D Port changed the locks on the Atwood location, keeping it from getting into the building to open for business on Oct. 2. The Atwood location, which has no indoor seating, is seasonal.
Gingras said the "handwriting was on the wall" since a hearing on Oct. 9 before Dane County Circuit Judge Peter Anderson, who left in place a temporary restraining order he had issued on Oct. 4 and asked the two sides to work out the dispute.
At the hearing, Anderson said leases in perpetuity, which Chocolate Shoppe said it had with the building's previous owner, are generally not favored by law, though he added, "I'm not saying it couldn't happen."
Anderson had also told D Port to seek a formal eviction, telling the company's owners that courts generally don't like "self-help" evictions.
The Davenports, East Side natives who have built a lawn and landscaping business in Madison, intend to make improvements to the building and sell ice cream there next year, Gingras said. The company also runs The Merrimac Scoop ice cream shop at the south Merrimac Ferry landing. The shop sells Chocolate Shoppe ice cream.
The 354-square-foot Atwood building was owned since 2007 by Teresa and Rashid Ouabel, who agreed on Sept. 24 to sell it to the Davenports for $159,000. The sale closed on Oct. 1.
The lawsuit contended that the following day, Casey Davenport met Deadman outside the store and told him D Port Properties intended to open its own ice cream store in the building. Deadman objected, arguing the lease agreement with the Ouabels renewed yearly unless Deadman provided at least a 60-day notice before Oct. 1 of each year.
Sign up for our Crime & Courts newsletter
Get the latest in local public safety news with this weekly email.