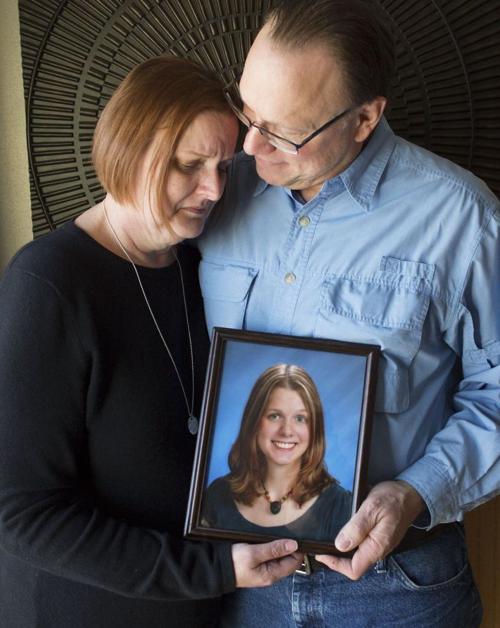 SUN PRAIRIE — Jim and Jane Brady Nosal believe their daughter Caroline could still be alive if the state last year hadn't ended a 39-year practice of requiring a 48-hour waiting period before purchasing a handgun.
They haven't been shy about saying so, which has prompted some backlash, including suggestions that Caroline Nosal — a quirky, independent 24-year-old — might still be alive if she had been carrying a weapon.
"If you say the only way she could have prevented the shooting was if she was carrying a gun, forget that because she would never carry a gun. She didn't ever want to kill anybody," Jim Nosal said. "And if you say there should be no waiting period, then you're saying my daughter should be dead."
Christopher O'Kroley, 26, of Madison, is charged with first-degree intentional homicide after police say he shot Nosal twice, including a point-blank shot to the temple, in the parking lot of the Metro Market, 6010 Cottage Grove Road, on Feb. 2 because he blamed her for getting fired from the grocery store one day earlier.
Police also said O'Kroley told them he bought the handgun he used in the shooting from a gun shop right after he was fired and would have shot Nosal that day except he realized he had never fired a gun and wanted to practice with it. That led some people to tell the Nosals that O'Kroley was so mad that he would have waited for as long as it was required — even longer than 48 hours — to shoot their daughter.
"I would like to take the hands of anybody who says guns didn't kill her and tell them to look into my eyes and then tell me that they were 100 percent sure that if there was a waiting period that Caroline still would have been killed," said Jane Brady Nosal, a 57-year-old nurse. "There was a chance he could have been stopped. Somebody could have learned about his plot and done something to stop it. Anything could have happened."
The Nosals said during an interview at their Sun Prairie home Saturday that they are committed to working toward getting Wisconsin to reinstate the 48-hour waiting period.
"We taught our children to try to make a mark with their lives," Jim Nosal said. "Maybe Jane and I can make a mark in Caroline's name to help other people. That would be nice. You try to make an impact where you can and it goes from there. We're not anti-guns. Quite the contrary. We just think the waiting period won't harm the sport."
Jim Nosal, a 59-year-old retired family physician who owns guns and grew up hunting with his father near South Bend, Indiana, said he understands there are huge forces that will fight against any change in the state's gun legislation.
"But this is kind of like football's concussion problem," he said. "It took very courageous people — a couple of them were doctors — to say it was a public health issue. Now all of a sudden people realize that football does cause brain damage. So maybe we should be looking at waiting periods the same way. People will realize that waiting periods do save lives."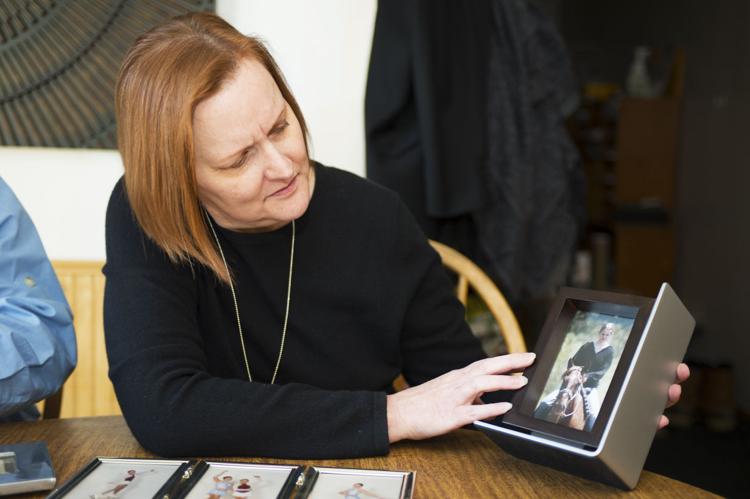 'Don't judge a book by its cover'
Caroline Nosal was described by her parents as a unique individual who marched to the beat of her own drummer, loved animals, didn't hesitate to voice her opinion and was finally learning to use tact. She was close to her older sister, Amy, 26, who lives in Iron Mountain, Michigan.
An excellent test taker and an avid reader, Caroline Nosal didn't receive consistently high grades in high school because she didn't like to do her classwork, Jane Brady Nosal said. She took some classes at Madison College after she graduated from Sun Prairie High School in 2009, but she wanted to experience life on her own and moved to Stoughton and began working for the Copps grocery store there. She gained a reputation as a hard worker, and Copps management moved her to their Fort Atkinson store briefly before giving her an opportunity to work at the Metro Market.
"She always worked in produce, which was ironic considering she hated vegetables," her mother said.
Caroline Nosal wasn't an extrovert but she had an active social life and managed to stay friends with most of her ex-boyfriends. "Three of them were at her funeral, so that tells you something," Jane Brady Nosal said.
You have free articles remaining.
Her personal life was dominated by an unflinching commitment to advice Jim Nosal gave her when she was a young girl: Be accepting and don't prejudge anybody.
"Some of the people she liked in high school weren't always part of the 'in' crowd but she liked being with them because they didn't judge her in any way. And if they were doing something she didn't believe in, she didn't feel pressured to join them," he said.
"We'd meet some of her friends and I'd say, 'That person looks a little rough' and she'd say, 'Well, Dad, you don't judge a book by its cover. That's what you always said.' And I'd say, 'You're right.' "
Jane Brady Nosal said that was why her daughter spent some time socially with O'Kroley after some co-workers told her she would be wise to stay away from him. She said her daughter learned quickly what her co-workers were talking about, but she hadn't offered her any specific details. The Nosals dispute police contentions that their daughter was O'Kroley's former girlfriend, saying she told them that she was never interested him romantically.
"She brought him over once. He was a good-looking, charismatic kid. I think that was her first impression of him," Jane Brady Nosal said. "But then she said Chris was bad news and he had multitudes of problems in just the way he acts. She said she quickly ended any possibility of a relationship starting between them. She didn't even want to be his friend. She said she was polite to him at work."
The Nosals said their daughter asked them for advice about how to deal with O'Kroley late last summer when she told them he was "really hassling her" and again just before the holidays last year when she told them O'Kroley was harassing a young cashier and she was worried about that girl's safety. The Nosals politely contend that was the real reason O'Kroley was fired.
Caroline "came to us for advice because she said she was afraid this girl was going to get hurt and we told her to go to her boss," Jane Brady Nosal said. "Her supervisors told their corporate bosses about it, they did an investigation and they fired him."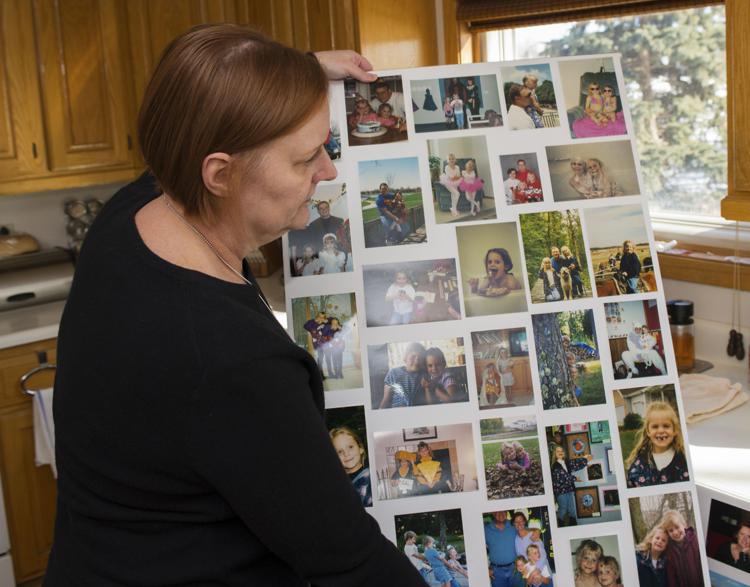 Processing a tragedy
The night their daughter was killed, the Nosals were at home watching the 9 o'clock news. It led with a report of a shooting at the Metro Market one hour earlier.
"We looked at each other and we grabbed our phones and tried to get ahold of Caroline right away," Jane Brady Nosal said. "I called the store and they passed me around until I talked to somebody — I think it was a policeman — who finally said one person was killed and Caroline was at the hospital."
They sat together on their home's steps, just feet inside the front door, and waited 90 minutes for authorities to arrive to give them the bad news. Their medical experience taught them to prepare for the worst and hope for the best. Jane Brady Nosal kept saying, "This can't be," while her husband kept saying, "My daughter is gone, she has been killed."
Two detectives from the Madison Police Department, a grief counselor and Dane County's assistant coroner arrived around 11 p.m., Jane Brady Nosal said. "I looked at the assistant coroner and he didn't have to say anything. I looked at him and said, 'She's gone.' "
The Nosals said the next four days passed at a snail's pace. They waited for the news that Madison police captured O'Kroley on Feb. 3 and then heard later about his comments that he found it "easy" to kill their daughter.
Jim Nosal said the lasting impression of his youngest daughter will be from his retirement party at his friends' Token Creek home Jan. 29. He said Amy and Caroline Nosal surprised him when they showed up, and the party ended with a lively discussion about music that included his children and a small group of his friends.
"Our kids were fitting in with all these professional people 30 to 40 years older than them, and it was special," he said. "Afterward they said to me, 'You have some really cool friends.' And then I said to them, 'I have some really great daughters.' We hug in our family, and I gave them both big hugs.
"To have something like that moment to remember … I'm just very grateful."