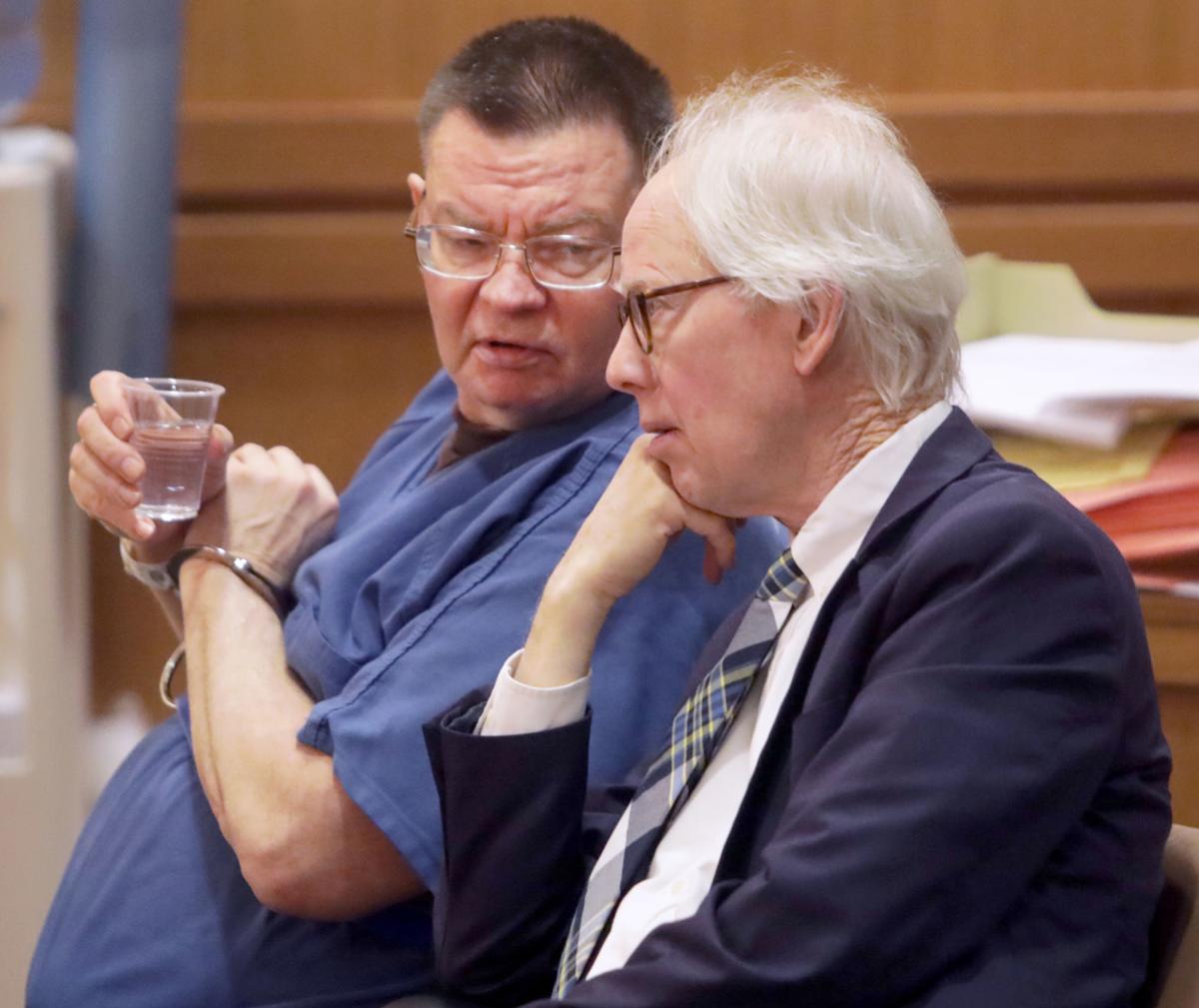 A mandatory life prison sentence for Daniel Lieske after he shot and killed a Sun Prairie man and hid the corpse was supposed to remove most elements of surprise from Lieske's sentence hearing Friday.
But two developments that stunned the packed courtroom gave Lieske a glimmer of hope that he won't spend the rest of his life behind bars.
The hearing ended with Dane County Circuit Judge Jill Karofsky going against the wishes of the victim's family and the District Attorney's Office and telling Lieske, 60, that she was giving him an opportunity to seek release from prison on extended supervision in 20 years. That is the minimum amount of prison time allowed by state law for a person convicted of first-degree intentional homicide.
Moments before Karofsky handed down her sentence, Lieske's attorney, Dennis Burke, told the judge that he was petitioning for a new trial because a key prosecution witness, Emmanuel Harris, gave false testimony during the trial about what Lieske told him while they were in jail together. That claim came in an affidavit filed in Dane County Circuit Court by a former jail inmate who was housed in the same cell block as Harris.
The affidavit also says Harris had $80 put into his jail account from family members of the shooting victim, Jesse Faber, after the trial was over.
"The inmate told us that Dan Lieske had been convicted on perjured testimony and that members of Jesse Faber's family had rewarded the liar with a cash reward for his lies and perjury," Burke told Karofsky. "We're seeking a new trial that will be based on truth rather than lies."
District Attorney Ismael Ozanne, who was one of the prosecutors during the trial, said after the hearing that the information in the affidavit is not "the actual facts" and that his office would respond to Burke's allegations in future filings.
"But I can say this: No one was paid for any testimony. I don't believe that characterization is accurate," Ozanne said.
Lieske was convicted of first-degree intentional homicide by a jury in January for killing 21-year-old Faber in a town of Medina apartment building where Lieske lived with his longtime girlfriend, Meichelle Goss, in January 2018.
Police say Lieske then rolled Faber's body into a rug covered with plastic and moved it from the apartment building to a van, then to a farm and eventually to a storage unit Lieske had rented in Rio.
Karofsky also sentenced Lieske to 7½ years in prison for hiding a corpse, to run concurrently with the life prison sentence.
During the hearing, several of Faber's relatives pleaded with Karofsky to remove any opportunity for Lieske to seek release from prison.
Assistant District Attorney Tracy McMiller also asked Karofsky to make sure Lieske would spend the rest of his life in prison, saying he made a "set of conscious choices" to shoot and kill Faber and then hide his body following a party at an apartment in the building where he lived. She based many of her comments on testimony from Goss.
While Lieske claimed that he shot Faber in self-defense, McMiller said an autopsy report indicated that Faber was shot six times from close range and that Faber was not facing Lieske for most of them.
"That proves the self-defense claim was false," she said. "Lieske was standing over Jesse when he shot him."
Goss, 52, was sentenced earlier this month by Karofsky to six years of probation after pleading guilty to helping Lieske hide Faber's body. Karofsky also followed a suggestion made by Faber's father and ordered Goss to spend one week in jail around the Jan. 16 anniversary of Faber's death, and another week in jail around his July 22 birthday each year that she is on probation.
But Karofsky didn't go along with the pleas from Faber's family to eliminate the chance for Lieske to be released from prison.
Burke told Karofsky that an affidavit by Benjamin J. Woody, now an inmate at Waupun Correctional Institution, says Harris bragged to other inmates at the Dane County Jail that he gave false testimony against Lieske to get a better deal for "hundreds of charges" he was facing. The affidavit says Harris told Woody, "I had to do what I had to do."
Burke told Karofsky that two other men who were in the jail at the same time as Harris are willing to corroborate Woody's story. "But because of fear of retribution from the state, they are unwilling to step forward until their pending cases are resolved," he said.
According to the affidavit: Harris admitted to inmates that his testimony about Lieske "making sexual advances to the victim, the victim turning him down and then the victim threatening to expose Lieske for making sexual advances" were all lies. Harris said Lieske "didn't tell him any of that stuff."
The affidavit also states that a Dane County Sheriff's deputy told Woody that the money placed in Harris' jail account on the day that Lieske was found guilty came from Faber's family members.
After the hearing, Burke said no matter when the victim's family members gave Harris the money, "it looks bad. Call it what you will. It doesn't look good to me. It doesn't sit well with me. That's not the way the system's supposed to work."
He told Karofsky during the hearing that the integrity of the justice system built upon the truth was compromised when the two prosecutors urged the jury to convict Lieske on testimony that was perjured.
"Those lies provided the state critical evidence of a motive for the murder when, without it, they had none," he said. "Those lies were not harmless, they were extremely damaging and, without it, Daniel Lieske might not have been convicted."