Drivers slowed down the Beltline and other major thoroughfares with car caravans, a busy Downtown Madison intersection became a rush hour dance party for protesters against police violence, and demonstrators showed up at the homes of elected officials to demand systemic changes.
After days of sustained demonstration against police violence and white supremacy, a "week of action" organized by three social justice organizations — sparked by the police killing of George Floyd in Minneapolis — started wrapping up Saturday.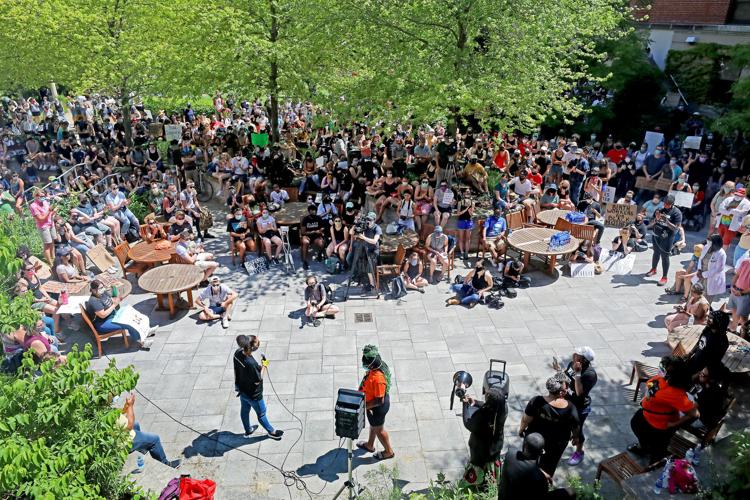 But leaders of Freedom Inc., Urban Triage Inc. and the Party for Socialism and Liberation vowed the pressure would continue on local officials to abolish policing structures and replace them with "restorative practices, transformation and investing in life-affirming and life-building solutions," said M Adams, co-executive director of Freedom Inc.
"You can't reform a gunshot, you cannot reform a choke hold, and you cannot reform a knee on the neck," Adams said during an online video conversation livestreamed to Facebook on Saturday evening. "In order to ultimately end this, we have to disrupt those systems; you cannot reform anti-blackness."
The organizations are carrying three demands forward: Defund police, release all inmates from the Dane County Jail, and give "community control" over policing.
Adams said the demands are grounded not in reform but in abolition, which she said is the "idea we should not use policing and prisons and really punishment as a way to solve social issues."
"We are still going to be in the streets," Adams said. "We are not disappearing at all."
On a Saturday night in Madison made for strolling, a group of between 200 and 300 people marched peacefully around Capitol Square and then down State Street as part of what they called an "Impact Demand" rally. They passed artists painting messages on plywood and those sipping beers at outdoor tables.
Rayshawn Nash brought a full-sized grill and was positioned just 30 feet from the Forward statue, which was no longer doused in paint and graffiti from earlier in the week. Nash, 28, served up free hot dogs, chicken, brats and hamburgers. Nearby there were tables of pizza from Ian's and Glass Nickel along with what appeared to be homemade tamales.
"I was not sure what was going to happen and if someone was going to say something," said Nash when asked about his tailgater. "Especially when I lit the fire up, but yeah, it is a little surreal."
After marching down State Street, protesters blocked the intersection of West Johnson and State Street in their return to Capitol Square.
With traffic halted between Triangle Market and the Madison Museum of Contemporary Art, a young African American man, representing black lives lost to police violence, lay in the street surrounded by the crowd of marchers.
"Our enemy is not white people. It's racists. Period," Deonte Coney, 28, of Chicago said through a bullhorn. "You're not going to lose anything to give us peace, to give us freedom. We just want equality."
Youth activists have largely been the organizing force behind the nighttime protests around Capitol Square, which have featured speeches, spoken word, rap performances, dancing, free food and chants of "no justice, no peace," and "this is not a riot, this is a revolution."
When the demonstrators returned to the Capitol on Saturday night they called for a series of speeches exclusively by participants who were under 21.
Earlier during the day, Harambee Village — a pregnancy, birth and breastfeeding resource center on the North Side — organized a march that drew more than a thousand people to two Downtown hospitals to bring awareness of disparities in health care outcomes for people of color, particularly for black women and their newborn babies.
Demonstrations have remained peaceful for the past several days, but State Street businesses were broken into and looted overnight after peaceful protests last Saturday, Sunday and Monday.
The looting and vandalism combined with the economic toll of the COVID-19 pandemic is putting many State Street businesses in jeopardy, with owners of 40 businesses saying they likely won't reopen in response to a not-yet-finished survey of the 152 businesses along the popular pedestrian plaza.
During the Facebook video chat, Sawyer Johnson, co-leader of the local Party for Socialism and Liberation branch, said the damage to businesses on State Street was "rooted in grief and anger and pain and hundreds of years of oppression."
"These young folks are not rioting; they are the leaders of an uprising," Johnson said. "They are the leaders of a rebellion."
State Journal reporter Barry Adams contributed to this report.
Sign up for our Crime & Courts newsletter
Get the latest in local public safety news with this weekly email.