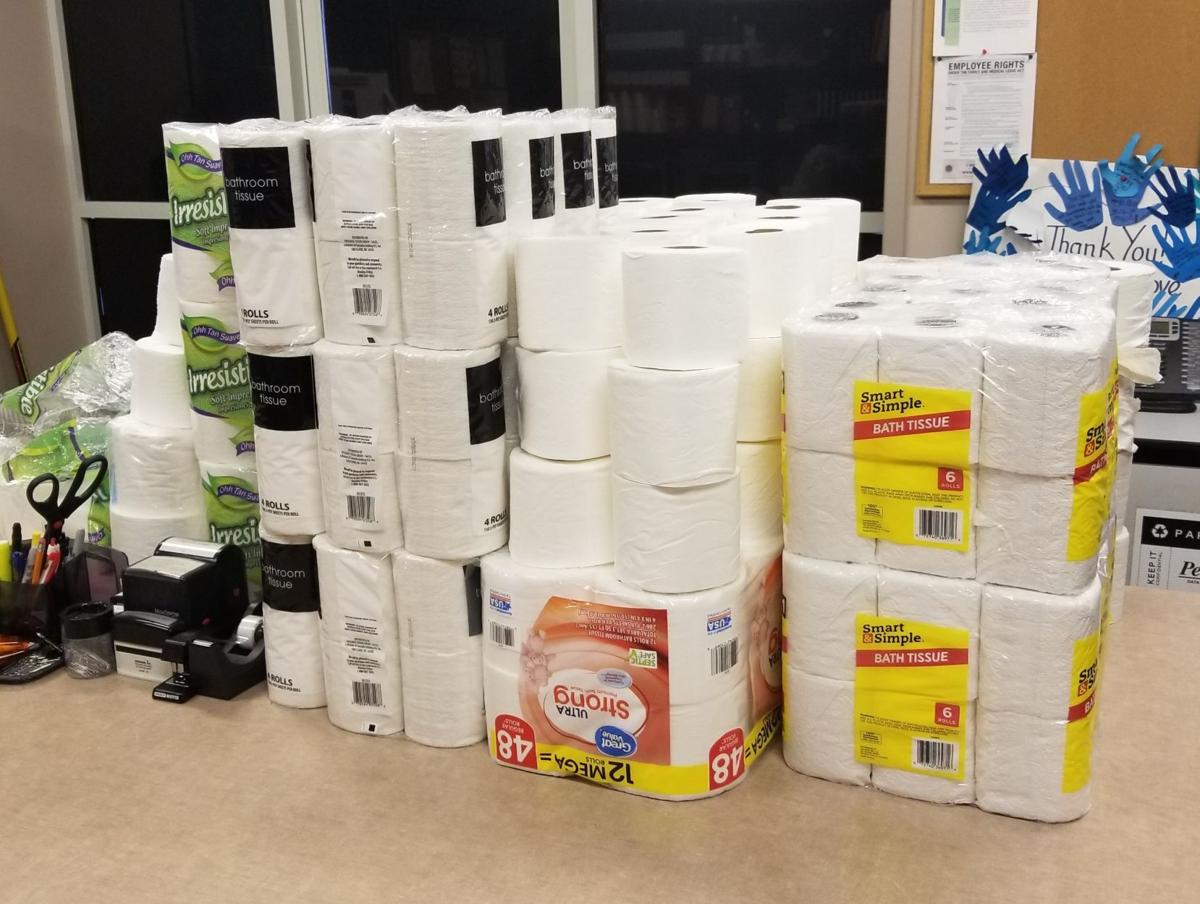 Sounding an irreverent note in one historic downer of a year, the Cottage Grove Police Department on Tuesday posted a photo and a few words about the mountain of toilet paper it had confiscated in recent days from teens looking to do a little, um, decorating around town.
Facebook took it from there.
"Madison Police could use the help Im sure if all CG has to worry about is this petty nonsense!" responded one person.
"Ah so you stole their legally purchased and possessed product," responded another.
"#cancelcgpolice," wrote yet another.
"I'm glad that people are reading our Facebook page," said Chief Daniel Layber, "but you always take a chance when you put stuff out there."
While most people commenting on the post saw the humor in it or suggested donating the toilet paper to local food pantries, Layber said he won't be making anymore posts about TP'ing in Cottage Grove.
In the department's original post, Layber said the teens "all claim to have been sent to the grocery store by their parents to pick up toilet paper ... we are a little suspicious due to the amount of toilet paper seized and the late night, early morning hours we encountered them."
The photo appears to show more than 100 rolls of toilet paper — including off-market brands in large, economy-size packages — that Layber said were confiscated in three stops over two recent evenings.
"It's not exactly the most desirable toilet paper," he said.
Kidding aside, Layber said teens out TP'ing are often speeding, or have their lights off or are otherwise driving recklessly, or only have their graduated driver's licenses, which generally do not allow them to have large numbers of other, unrelated teens in the cars with them.
"And when they see us, they take off," he said. "And they're driving really dangerously so we intervene as we're required to do."
Most are respectful and cooperative when pulled over, he said, and police don't handcuff them and usually don't issue citations. They take the toilet paper and tell the teens to go home, he said, and it's all caught on body camera.
Draping homes and trees with layers of toilet paper is a longstanding tradition among teens nationwide, especially around Halloween, and Layber said it happens every year in Cottage Grove.
This week is Monona Grove High School's homecoming week, although it wasn't clear Wednesday what activities the school is holding to mark the week when school buildings are mostly closed due to the COVID-19 pandemic. A school district spokeswoman did not respond to a request for comment.
Layber said his department gets calls asking officers to respond to TP'ing, and gets criticized when it does, but "we have to respond when property owners are calling up." That was among the things he pointed out in a subsequent post in response to the online criticism.
He said the toilet paper would be given to a local food pantry.
---
See when Dane County communities are holding trick-or-treating this year
Sign up for our Crime & Courts newsletter
Get the latest in local public safety news with this weekly email.