Sara Andrews' instincts took over the three times she has rescued a creature in harm's way on a road.
The director of the Madison-based Alliance for Animals and the Environment compared it to the reaction drivers must instantly make when a squirrel darts in front of their car. There are multiple ways for a driver to handle the situation, and all are open to scrutiny.
Law enforcement advises drivers never to leave their car to help an animal in a road and instead to call police. But Andrews, 39, said her instincts told her to act to save the animals, believing they'd die before police arrived.
So she helped some ducklings hop the curb on busy East Washington Avenue, lifted a gosling over the median just off the John Nolen Drive ramp from the Beltline and placed a lost raccoon in the passenger seat of her car in Brookfield and drove it to an animal shelter.
"Your compassion kicks in," Andrews said. "And sometimes your sense of compassion overwhelms your sense of self-preservation in that moment of panic."
Many others act on that compassion for animals. Some make heroic animal rescues that go viral after being captured on video. Others snarl traffic or cause vehicle crashes because of inexperience, ineptness or a disregard for human consequences.
Kimberly Zeier, a 45-year-old mother of two from McFarland, died June 22 after she was hit by a car while herding a family of ducklings across the busy lanes of Highway 30 just west of the Badger Interchange.
"It's a horrible tragedy, and it makes you want to do something to help," said Andrews.
She's considering posting on the Alliance for Animals website the warnings to drivers from law enforcement agencies that they should never stop and leave their vehicles to try to save creatures on the road — not for a duck on a busy highway, a turtle on a deserted country road or anything else in between.
"I would recommend that people follow what law enforcement recommends, but with the caveat that people make decisions very quickly in these situations and often times have a hard time understanding the risks," she said.
People for Ethical Treatment of Animals (PETA) and a state Department of Natural Resources wildlife manager recognized Zeier's tragic death but said they weren't going to change how they advocate for rescuing animals.
PETA is planning to award Zeier its highest honor: a leaf on the Tree of Life memorial at its Norfolk, Virginia, headquarters. But it's also standing by its website postings that offer suggestions to drivers about how to safely stop and exit their cars to rescue animals on roads, according to spokeswoman Lindsay Rajt.
PETA advocates safety first and that drivers should stay in their vehicles and call animal control or police for help in some circumstances, like busy traffic, Rajt said.
"Anytime someone feels like their safety might be in danger when trying to help an animal, that's what we advise someone to do," she said. "You won't be able to help the animal if you are unsafe, or if you are hurt in the process."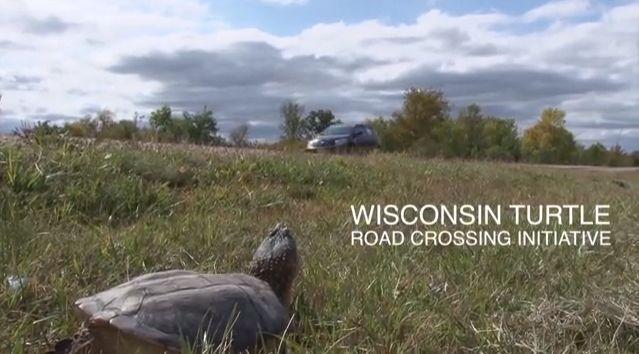 Meantime, the DNR is not planning to change its recommendation to drivers who spot a turtle in the road to stop in a safe place and — after checking for traffic — move the turtle to the side of the road it was heading, according to Owen Boyle, a species management section chief for the DNR.
That goes against the directive from the Dane County Sheriff's Office that drivers should slow down and call 911 and then move on, Dane County Sheriff's deputy Eric Novotny said. "There has to be a lawful reason to come to a stop, and that's not one of them," he added. "There are no exceptions."
The increasing number of pedestrian deaths occurring in the U.S. and Wisconsin helps explain law enforcement's position on the matter. A recent report by the Governors Highway Safety Association is projecting that pedestrian deaths nationally in 2015 will increase 10 percent in one year to more than 5,000. It also is projecting that — for the first time in 25 years — pedestrian deaths will account for 15 percent of all traffic fatalities.
The report cited distracted drivers — mostly from increased cellphone use or texting — as a big reason for the increase.
Overall, traffic crashes from distracted drivers have steadily increased since 2010 and caused 3,179 traffic deaths and 431,000 injuries in 2014, according to distraction.gov, the official U.S. government website for distracted drivers.
"The risks involved with getting out of your car these days don't outweigh the benefit to the animal," Madison police spokesman Howard Payne said. "We want people to be safe. People's safety is first and foremost on our minds."
Boyle said he understands the safety component of that approach but it misses the overall point. "It really isn't addressing the issue of animals in the road," Boyle said. "Are they not interested in saving wildlife?"
Zeier was driving home from Target around 2:30 p.m. on a Wednesday with her two children, ages 11 and 14, when she spotted a man in traffic on Highway 30 by Thompson Drive who was trying to move the ducklings across the inbound lanes, according to Madison police spokesman Joel DeSpain.
Multiple witnesses gave police good accounts of what happened after Zeier stopped her car in a U-turn lane between the inbound and outbound lanes so that she could help the man, who had parked a small shuttle bus-type vehicle on the shoulder, DeSpain said.
Zeier and one of her children helped the man move the ducklings before Zeier put the child back into the car, retrieved a blanket and headed back into traffic as the ducks moved across the outbound lanes.
By that time, several other vehicles had stopped along the highway and motorists were driving around them at elevated speeds as they headed toward Interstate 94. Zeier was killed when she stepped in front of a Toyota Corolla that was passing the stopped cars.
Witnesses said Zeier "had her hand up and then a vehicle hit the victim and it sent her into the air," DeSpain said, adding that it's believed that Zeier's children didn't see the car hit her.
The 22-year-old man from the Dane County area who was driving the car that hit Zeier was completely distraught at the scene, DeSpain said. Any possible citations for the incident won't occur until the accident investigation is completed.
Although earlier reports claimed that all the ducklings made it to safety, a witness at the scene said he saw dead ducklings on the highway. "I didn't see any that were alive," said John Blaska, who was off duty from his job as a lead engineer with the Sun Prairie Fire Department.
'What was she doing
in the road?'
Blaska, who was one of two people to perform CPR on Zeier, said the driver kept muttering "What was she doing in the road?" Blaska also was at a loss. "I couldn't believe she was in that section of roadway because it's one of the worst places to get out of a vehicle. There are ramps to worry about and the speed limit goes to 70 mph. There's a lot going on in that area," Blaska said.
Similar situations take place around Madison all the time, according to Novotny of the Sheriffs Office. Just days before Zeier was killed, Novotny said traffic was backed up for miles on the eastbound lanes of the Beltline because three drivers had stopped their cars near the Whitney Way exit and were standing on the roadway tossing cookies, crackers and almonds to some goslings in an effort to move them to a nearby pond.
"As soon as they left I herded the geese to the retaining pond. It took me a matter of minutes," Novotny said. "I had no idea what those motorists were trying to do with their little snacks, but they were totally oblivious to everything else going on around them. I turned them around to look at how they had traffic backed up for miles and one of them said, 'So?'"
Another time, Novotny said, he responded to reports of a woman huddled with an infant in a blanket on the Beltline near the Yahara River bridge. When he arrived, he discovered the "infant" was actually a beaver that she was trying to transport off the highway. "She had no clue of what was going on around her. She was just fixated on the beaver," Novotny said.
Merritt Clifton, the owner and editor of Animals 24/7.org, said he understands why law enforcement is telling drivers not to stop to help animals on the road. "Law enforcement doesn't like people to take the law into their own hands," he said.
Clifton, who lives on an island in Puget Sound, Washington, said the same rules for stopping on busy highways shouldn't be used for stopping on a quiet, two-lane country road or a residential road to save a turtle. "It comes back to situational ethics," he said. "There are situations where you can do something and other situations where you can't do anything at all."
For instance, Clifton said he doesn't believe anyone should stop on a busy highway to save ducks. On the other hand, he tells drivers on his website to stop for turtles as well as big animals like horses or cows when they are found on roadways. He also advocates for drivers to turn their car's emergency flashers on and keep it on the road so it can shield the rescuer from getting hit by another vehicle.
"If you're driving at dusk and you find a whole herd of cows on the highway, you have to get them moved right away," he said. "If you're in a rural area, law enforcement can be a long ways away and you can't wait for them to arrive. … If you're off to the side of the road, people will not stop and may not slow down as they pass you."
But Payne believes that anybody who parks their car on the road or shoulder is opening the door for a distracted driver to plow into them. "More and more squad cars are getting hit by motorists even though the squad's full light bar is engaged. If that's not enough, your hazard lights won't be enough," he said.