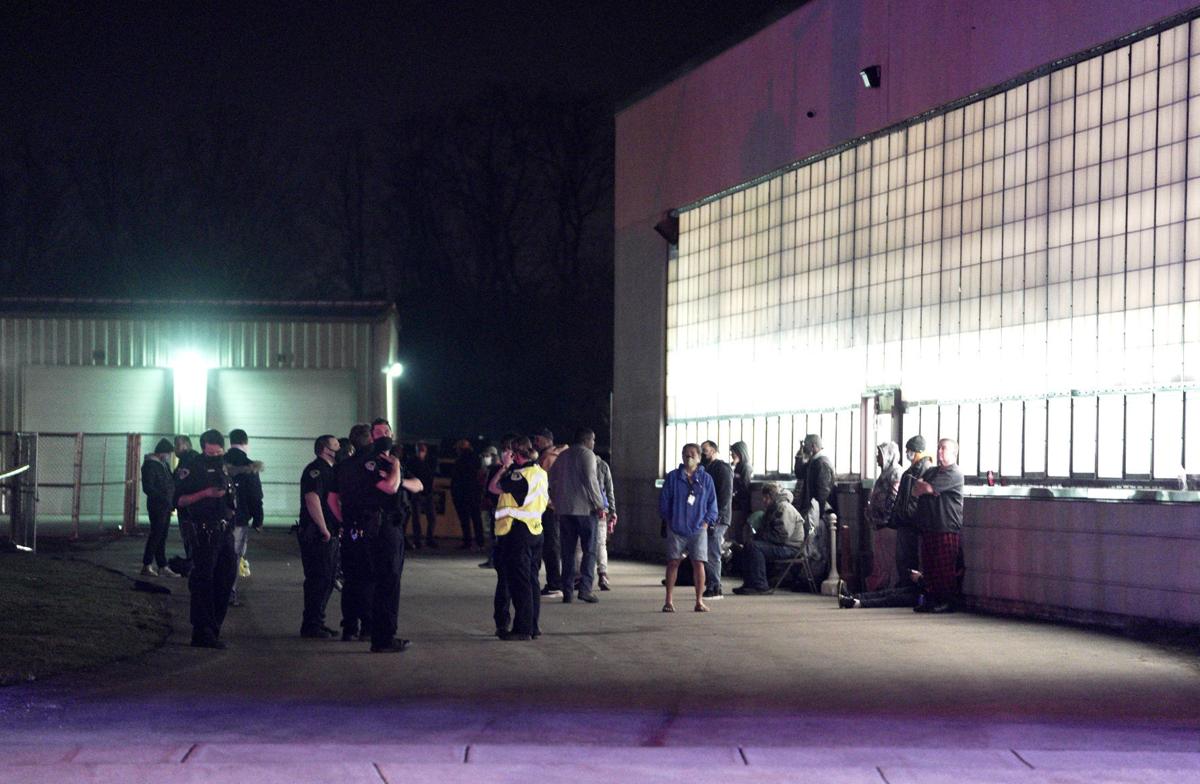 Advocates criticized Madison police for what they saw as cavalier treatment toward homeless men who were left outside for several hours — including one man who "almost died" of an asthma attack — while police investigated a shooting inside the temporary shelter on Madison's East Side Monday night.
The shooting, which sent one man to the hospital with multiple gunshot wounds, turned the shelter into an active crime scene and left the men staying there with no place to go, though the city eventually brought in three Metro Transit buses to give the men a place to stay warm.
Three members of a group of volunteers who went to the scene said they were not allowed into a fenced-off area just outside the shelter to give the roughly 70 men food, water, hand warmers and blankets. Anthony Flynn, 28, a UW-Madison graduate student, said most of the men didn't have their coats, medications or other belongings.
Madison police spokesperson Tyler Grigg said officers had to secure the area to preserve the crime scene.
"One of the roles of the Madison Police Department during an active police investigation is to secure and protect a crime scene," Grigg said. "Last night, MPD established crime scene security to preserve and protect the area to allow the Division of Criminal Investigation to conduct an independent investigation," required under state law because an officer had fired a weapon.
But Flynn said street medics with the group were still not let into the fenced area, which was outside the shelter, when one man said he couldn't breathe and then collapsed because of an asthma attack.
"This guy almost died," Flynn said.
Grigg confirmed that a person had "a medical event" on the scene after the shooting. He said police called the Madison Fire Department to assist "as officers rendered aid."
Heart stopped
Jessie Brown, 26, who has volunteered as a street medic for 11 years, said she provided the man with medical treatment before first responders arrived. Flynn and Tarah Stangler, a founding member of a UW-Madison group known as the BIPOC Coalition, said the only help officers provided was telling the man to keep breathing and pulling him outside of the fencing.
Brown said she and others were handing out water and blankets through the fence when a man approached her saying he needed his inhaler. Brown asked police if they could get the inhaler for him but they said they couldn't because of the active crime scene. She then asked if she could go inside the fence to help but was again denied.
The man slowly became less responsive as he struggled to breathe, Brown, Stangler and Flynn said.
"I grabbed onto his coat through the fence and pretty much just walked him through staying with us and staying present, staying aware," Brown said. "He continued to just say that he wasn't feeling well and finally was not responsive to my voice or anyone else's voice."
Stangler said the man collapsed after about six minutes. Brown said it took officers about eight minutes from the start of him asking for his inhaler to bring him outside the fence.
Once outside the fence, the man was no longer breathing, Stangler and Flynn said. Brown said his heart stopped and they had to administer CPR. He was back by the time Emergency Medical Services arrived, they said.
Stangler said officers should have allowed her group inside of the fencing far before the man stopped breathing.
"They almost allowed an individual at the shelter to die rather than allow community medics to provide them with care at the site of the shooting," Stangler said.
Grigg said "officers attended to and helped assist the individual to receive further medical attention."
Brown declined to identify the man, and Flynn and Stangler said they didn't know his name.
Meeting needs
Grigg said shelter staff and officers also worked to "ensure those displaced had their needs met while the investigation continued." There was access to a heated bathroom, the buses provided a warm place to stay or sleep, and blankets were handed out.
Flynn said a cramped bus is not a good option during a pandemic and some of the men weren't comfortable staying there, although some did end up sleeping in them.
City community development director Jim O'Keefe said dinner had already been served at the shelter before the shooting happened, and breakfast was delivered as usual in the morning. The men were allowed back into the building in the morning to retrieve their belongings, and outreach staff made efforts to contact those who were no longer there to find a time for them to get their belongings.
The shelter was due to reopen Tuesday night, and Porchlight planned to provide counseling services for those who were traumatized by the shooting.
Grigg said the men were also "allowed to leave and come back as they needed to," but Brown said that wasn't true until about 1 a.m. At that time, the volunteers and homeless individuals were able to get in and out of the area. Flynn said they found hotel rooms for about 10 people, and organized driving them there.
Stangler said Ian's Pizza donated eight large pizzas to help feed the men. The volunteers also gave out more hand warmers, food and other supplies.
"What the community did last night to help all of these people, feed them, house them, get supplies and be there to support as best as we could with what MPD allowed us to do was very phenomenal," Brown said. "And that's what it's supposed to look like. Not officers almost killing people."
Special report | Homelessness in Wisconsin: State at the crossroads
For a while, state, county and local leaders seemed to finally be on the same page when it came to combating homelessness. But with winter coming, major legislation remains stalled. And the early promise of bipartisan cooperation on the issue is not guaranteed.