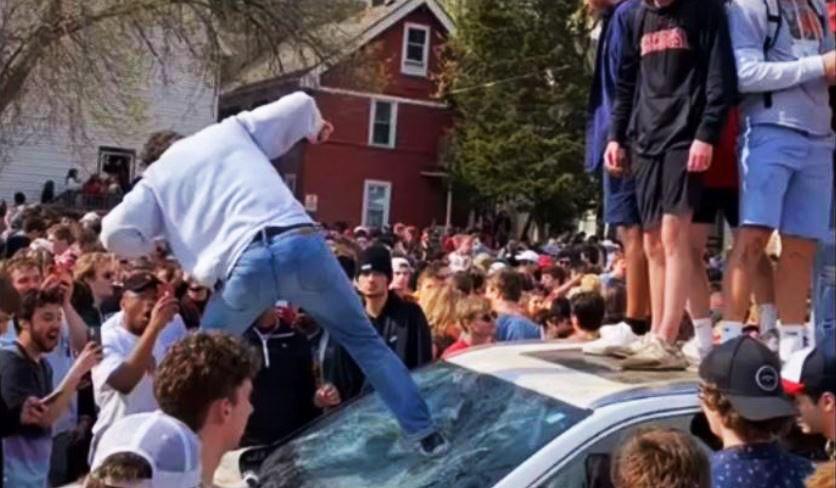 Two men were charged Tuesday for their alleged roles in damaging an SUV that Mifflin Street Block Party attendees climbed all over in April, which caused more than $25,500 in damage to the vehicle.
The SUV, belonging to Kiera Sundeen, was one of two vehicles that partygoers climbed onto during the April 24 party in Downtown Madison. Police have been criticized for being slow to respond to reports of property damage during the party, the first held since the COVID-19 pandemic shut down many events over the past 15 months, including the 2020 Mifflin Street party.
Kevin S. Cassidy, 20, of Marshfield, and Judson T. Rikkers, 19, of Madison, were each charged with misdemeanor criminal damage to property. A criminal complaint alleges Rikkers stomped on the vehicle's windshield and broke it, and Cassidy is alleged to have climbed onto the car and damaged the windshield wipers and hood.
An officer said she believed the SUV to be a total loss, the complaint states.
Sundeen's SUV, along with the other vehicle that was damaged, was parked in a backyard between the 500 blocks of West Mifflin and West Dayton streets, where hundreds of partygoers converged, according to the complaint.
Police said they watched multiple people climbing on and off the SUV while they attempted to clear the backyard, the complaint states.
Cassidy and Rikkers are scheduled to appear in court on June 21.
According to the complaint:
Sundeen had returned from work to find partygoers standing on her 2018 Toyota Highlander. She yelled at them to get down. She said she received tips from partygoers that they had video of the person who stomped on her windshield.
She told police she received multiple social media and text messages that night identifying Rikkers as the person who broke the windshield, and another person who damaged her SUV as Cassidy. Those messages were forwarded to police after the names of some senders, who had asked to remain anonymous, were obscured.
Included were multiple social media posts depicting Rikkers, who according to the complaint and his Facebook page is a UW-Madison student from Rice Lake. UW-Madison spokesperson John Lucas said he could not confirm that.
Rikkers admitted in a voicemail message to police and to Sundeen that he smashed the SUV's windshield.
Cassidy is a student at UW-Stout, a university spokesperson said. He was identified through a mutual friend as having been at a party earlier that day, and was photographed still on the SUV after the windshield had been broken. An Instagram post also showed Cassidy on the SUV.